Plantissimo: the proof is in the proving
Shirlee Posner introduces readers to Plantissimo Bread, a new, micro sourdough bakery producing small batch, hand kneaded, slow fermented, vegan organic bread to order.
Eva Harrison is a new wave baker. She has honed her craft over the last few years and is actively building the business she launched late last year. Currently, bread can be bought from Plantissimo's online shop for pick up in Sutton on Saturdays.
I am always impressed by anyone who gets their head around making sourdough bread from scratch without adding commercial yeast. It's a scientific process which comes from knowing exactly how the biga (starter) is behaving and when to add more flour, or as the experts would say: "feed it". Harnessing wild yeasts present in the flour by allowing them to become active by adding water is a serious skill.
Sourdough bread has risen in popularity during the last decade and it took us Brits a while to catch on to the trend before we realised this bread was superior in so many ways. Don't be fooled by sourdough bread available in supermarkets as these breads are often given a helping hand in the final prove by having a little commercial yeast added to achieve the desired size to look good on the shelf and speed up the process. These copycats have a softer crust and far less flavour and texture than authentic sourdough. It's all a matter of time, literally.

It's not often that new start-ups get all the elements right. Sometimes there is a great product, but terrible online support or presence, or a terrible product with a digital footprint that is far from the real story. Here all is as it should be.

Eva moved from her native Russia to the UK to study animation. With an interest in design, she enrolled at the London University of Arts and graduated in design and animation moving in to web design. Eva still works in this area and manages her bread business in the evenings and weekends with her husband. A few months in and she feels she is close to the point where she could concentrate on the business full time.

Now the slick website and style start to make sense. But why move from computers and design to making bread? Eva, like a lot of her peers, became concerned about industrial practices in the food industry and wanted to know more about the provenance of the food she eats. A growing interest and love of bread making meant she often took extra bread to work to share with colleagues. Many were so impressed they insisted on paying her and orders started to roll in. By this time, Eva had become aware of Bread Angels and decided to go on one of its courses on how to set up and run a micro bakery. Bread Angels are part of the Virtuous Bread movement and to find out more, see the link below.
Eva uses organic flour from Shipton Mill which is milled from a mixture of wheats sourced in the UK and further afield. We have a long history of importing high protein flours from abroad to produce one of our staple foods as we don't have quite the right climate to produce high yield, high protein crops. There is luckily an emergence of heritage wheats being grown in the UK by farmers who grow for Shipton and other millers, including Sussex-based Trenchmore Farm, located just over the Surrey border.

In addition to a range of organic flours, Eva also uses organic seeds, nuts and fruit in her breads. There are 11 loaves in her core range, including her Surrey Hills' multi-seed, rosemary focaccia, sundried tomato and walnut, dark rye, roasted garlic and fennel seed or wild card. Some of her regular customers love the wild card, a new or experimental loaf, which adds an element of surprise.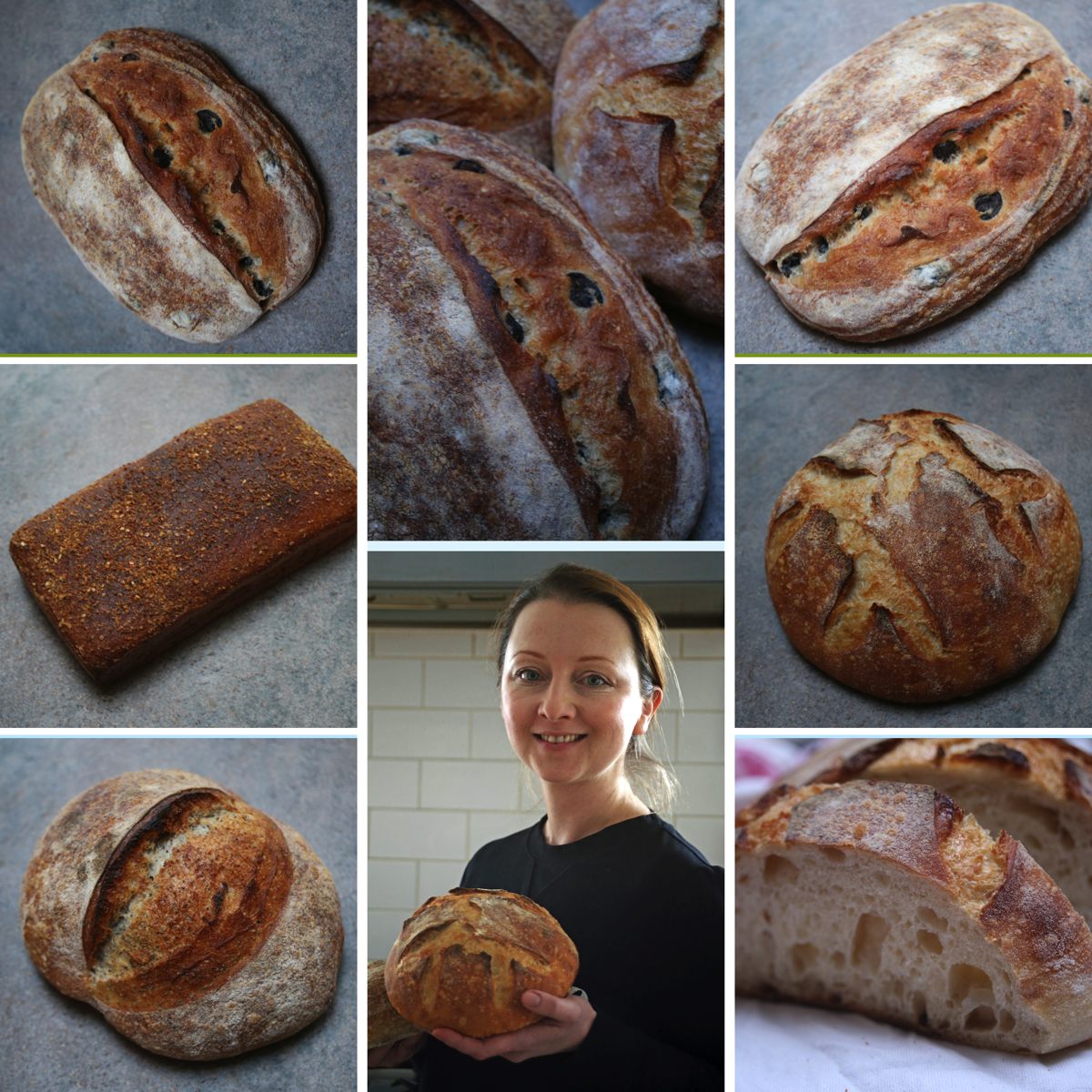 The process is small batch baking currently by hand, although Eva recognises she may soon need to buy a machine to manage an increasing order book. For her bread to be ready for Saturday pick up, she creates the dough early on Friday morning. Each loaf must go through two proves, taking place over a 20-hour period or proving with stretching and folding until finally the dough is ready for the remaining ingredients: nuts, seeds, fruit or herbs. The dough is divided and placed in bannetons (proving baskets with a fabric lining) which give the bread its final shape, then it is turned out prior to baking and scored. Eva says she loves this process: as a baker she is fascinated with traditional leavening and natural fermentation and makes her bread using the same method used centuries ago.

Bread is such an important food and I can see how much Eva's business means to her. I sampled bread from the selection and I am hooked: it's got real texture, flavour and all the loaves have a distinct personality. Pop over to the Plantissimo website to order bread for pick up. It may also be available in a few outlets soon too. Follow Eva on Instagram, facebook and Twitter.
essence info
Plantissimo online shop
Website:
www.plantissimo.co.uk
Find out more about the Bread Angel movement by Virtuous Bread
Website:
www.breadangels.com
Shirlee Posner is a food writer and blogger at
www.eatsurrey.co.uk
and provides social media management, web copywriting and food photography.