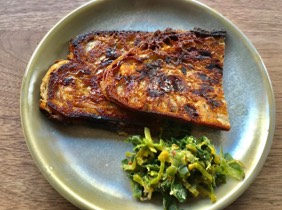 Stephanie Brookes, BBC Radio London food expert, offers her pick of an eating establishment for this month, St Leonards, Shoreditch.
Dining in Shoreditch is always a thoroughly enticing proposition, boasting some of the most successful restaurant openings in recent times: Gloria and Brat being two of the best. I'd been looking to call upon St Leonards since its first opening as the consistently excellent praise for such a new venture was quite extraordinary, yet not entirely unexpected when you realise it's headed up by chef Andrew Clarke (of Brunswick House fame). Just one of many reasons why east London has become one of the most exciting food destinations in the capital.
Slightly hidden away from the bustle of Shoreditch High Street, St Leonards offers a cool, bright, open space with plenty of room for large gatherings and feastings on an epic scale. Diners are also offered a glimpse into the open kitchen and a rather impressive woodburning hearth. After being shown to our table, a swift order of the delicious Walnut Margarita followed as I perused the wonderfully unfussy menu, which actually changes regularly depending on what's in season (always a good sign).
By way of an introduction, we started with a snack plate of Grilled Cheese with leek kimchi: the kind of comfort food I would welcome at the start of any meal. Two golden slices of toasted bread, tightly compressed, practically oozed with the creamiest stringy cheese which is then combined with that oh-so satisfying savoury hit from the spicy kimchi – heaven on a very small plate.

It's an altogether memorable little dish that had me longing for just one more bite.

A decidedly different follow-up dish of Raw Mackerel, soy butter and dandelion was presented – certainly not as comforting as the last dish, but just as tempting; the slippery saline of the fresh mackerel made a great partner for the creamy butter which gave an otherwise clean dish some added richness. An inspired addition of dandelion offered earthiness and texture.

The main event brought about much fanfare with the arrival of the Tamworth chop with mustard miso: a veritable Fred Flintstone-sized portion that had us rapt with awe. The meat, ever so slightly pink in the centre, was a sweet, smoky mouthful, and unexpectedly soft for such an imposing looking cut. The accompaniment of the mustard miso added a burst of heat while never overpowering the delicate flavours of the meat.

The final instalment of Lemongrass ice-cream rounded off the meal and is a must-order, even if it's felt another mouthful cannot be managed.

I can testify, it is possible! Two perfectly formed creamy quenelles instantly took me back to the gelato I devoured on a recent trip to Italy. The milky softness was the perfect canvas for the subtle tang of the lemongrass: such a sweet, unassuming dish, yet not to be underestimated.

All in all it does feel as though a new, modern classic has entered London's culinary scene: the generous portions, seasonal produce and robust flavours make St Leonards a winner on all counts. Just one note of caution: make sure you arrive very hungry.
essence info
St Leonards
70 Leonard Street, Shoreditch, London EC2A 4QX
Telephone: 020 7739 1291
Email:
restaurant@stleonards.london
Websites:
www.stleonards.london
;
www.stephaniebrookes.com