Stephanie Brookes, BBC Radio London food expert, offers her pick of an eating establishment for this month, Pizarro in Bermondsey.
If you take a stroll along Bermondsey Street you would be forgiven for thinking this is where London restaurants have decided to collectively congregate. This little hub of the city appears to be the centre of the culinary universe, and no weekend goes by where the restaurants and cafés aren't teeming with customers, eager to enjoy the relaxed alfresco dining scene and sample the many cuisines on offer.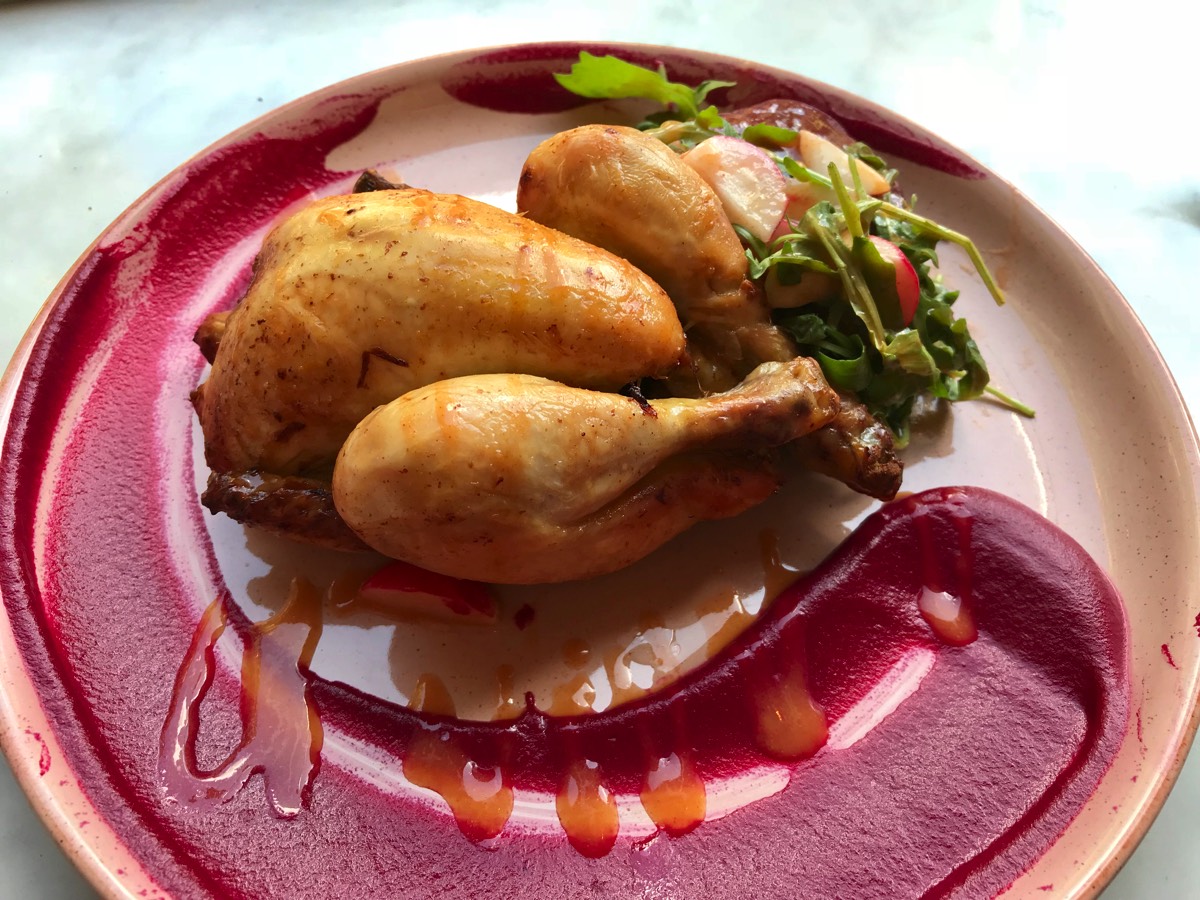 Whole Poussin with radish salad - Photo copyright: Stephanie Brookes
One chef, in particular, has made Bermondsey Street his home with two successful restaurants. Acclaimed chef and restaurateur, José Pizarro, needs very little by way of introduction, for he has garnered almost legendary status amongst his peers and diners alike (much-deserved, I might add) for bringing his authentic take on Spanish cuisine to the city.

His first restaurant, José, a bustling sherry and tapas bar, overflows with customers, all eager to enjoy a taste of the real Spain. His new venture, Pizarro, named after his beloved grandfather, is a more formal affair with an elegant private dining room, cosy banquettes and relaxed window seating. The ever-present ethos of José Pizarro's restaurants is always one of community: families gathering for long lunches, friends grazing on tapas, or a group of friends feasting at the large communal table (as was the case on our visit). However you wish to dine at Pizarro, just ensure you and your party arrive hungry.

I suggest ordering two to three small plates and then one larger course, which managed to sate this food writer (and guest). It's also worth asking about the speciality dish which was, as we were to find out, the showstopper of the lunch…but more on that later.
If there's availability, request a seat by the large windows, which were mercifully open on this particularly warm afternoon, to enjoy the benefits of dining alfresco, albeit with a little protection from the elements. And, as you will discover, the atmosphere of Bermondsey Street feels positively celebratory on a weekend.

You won't get lost in people watching for too long as the all-important matter of eating takes centre stage, as it should. A simple plate of Pan con tomate is the natural starting point: toasted ciabatta, glazed with a topping of fresh tomatoes, olive oil and garlic. It's simple, rustic fare and utterly moreish, especially with a generous sprinkling of sea salt. Paired with a glass of cool, crisp Cava (which I definitely recommend), it is, quite simply, lunch in itself. The bread also acts as the perfect device to mop up any leftover sauces on the dishes to come – if you have any left, that is.

The beauty of a few small, sharing dishes is that as soon as one is finished, a new one is promptly placed. An appetising dish of spicy prawn fritters with lemon aioli was one I would have happily demolished, was I not sharing. The fritters were golden and crispy on the outside, yet the integrity of the prawns inside were still perfectly springy and intact, flecked with aromatic coriander. The developing spice lingered pleasurably on the palate. The creamy, garlic-rich lemon aioli was the perfect partner.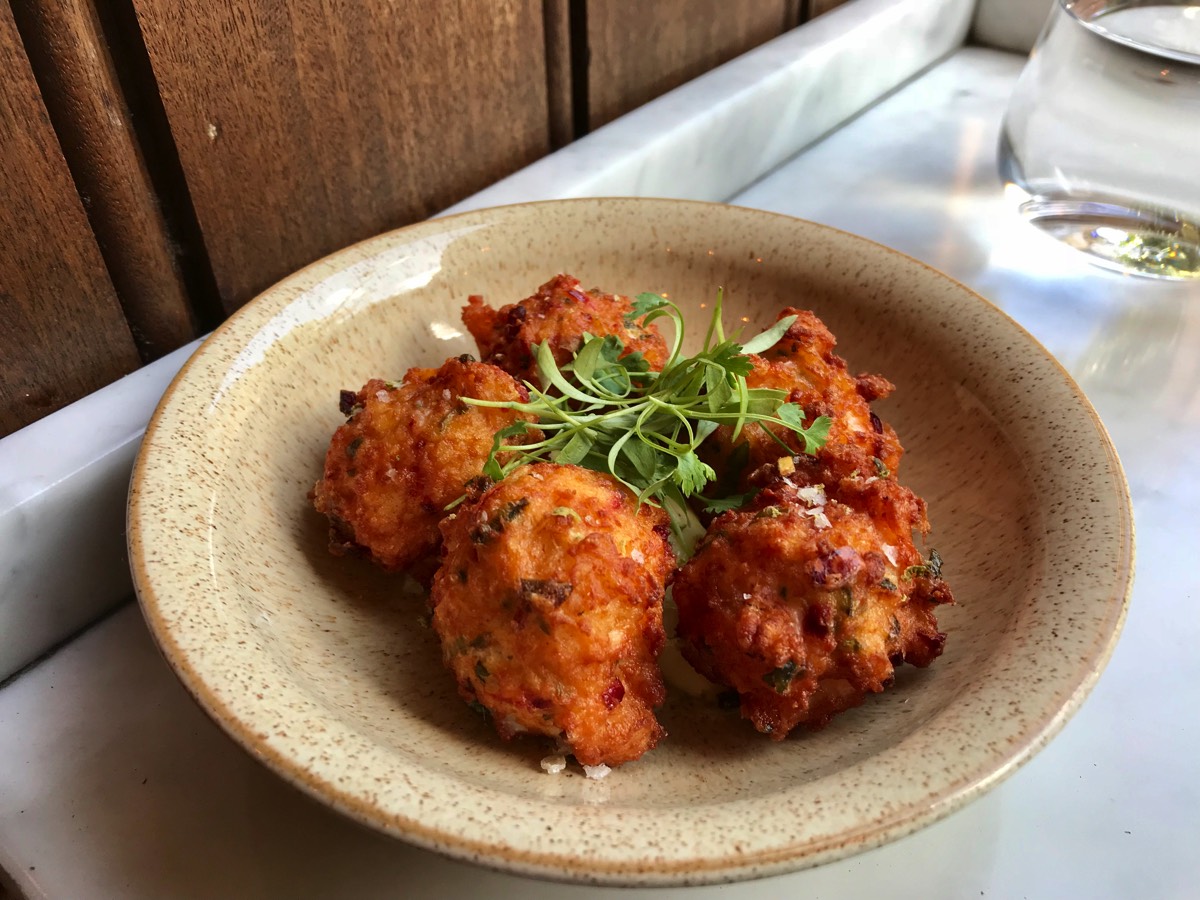 Spicy prawn fritters - Photo copyright: Stephanie Brookes
As in the case of any small dish, you feel a little regretful at eating so quickly; luckily, you'll instantly revive at the sight of the glorious Bermondsey Bomba: our server informed us this was the house speciality. You can't help but be impressed by this dish: a golden dome of deep-fried creamy potato sitting atop a rich, glossy aioli and adorned with a smoky, tomato relish. Not forgetting the softly spiced minced beef at the bottom. Just ensure you get a mouthful of each beautifully constructed layer.

If the Bermondsey Bomba doesn't leave you fully sated, then I suggest the larger plate of Whole Poussin with radish salad. The plump, golden poussin sits on a plate of vibrant beetroot purée, which is both earthy and sweet. The poussin, still warm and tender, pairs perfectly with a mouthful of the zesty, crunchy salad.

To end the meal, I couldn't resist the traditional dessert of Leche Frita, which literally translates as 'fried milk'. The cold milk pudding is encased in a sweet cinnamon outer shell and drizzled in honey. Just make sure you combine the frita with some of the homemade, pine nut ice-cream. Just a gentle word of warning though, as I quickly discovered, you won't want to share this one!
essence info
Pizarro Restaurant
194 Bermondsey Street, London SE1 3TQ
Websites:
www.josepizarro.com/pizarro-restaurant
;
www.stephaniebrookes.com
Telephone:
020 7378 9455
Email:
reservations@pizarrorestaurant.com