Kevin Pilley seeks out luxurious spa treatments and more at The Hôtel Royal, Evian Resort.
Never could I have imagined the exquisite sensations to be derived from the nimble fingers of one madame from Co.Clare and a single pot of caviar. Or ever guessed how a sturgeon could help me maintain my youthfulness.

I discovered 'Swiss Bliss' in France, on the banks of Lake Geneva. And an Irish lady and some elite fish caused me to become temporarily rot-proof. Maria Beickert nee Callinan was born in Ennis and studied hotel management at GMIT Galway and, for sixteen years, has worked at The Royal Evian Hotel on the French side of west Europe's largest lake. She started as a receptionist and is now in the Evian Source Spa. Her husband is a porter.

As well as other anti-ageing regimens, regenerative procedures and five-star 'polysensual experiences', the famous hotel's spa offers La Prairie cellular skincare treatments with caviar-based facials, eye massages and bespoke rub-downs: meaning being daubed and kneaded from scalp to toe in a rejuvenating emulsion of caviar pearls, leaving the subject luminous, shimmering and 210 Euros lighter for the 150 minute unique Swiss Bliss programme.

The 467-acre, 150 room Royal Evian, forty minutes from Geneva, opened in 1909 in honour of King Edward VII who died before he could visit and blag some luxury; the hotel was allowed to keep its royal status. The Jean-Albert Hébrard-designed 'white steam ship anchored in the hills' above Lac Leman and its rotunda's Baroque frescoes have recently been refurbished.

This iconic Belle Epoque hotel and European flagship of the Roaring Twenties is back looking fit and well. The makeover has taken a hundred years off the old hotel with the interiors now fresh-faced.

One of the first spa palace hotels, the now Danone-owned Royal Evian has always been a magnet for the rich and famous. The spa's relaxation lounge is the Aga Khan III's old apartment. They still have the original chandelier in storage. The Royal was the holiday choice for sultans, maharajahs, shahs and other royalty, as well as celebrities and statesmen. It hosted the 2003 G8 summit.

I emerged from La Source feeling toned and honed, revived and de-toxified, regulated and re-mineralised, tauter than taut: my skin de-blotched and lovingly de-grimed. And my circulation pepped up by my caviar infusions. Tightened and lightened, the free radicals temporarily neutralised, my natural beauty briefly restored, if not permanently, and with an enhanced complexion, I radiated good health; I exuded well-being. As well as sturgeon.
And, after a quick squirt of the complimentary Evian facial mist spray, I was ready to test out the practical benefits of foot reflexology and explore le pays de Chablais. Sometimes a break is needed from Irish women expertly cleansing your crevices.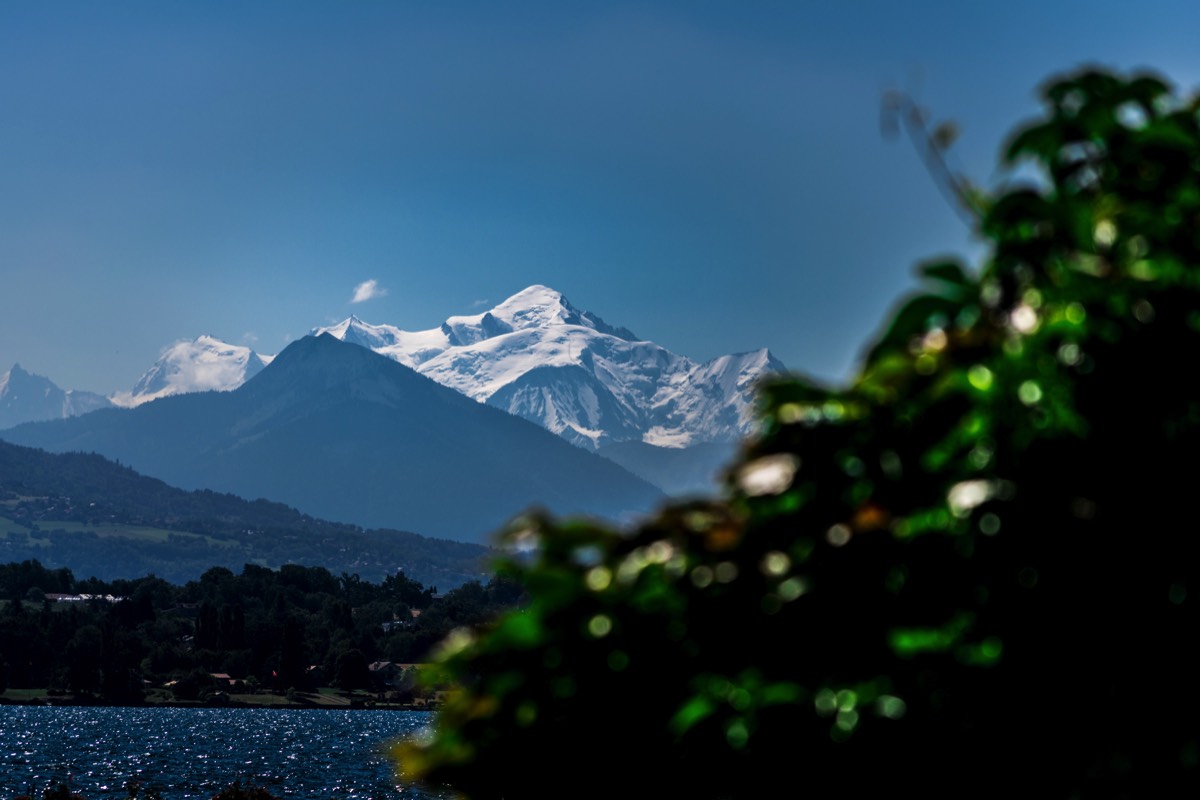 View over Lake Geneva below the peak of Mont Blanc - PHOTO COPYRIGHT: ALBIN HILLERT | 123RF.COM
The grounds contain a Swiss chalet-style sister hotel and former weight-loss retreat and hotel du regime Ermitage, the red cedar and pine La Grange du Lac auditorium and a rose garden. There is an eco-durable, no-pesticides-used golf course and the resort is only forty-five minutes from Des Portes du Soleil – Europe's largest ski area.

A downhill stroll and twenty minute uphill cardio-vascularly challenging hike back is Evian-les Bains with its medieval hospital, thirteenth century church, 1907 funicular railway, lakefront 1878 casino, 1883 theatre with neo-classical façade, 1900 Palais Lumiere, 1826 Pump Room and the Cachat source water temple (St Catherine's Fountain or 'Point of Emergence') where locals fill up their bottles with free, magnesium-rich, sand-bank filtered water, tranquil and sans gaz.

The curative virtues of the water were first discovered in the late eighteenth century by a marquis suffering from stones. The first hydropathic establishment opened in 1826.

A 30-minute, 21 Euro ferry crossing away is Lausanne from which visitors can easily access the Swiss Riviera and the steep-sided Lavaux (Dezaley), Medinette vineyards and have a tasting of the local Chasselas wines. The Domaine Bovard in Cully is one of the best. The 2015 harvest was the most successful in sixty years. Try the Buxus Sauvignon Blanc and lunch at Tour un Monde Restaurant which looks down on most of the 104-mile perimeter, croissant-shaped, 25 miles long by 11 wide lake fed by forty-two rivers. From the terrace it's possible to see Evian, the Bernese Alps, Mont Pelerin, the Savoy and Valais mountains, Montreux and Vevey.
Lac Leman gets its name from either the Greek for lake's port or the Celtic word 'limos', referring to the local fertile mud.
The swimming pool at The Hôtel Royal, Evian Resort
Cistercian monks planted the original vine rootstock. They also brought French stones across the lake to support the terraces. So there are, arguably, two French sides of Lake Geneva. While digesting the char, fera, perch fillets and lake shrimps, watch the yachts and Swiss police boats stopping people attempting to smuggle cheaper French food into the country.

The Royal Evian Hotel's Les Fresques (frescoes) restaurant offers: "un menu gastronomique", comprising six courses, including Lake Geneva crayfish with foie gras and saffron froth (washed down with local Rousette de Savoie de Louis Magnin), venison, sole in seaweed butter, squid and botargo, which are cured and compacted grey mullet eggs.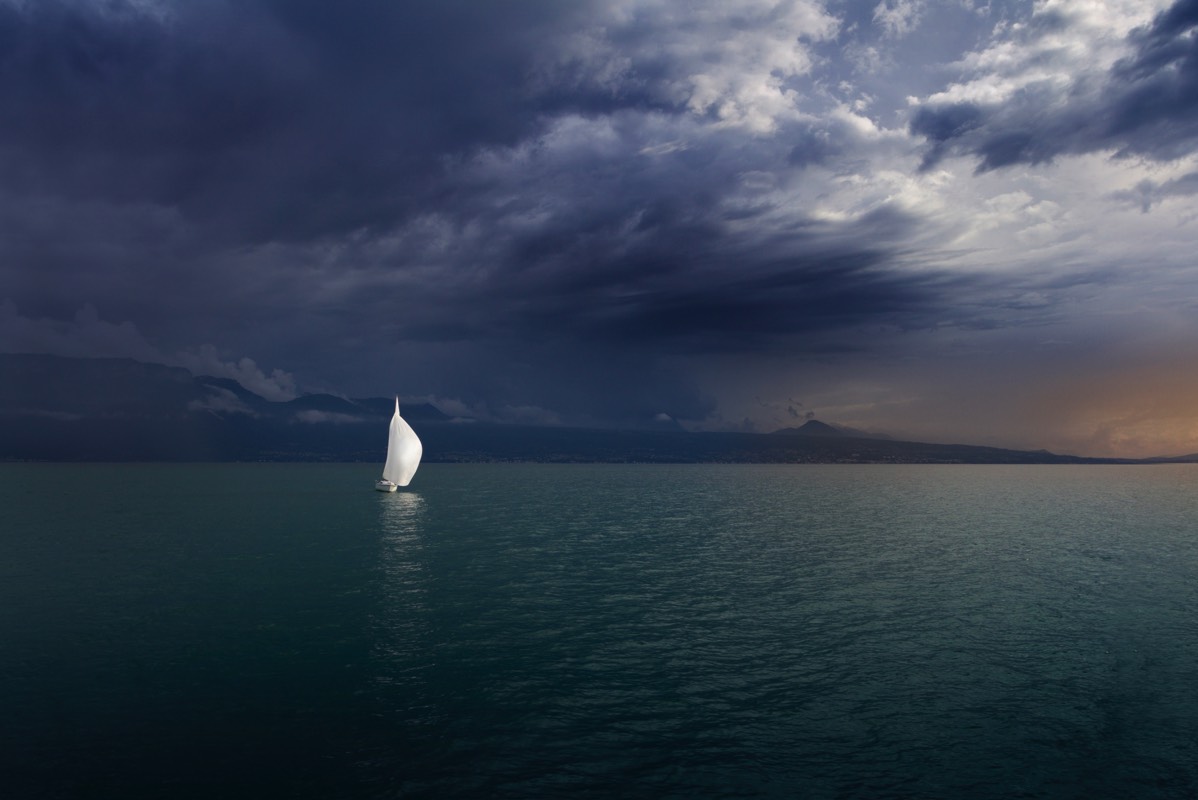 Lac Leman at sunset - PHOTO COPYRIGHT: MARCOS OSORIO CECILIA | 123RF.COM
After the matured cheese selection and all the chestnut honey, fig jam and tartes for breakfast (the hotel has fifteen pastry chefs), it can all be worked off in the spa's outside hydro massage trail or aqua-gym before booking another soothing appointment avec Madame Maria for another round of epilations, firming caviar extracts, life-supporting lipids, gommages (body scrubs) and deep-reaching, energising stomach massages.
Everyone sleeps well at Royal Evian. All except Mrs Frankenstein. She and her husband honeymooned there. Before she was strangled.

Frankenstein's monster would never have made a spa therapist. But he could have been mistaken for a customer or health tourist, he had the gait of one. Frankenstein walked like he had a metabolic disorder or a urinary ailment, which made it look like he had been overdoing it on the diuretics front. Or maybe he was just getting used to the very scanty, hardly-there and rather tight briefs the Evian Source Spa staff make visitors wear, pre and apres the refreshing roe.
essence info
Take advantage of the 1+1= 3 special offer and enjoy a unique experience for a little longer at the five star Royal Palace Hotel or four star Ermitage from €314 in double occupancy in a south-facing room at the Evian Resort. And from €548 in double occupancy in a Séjour park view room at The Hôtel Royal, Evian Resort. Offers subject to availability.
Websites:
www.evianresort.com
,
www.domainebovard.com
Aer Lingus flies daily from Dublin to Geneva and the Evian Resort is a one hour drive from Geneva Airport.