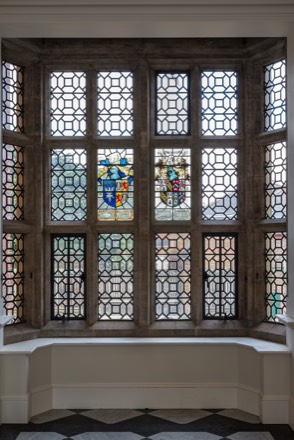 There's no denying Christmas is coming, and what better place to spend the magical big day than within one of the six remaining, completely unique apartments within Eagle House, Wimbledon Village. Now finished and ready to move into, the collection of two and three bedroom homes sit within the Grade II* listed building, which has sat proudly on the South West London High Street for over 400 years – one of the few and finest examples of a Jacobean manor house existing in London today.
Carefully restored and converted by Octagon's specialist Bespoke team over the past four years, the apartments feature an eclectic array of historical features, from soaring stained glass and leaded light windows and elaborately moulded ceilings to ancient hammerbeam arches. Perpetuating throughout is a prolific number of original fireplaces and cast iron grates.
Built in the early 1600s, Eagle House was the second building to be erected in Wimbledon Village, a family country house commissioned by Robert Bell, the co-founder of the British East India Company.
The house changed ownership and names several times over the centuries, briefly called Nelson, following Lord Nelson's visit in 1805, and awarded a Blue Plaque as the home of Arthur Schopenhauer, renowned German philosopher, who was educated there in 1803.
Finally in 1860, the then renowned Eagle House School took over the building, and the moniker and rooftop statue remained following the school's departure and subsequent purchases and uses. These included a Military Academy and, more recently, an Islamic Heritage Centre, a peaceful history and culture library, where along with academics and teachers, members of the public were warmly welcomed.
Through the original Jacobean oak front door is the main entrance hall, where the lofty ornately carved oak original fireplace tries to scene steal from a full height stained glass window bay, which floods light onto the period polished chequerboard marble and limestone tiled flooring.
A rear oak door in the hall leads onto a private courtyard garden which is formally planted and provides a pleasant outlook for residents as well as somewhere to enjoy outdoors in seclusion. Beyond the entrance hall, linked by a broad internal door, a communal vestibule features an extraordinary cast iron fireplace, positioned midway from floor to ceiling.
The explanation being that ceiling heights and floors had changed over the many years of use, but this listed fireplace was carefully retained in its original position.
Originally launching eight apartments this summer, only six of these striking homes remain. Each finished to a superior specification, as befitting the Octagon name, apartments feature underfloor heating or traditional cast iron radiators and with high quality marble, carpet and timber flooring, designed to enhance and reflect the period significance of Eagle House. Apartment 5, spanning three floors, features its own lift.
Viewings are by appointment only – please contact Octagon on 020 8481 7500, or Knight Frank's Wimbledon office on 020 8946 0026. For more information, visit octagon.co.uk.
Prices start from £2.25m. All homes come with two parking spaces on the private forecourt, and access to the communal rear garden.
Eagle House, Wimbledon Village