Many people say creativity is in the blood. That seems to be the case for many artists, and none more so than those featured at Sable Interiors' recent Evening of Art Event as described here by Fiona Applegarth.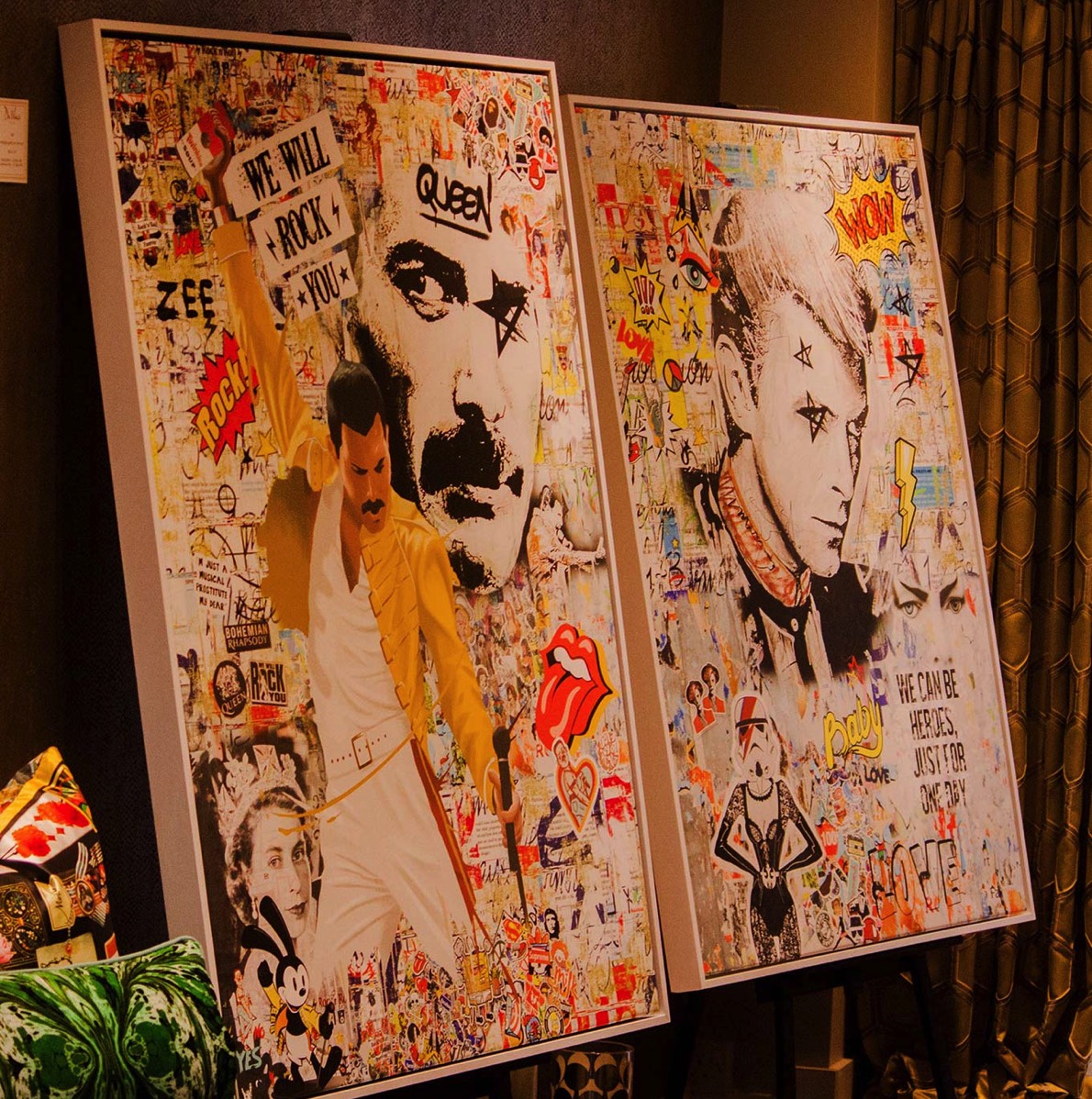 Freddie Mercury and David Bowie artworks by Zita (ZEE)
Photos copyright: JJ Adetona
Held in May, the walls of Sable's newly reopened Home Accessory Showroom in Portsmouth Road in Thames Ditton were beautifully adorned with an assortment of breathtaking pieces from a number of artists, all of whom have an inborn talent for creating outstanding work. Organised in collaboration with Da Vinci Fine Art, the evening was a great success.

Da Vinci Fine Art, which specialises in modern and contemporary art, was formed by the successful duo Hayley Courtney-Smith and Natasha Lands. As well as having a strong reputation in business development, their company promotes distinctive collections from emerging and well-established artists whom they carefully select not only for the excellent quality of their work, but also their tireless dedication to their art.

Combining artistic flair, originative vision, innovation and enthusiasm with excellent understanding of design and current trends, the Sable Interiors' team has been creating and delivering spectacular lifestyle solutions for a wide variety of private residential and commercial properties for over 20 years.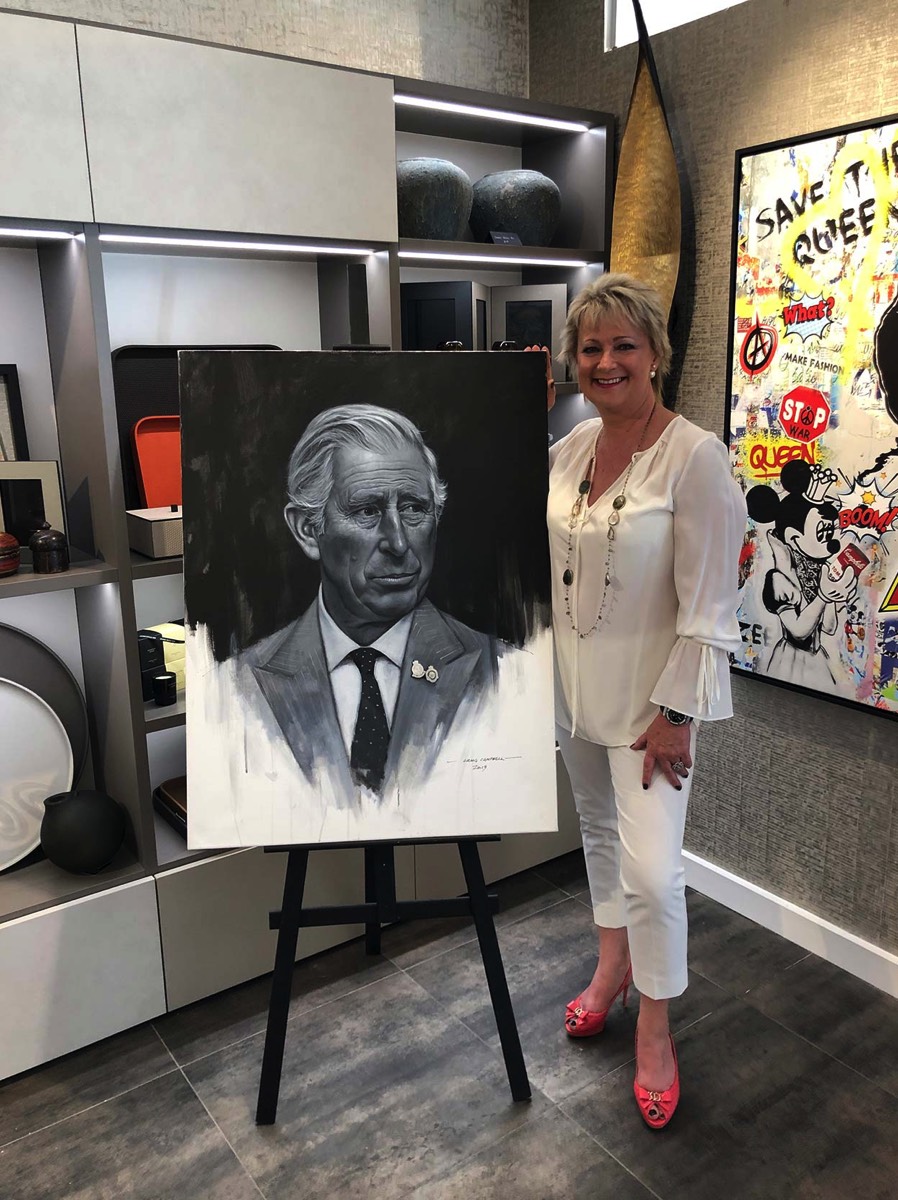 Fiona with Craig Campbell's portrait of HRH Prince Charles
Photo copyright: JJ Adetona
Sharing the same vision, it was only natural that Sable Interiors and Da Vinci Fine Art team up, and together they work on projects both large and small. The artists Da Vinci Fine Art represent are all acclaimed in their fields and work in a range of mediums, including paint, photography and sculpture. So, on a warm sunny evening as guests arrived, there was a palpable air of excitement as they viewed the collections from so many accomplished masters.

Amongst the works presented were those from Hungarian-born artist artist Zita (ZEE) who grew up surrounded by art and creativity as both her parents were artists. Selling her artworks and products across Europe and around the world, she is inspired by things around her, including her family and friends and also her love of fashion and nature.

Zita's quirky Pop Art style is unique. She blends her work with current trends and styles, orchestrating visual components using a variety of techniques. Scanning painted and drawn media into pixels, she manipulates and integrates the imagery with digital painting. The results are amazing!

During the event her works included those featuring the magnificent Freddie Mercury, David Bowie, Marilyn Monroe, Her Majesty the Queen, Madonna and Kate Moss.

For Alfie Bowen, his love of art through the medium of photography started the moment he picked up his mum's compact Lumix some six years ago. Born in Suffolk, Alfie grew up with the challenges of Autism Spectrum Disorder and Generalised Anxiety Disorder. Education proved a tough time for Alfie as he was bullied almost constantly leading him to refusing to leave his bedroom at 16 years old. His life was transformed when he went on to join a private special educational needs school in 2014 where he made friends and his confidence grew.

Alfie has a life-long obsession with the natural world and gets all his inspiration from the wildlife around him. Drawing on past experiences, he injects his emotional energy into his work, and has worked incredibly hard to develop a unique style and carve out a career in the art world. It's not surprising that Alfie is now an internationally-renowned fine-art photographer. Working largely in wildlife conservancies, Alfie invests hours into every image. The challenges associated with capturing each image are considerable and it can be lonely, cold, frustrating. As he explains: "I often fail, but that's all part of the game and as I've learnt throughout life, nothing worth having comes easy."
Renowned artist Craig Campbell's work was also on display at the Sable event. Born in Ayrshire, Craig is one of Scotland's leading portraiture and figurative artists. His inspiration comes from sports and personalities and his works feature the likes of musician Keith Richards, Marilyn Monroe, Jimi Hendrix, Frank Sinatra and Sir Alex Ferguson. His recent portrait of HRH Prince Charles was much admired by all during the evening. Da Vinci Fine Art also promote works from a wide range of other artists, including those by Finn Stone and Onyx.

Having inherited all the exuberant energy and strength of conviction of Irish parentage, Finn's 22-year career has been driven by his zest for life, resulting in a relentlessly spontaneous creative drive. An indisputable master of mediums, much of Finn's works include a selection of difficult or found objects within his series of popular art historical paintings. His inexhaustible source of gregarious inspiration is evident in his works featuring famous faces of Van Gogh in hand painted cut paintbrushes, Elizabeth Taylor, David Bowie, the Girl with the Pearl Earring and his breathtaking Beethoven which is produced in real violins.

Born and raised in the East End of London, Onyx is a self-taught artist. After an accident a few years ago left him in a coma for several weeks and a year in recovery, he turned to art as a form of therapy. Onyx creates three dimensional sculptures out of found man-made artefacts, and produces limited edition 3D Lenticular prints. This amazing effect is created by using 3D images which are then interlaced at different increments providing viewers with a visual illusion.

Other works available during the evening included those from Leigh Banks, Richard Zarzi, and Garry Gilchrist, all of whom produce strikingly different creations. It's evident that each artist has their own story – born out of their innate ability and greatly influenced by their heritage and life experiences.
essence info
Fiona Applegarth is director of interior design company Sable.
Sable Interiors Ltd, 124 Summer Road, Thames Ditton, Surrey KT7 0QR
Website:
www.sableinteriors.com
;
www.davincifineart.co.uk
Telephone:
020 8398 9777