Aerial view of an area of Leeu Estates in Franschhoek - Photo copyright: Leeu Estates
Mice, bats or puff adder?
Kevin Pilley visits the Cape Winelands and finds a local connection in meeting Analjit 'BAS' Singh, owner of Leeu Estates in Franschhoek, South Africa.
My next-door neighbour in South Africa was Sir Richard Branson and the landlord of my hotel in the Cape Winelands admitted he also owned an 11-bedroom house in St George's Hill, his next neighbour being Sir Cliff Richard. The CEO of Vodafone and former CEO of BUPA stated: "I need green spaces," and this was 64-year-old BAS – Bhai being his family title meaning 'brother'.

His childhood nickname 'Manu' means 'a patient, meticulous person who enjoys working in a detailed, systematic way'. As he says: "Surrey was another divine intervention in my life. An act of serendipity. I love the serenity, the golf course and the walks. It's a country experience with a proximity to London."

Self-made entrepreneur and industrialist, Analjit 'Bas' Singh, one of India's richest and most charming men, owns Leeu Estates in Franschhoek, the culinary capital of the Western Cape Province and perhaps the whole of South Africa. He suggested that while in South Africa that I do what South Africans are increasingly doing. Have an Indian. So he sent me to his favourite Indian restaurant, Marigold on Heritage Square, Franschhoek (French Corner) which, of course, he owns. Chef Vanie Padayachee was waiting for me.

To start, Vanie proposed a roasted handkerchief. And some potato barrels with hung yoghurt. Then Thali. She also recommended for dinner the next evening mice, bats or puff adder. "Our little tortoises are delicious too," she said. 'Angel's Tears' were her preferred perfect accompaniment.

Durban-born Vanie is the executive chef at the Marigold in Boland village, a forty-minute drive from The Mother City (Cape Town), and the gastro capital of the region, if not the country. The Marigold opened in 2016 and is its first authentic gourmet Indian restaurant.
It is part of Analjit (BAS) Singh's Leeu Collection (in Sanskrit, Singh means lion, which is 'leeu' in Afrikaans), which also comprises three five-star boutique properties; Leeu Estates, a 17-room country house and boutique winery; the 12-room restored nineteenth century Leeu House and 32-room Le Quartier Français 'auberge'. They are all sited in a valley between the Klein Drakenstein and Dassenberg Mountains.

Three farms – Dieu Donné, Klein Dassenberg and Von Ortloff – created Leeu Estates.

BAS Singh also owns Linthwaite House, a stylish 36-room country retreat overlooking Lake Windermere in England's Lake District. He plans to open other properties in Florence and London. He first visited South Africa in 2010 to watch the football World Cup with his soccer-mad daughter. He is now training Indian chefs to help Vanie.

"I visited India to broaden my knowledge base. Tempering and blending interests," continued Vanie. "My signature starter is Palak Chaat crispy spinach leaves. Tandoor Jigha (prawns) and Raan lamb shank are popular. I like cooking Kadhai wok dishes and with chickpeas, the power legume!" She already has three chefs from Delhi working under her – a tandoori chef, a curry chef and an all-rounder.

"Rumali roti flatbreads are called handkerchiefs. One of my favourite desserts is Shahi Tukda from Hyderabad, Indian bread pudding! But we also serve Besan Ladoo cheesecake with sweet chickpea flour fudge and star anise compôte. And for the seriously sweet-toothed, tandoor-based pineapple and saffron crumble with coconut and fennel kulfri."

At The Dining Room of the 247-acre Leeu Estates, diners can start with gin. 'Geometric' gin with melon and whipped feta followed by either dry-aged Elgin beef or Karoo (desert) lamb 'skilpadjies', also known as 'muise', 'vlermuise' or 'pofadder'.
The traditional barbecued meatballs' dish is lamb's liver wrapped in 'netvet' (caul fat, the fatty kidney membrane). They come in various shapes and sizes. 'Skilpadjies' means baby tortoise, muise mice, viermuise bats. Pofadder is snake-like and can sometimes be as big as a man's arm and served at briaas (South African barbecues) with 'pap' (meal).
Franschhoek Pass in the Middagskransberg between the Franschhoek Valley and the Wemmershoek Mountains in the Western Cape Province of South Africa - Photo copyright: 1hpbfotos | 123RF.com
Head sous chef Terence Morris recommends his slow-cooked, rolled lamb shank with creamy parmesan polenta. And a constitutional.

As well as walking tours of the hotel's Sauvignon Blanc vines and statues by Deborah Bell, Otto du Plessis and Angus Taylor, escorted by knowledgeable assistant farm manager Johann Moolmann, and after strolling by the Berg River in the estate's exclusive wine studio, visitors can sample the local award-winning wines of Andrea and Chris Mullineux with a man called Admire.

You learn to call Chenin Blanc 'Steen' and to appreciate the finer nuances of Swartland wines by trying to detect the nose of sun-ripened pears and wet granite in Kloof Street and the subtle tannins of single terroir 'Schist' Syrah. You taste the difference soils can make in 'Old Vines White'. Shale is an acquired taste.

The history of South African wine goes back to the Dutch East India Company supply station at the Cape of Good Hope. In 1689 Jan van Riebeeck planted Rheingau and Hanepop (Muscat) grapes to stave off scurvy among sailors on the spice route. In 1685 Cape Governor Simon van der Stel purchased the Groot Constantia estate. French Huguenots arrived in 1688 and brought their viniculture with them which resulted in South African wines being served to Napoleon in exile on St Helena. Louis XVI allegedly preferred them to Bordeaux wines. After phylloxera decimated the vineyards in 1866, Californian rootstock was brought in. It was not until the end of apartheid that South African wine found itself back on the oenological map. Grapes were mainly used for brandy.
Down Huguenot Street is Leeu's Tuk Tuk Microbrewery. Aided by Darren, Brennan, Marlene and Vernal, visitors can taste Cape Brewing Company beers as well as the in-house banana-toned Weizen wheat beer and the chocolate and caramel Dunkel. You also learn, if you did not know already, that lager is German for 'storing'.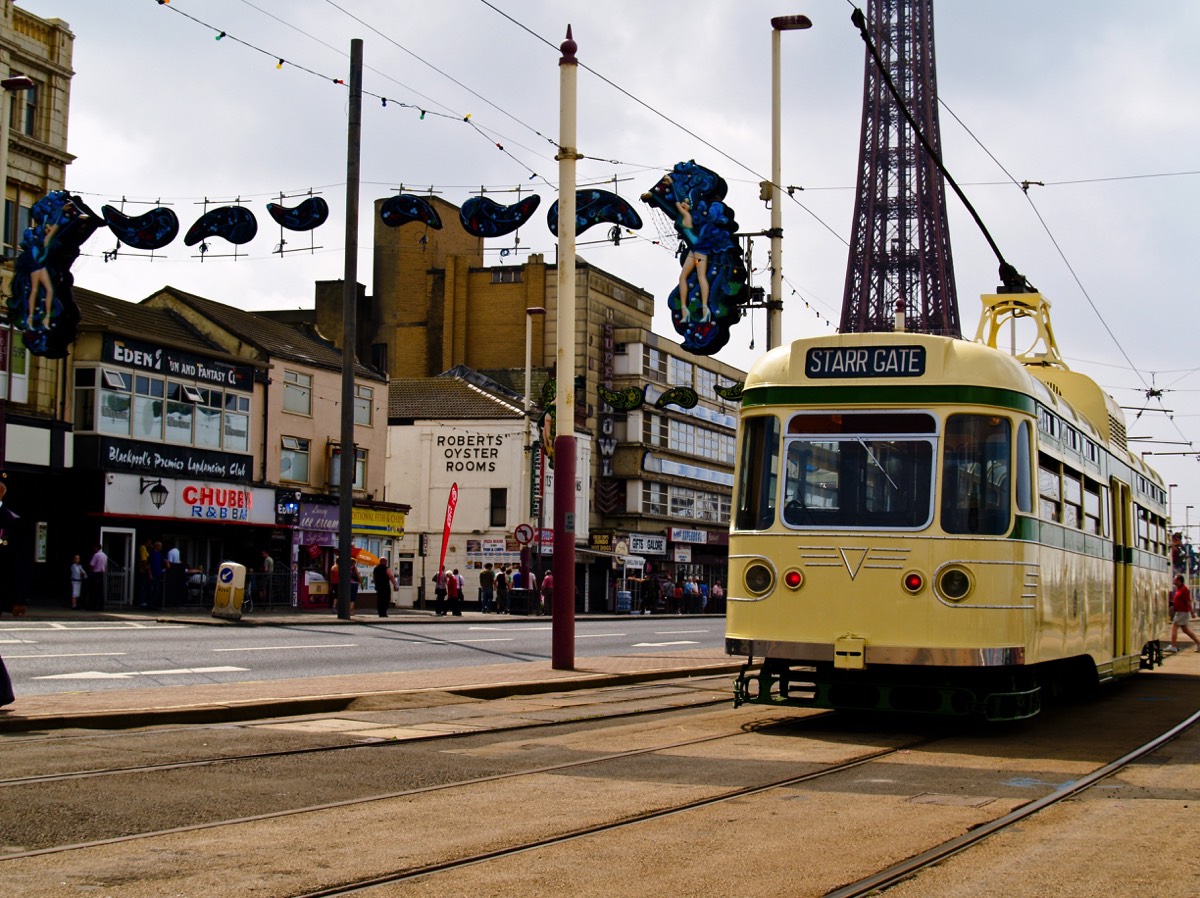 Blackpool trams date back to 1885 and are one of the oldest electric tramways in the world - Photo copyright: Brian Scantlebury | 123RF.com
If beer, wine and good food don't relax, kick back in the sunshine by the infinity pool, or mellow out in the nail salon and spa with plunge pool by a lily pond and get expertly coated in 'TheraNake', African recharge oil, 'Esse' beautifying, age-defying products and 'Almona Botanica', volume and bounce shampoo, after an invigorating and very Ayurvedic exfoliating and re-hydrating, sustainably-grown pomegranate seed seeing to.

Treatments include I Am Mindful (mood-balancing African warm soy back and scalp rubs), I Am Virtuous (muscle release mud wrap and miracle marula oil exfoliation) and I Am Majestic (crushed apricot kernel and mafura butter scrub).

The best way to see the Franschhoek valley is by rail in the new balconied double-deckers modelled on Blackpool seafront trams. The tracks were laid by fruit farmers in 1904 and now connect twenty of the fifty wine estates in Franschhoek settled by the Huguenots in 1688. The valley is littered with Dutch vernacular farmhouses and a one-day pass on the five metre tall trams costs 220R (£13).

These Orange, Purple, Blue, Green and Yellow lines take visitors to olive and cheese as well as wine tastings at some of South Africa's best and oldest wine estates. All have excellent restaurants.

After a visit to the culinary capital of South Africa it's easy to stumble over pronouncing the word Stellenbosch and give up before even starting to try remembering the region's first agritourist co-operative was the tongue-twisting Koöperatieve Wijnbouwers Vereniging van Zuid-Afrika Bpkt, or KWV for short.
essence info
Discover Leeu Collection
Luxury hotel group Leeu Collection (
www.leeucollection.com
) has taken a 10% stake in Alajmo SpA (
www.alajmo.it
), the Italian family business established by brothers Massimiliano (Max) Alajmo, the world's youngest three-star Michelin chef, and Raffaele (Raf), the company's chief executive and maître des lieux.
Leeu Collection currently has three properties (Leeu Estates, Leeu House and Le Quartier Français) in Franschhoek, South Africa, with Linthwaite House in the Lake District due to re-open following a year-long refurbishment in June 2018. Two further hotels are under construction in London and Florence.