Race Against Time: The Complexities of Man and Machine
The Zuleika Gallery will be exhibiting Formula 1 inspired artworks and engraved portraits by artist Angela Palmer raising funds to benefit Sir Jackie Stewart's charity Race Against Dementia, as essence discovers.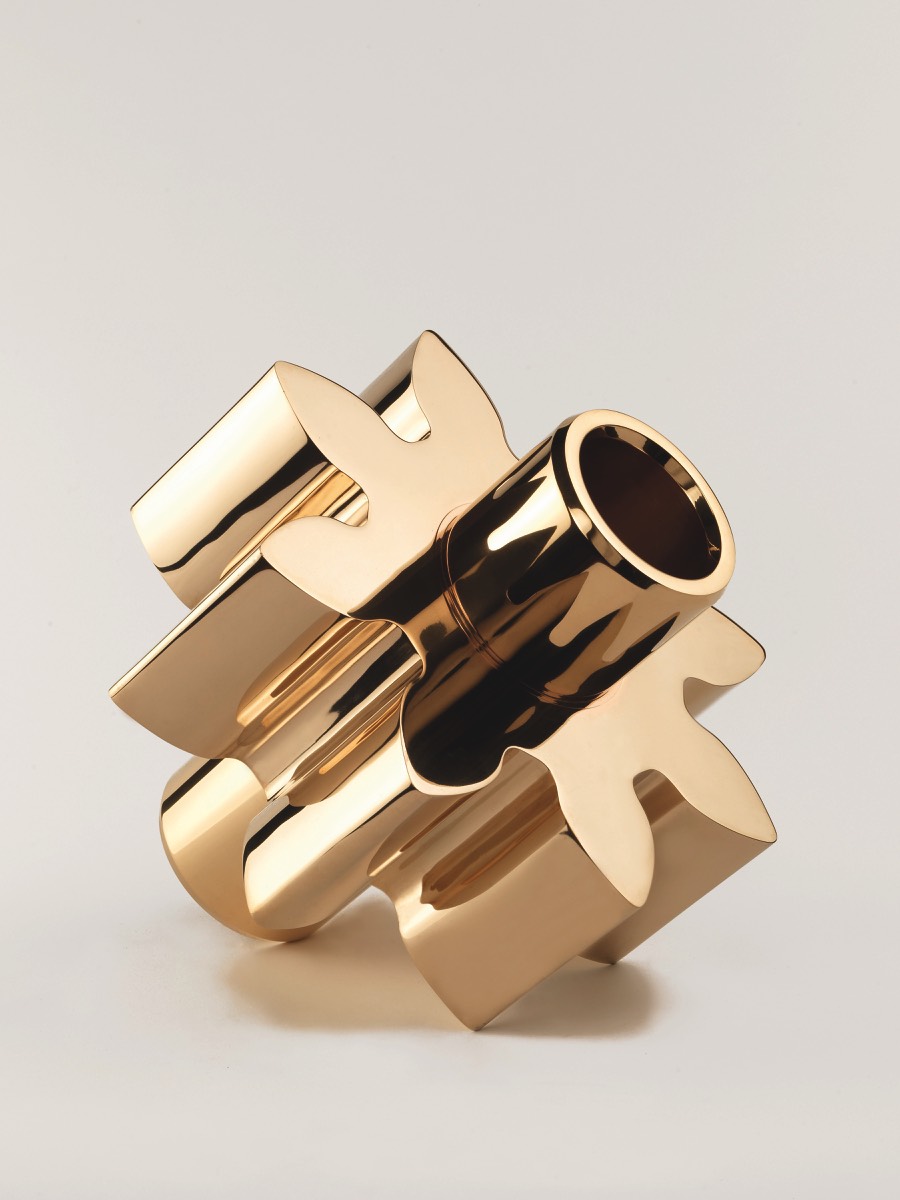 Angela Palmer

Cog.
Dramatically upscaled in mirror polished bronze, cast at the Pangolin Foundry, based on the RS27 F1 V8, winner of four consecutive F1 world championships.
30x33x33cm
Edition of six
£9,500 excluding VAT
International artist Angela Palmer has joined forces with racing icon Sir Jackie Stewart to stage an exhibition of Formula 1 inspired art works in London this month. Part of the proceeds will benefit Sir Jackie's charity, Race Against Dementia, which he set up following his wife Helen's diagnosis of the disease.

Lady Helen famously acted as her husband's timekeeper during his F1 career, and her stopwatch will be exhibited in tribute to her. The legendary Stewart held the record as the only British driver to win three world F1 championships for 42 years, until it was equalled by Lewis Hamilton in 2015.

The exhibition will feature works inspired by the world's most successful F1 V8 engine, the RS27, which powered Sebastian Vettel to four consecutive world titles from 2010 to 2013. Angela was given unprecedented access by Renault F1 to engineering data, normally kept under the strictest security to prevent industrial espionage. However, a dramatic change of rule saw the V8 replaced by the downsized V6, allowing engineers to unlock its bank of data to the artist. Angela deconstructed the engine and dramatically upscaled the components in a variety of materials, transforming each into a sculpture of breathtaking beauty.
Head of the Artist
Based on MRI scans undertaken by Professor Stephen Golding at John Radcliffe Hospital, Oxford.
Hand engraved on 14 Mirogard glass sheets, bespoke slatted base lit from below on plinth with perspex lid.
Series of four £15,000 excluding VAT

The artworks are collector's items that celebrate this piece of racing history. Some works are available to commission including 'Red Hot Orange Exhaust', a striking upscaled version of the F1 exhaust which can be exhibited indoors or outdoors. An edition of four, it sells for £35,000 excluding VAT (Edition 1 is in the Renault Art Collection in Paris). The exhaust is also available in American black walnut at the same price, or in mirror polished bronze, to commission, for £85,000 excluding VAT.

Other works include the F1 engine crankshaft, upscaled at over two metres high in American black walnut at £30,000 excluding VAT; a life-size re-creation of the V8 engine in glass at £70,000 excluding VAT; and wall mounted neon tracks of several F1 circuits for £8,000 excluding VAT. To highlight the risk of the drivers in pursuit of the fastest speeds in the world, Angela borrowed a helmet from a current F1 driver and cast it in crystal glass. It is an edition of six at £15,000 excluding VAT.
Angela Palmer

Red Hot Orange Exhaust
. Dramatically upscaled in resin (suitable for indoors or outdoors), based on the RS27 F1 V8, winner of four consecutive F1 world championships.
61x103x67cm
Edition of four
£35,000 excluding VAT
As well as exploring the complex mechanisms borne from the minds of the world's most sophisticated engineers, Angela is also known for her work focused on the inner architecture of the human body. In particular, the brain whose complexities continue to challenge the most advanced medical minds. Over the past few years, Angela has shone the spotlight on both man and machine, shifting the focus from function and mechanism to the visual power of form and scale, exposing the hidden beauty of internal structures rarely seen.

This fusion of interests in the complexities of man and machine complement the twin themes addressed by Sir Jackie and his charity, with its goal to apply the same innovation, precision and speed experienced during his lifetime within F1 to the field of research into the brain and dementia.
essence info
The Race against Time exhibition is being held at the Zuleika, Ongpin & Peppiatt Galleries, 6 Masons Yard, St James's, London SW1Y 6BU from 18 to 23 September. For further details, please contact gallery director Lizzie Collins:
Email:
lizzie@zuleikagallery.com
Website:
www.zuleikagallery.com
Works may be purchased ahead of the exhibition.