The many faces of Genevieve O'Reilly
Despite spending many of her formative years in Adelaide, Dublin-born actress Genevieve O'Reilly retains her Irish lilt and talks to essence about her current role in Tin Star, starring alongside Tim Roth and Mad Men's Christina Hendricks, the importance of her family and her very varied acting roles.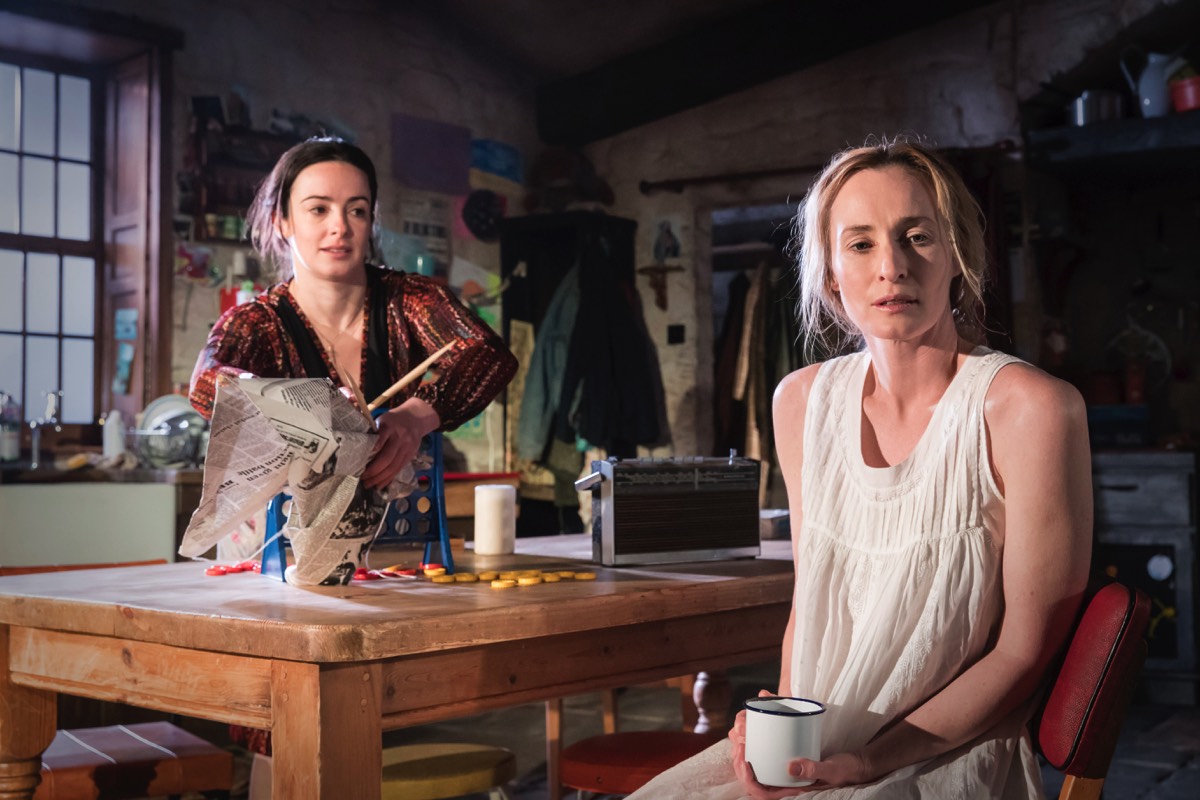 Laura Donnelly (Caitlin Carney) and Genevieve O'Reilly (Mary Carney) in The Ferryman - Photo copyright: Johan Persson
Q Your family emigrated to Australia when you were 10. Did you regard this as an adventure or a terrific upheaval?
A
My parents are great people, full of spirit. And they emigrated to the other side of the world for opportunity for them and for us. So they sold it to us as an adventure. And, of course, it felt like one. It was the first time we had been on a plane, and we were flying to the other side of the world where they had beaches and kangaroos! I remember it as an exciting time.


Q Neither your father (computing), nor your mother (housewife) were actors. How did you decide on the profession, is it in the Irish DNA?
A
I think the Irish culture is instinctively theatrical. Storytelling, song and dance were a daily part of our immediate family life and extended family gatherings.
I remember my parents, my brother and sisters, every aunt and uncle, grandparents and cousins performing song or dance, poetry or stories at parties. They were 'party pieces' and everyone got involved. And they still do it now.
And although I'm the only actor, many of my cousins are involved in creating, producing and directing within the arts. In our family it was probably nature and nurture.


Q Was returning to the UK in 2005 a career move?
A
I always wanted to work here in the UK. I trained in theatre, so it has been important for me to continue to have a relationship with the stage throughout my career. I feel like I sharpen my tools as an actor when I'm on stage: theatre here in London is some of the best in the world.
And I am attracted to how we tell stories here in film and television. We are unafraid to tackle high-end glossy blockbusters, but simultaneously leaving space to tell smaller scale human dramas. And I think we are open to those styles influencing each other.
Tin Star is a great example of this. The piece is unashamedly ambitious in its cinematography and narrative scope, yet at its heart, it's a family drama.


Q Your career has blossomed, you have two young children and a very full schedule with quite a bit of travelling. Do you place family first above acting?
A
I think I'm no different to any working parent. I'm doing my best to juggle time with my partner, kids and my career. Yes, my job requires a bit of travelling, so that's just another plate to spin. But I feel fortunate to be able to give it a go.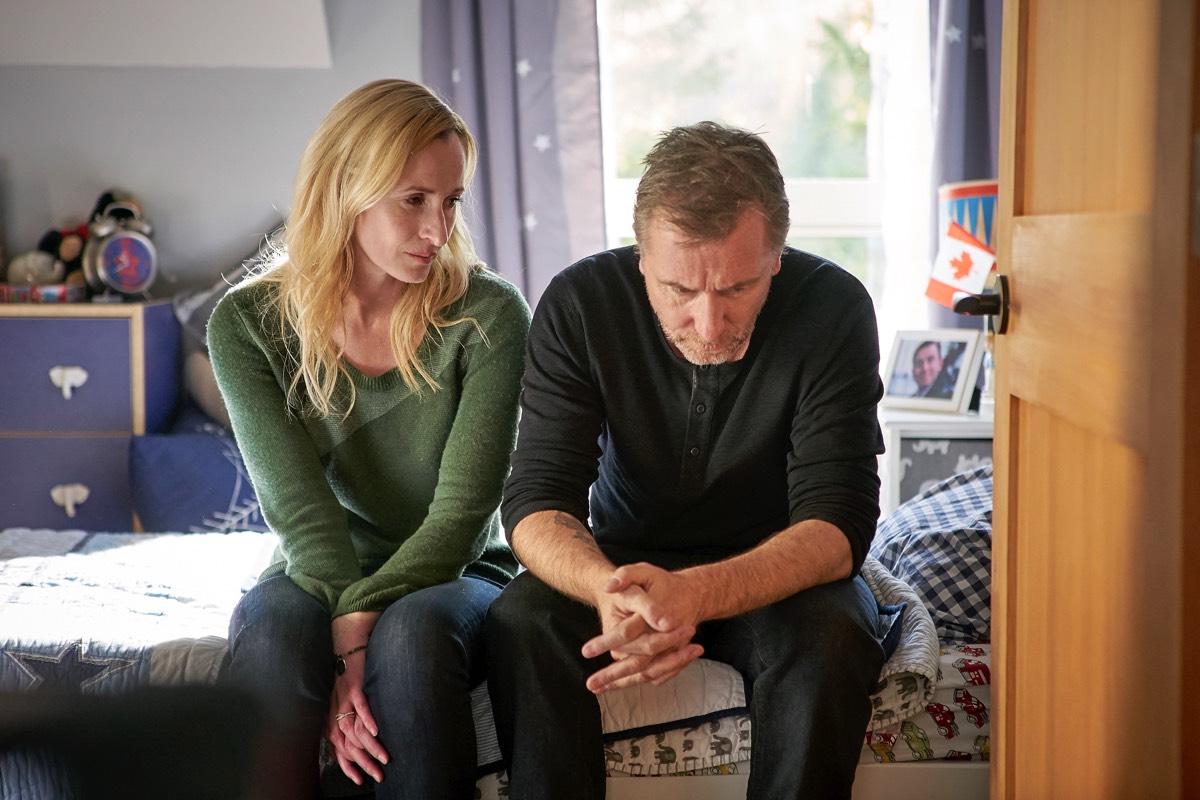 Genevieve O'Reilly (Angela Worth) and Tim Roth (Jim Worth) in Sky Atlantic's Tin Star - Photo copyright: BSkyB.com
Q Does family life keep you grounded?
A Well, I love my family. I love being with them and spending time with them. And they are at the core of who I am. So, yes, I guess they do ground me.

Q You've had some very different acting roles from Mon Mothma (Star Wars), Diana, Princess of Wales (TV docudrama 2007), Hazel Stewart (The Secret TV series 2016), to Mary Carney in the Ferryman (theatre). Which media do you enjoy most?
A I am ever grateful that my career has found roots in each medium. And I hope to continue to work in all forms. At its heart, it is all storytelling, but I think each medium asks for a slightly different skill from the actor. And I love the opportunity to practice and improve those skills.

Q The Secret is an incredible, real life, fact stranger than fiction story in which Hazel Stewart (you) and lover Colin Howell (James Nesbitt) murder their spouses. Stewart has been portrayed either as a victim of a controlling and abusive man or as a conniving, manipulative evil woman, a Lady Macbeth. How did you want to portray her knowing the sensitive nature of the part?
A It interested me that, as you say, opinions of Hazel were so polarised. And I think and hope we are coming to the other side of a time where women's narratives were only ever 'madonna or whore', 'victim or evil temptress'. Because, of course, the truth lies somewhere murkily in the middle.

My job is really to humanise what is on the page. And that's what I wanted to find in my portrayal of Hazel Stewart: a woman who at different times probably embodied all of those qualities.
The Secret – fact stranger than fiction
Hazel Stewart was once a glamorous regular on the well-heeled social scene of the policing community along Northern Ireland's northern coast. Yet behind her respectable public image lay a terrible secret she had been hiding for nearly two decades. The former nursery assistant was behind a double killing that could have formed the plot of a John Grisham novel.

It was Stewart's former lover, Colin Howell, who would break the silence on the murders that had been passed off as a double-suicide for so long. Without the former dentist's testimony, Stewart would have got away with what Detective Sergeant Geoff Ferris described as: "nearly the perfect murder".

In May 1991, Stewart's then-husband Trevor Buchanan, a Royal Ulster Constabulary constable, was found dead in a car with Lesley Howell, the wife of Colin Howell, her dentist and lover. Lesley was found in the back seat of the fume-filled vehicle clutching pictures of her children while Trevor was slumped in the front of the car. A pipe led from the exhaust into the interior.

Following the discovery near holiday homes overlooking the Atlantic in the resort of Castlerock, the RUC assumed it had been a suicide pact by two people who had discovered their partners were betraying them.

Stewart, now 47, was a Sunday school teacher at a Baptist church to which Howell had once belonged. And ultimately it was religious guilt that prompted Howell to come clean and put both of them in the frame. In January 2009, he visited his local church in Coleraine and told the elders what he had done, saying God had asked him to confess. The 51-year-old revealed that he had gassed his wife and Trevor Buchanan, his lover's husband, before leaving their bodies in the cars. On the advice of the church elders, Howell walked into Coleraine police station and owned up, telling detectives that Hazel Stewart had colluded with him.

Throughout her trial Stewart maintained she was forced to help dispose of the pipes used to gas the victims purely out of fear of what Howell might do to her or her children. However, the jury refused to believe her, finding her guilty of what the prosecution described as an act of "gruesome extermination".

After five years the couple who killed to be together, parted. Howell met and married an American divorcee, and they went on to have five children together. After a seven-year relationship with another man, in 2005 Stewart married her second husband, David Stewart, a former police chief superintendent. But before they could celebrate their fourth wedding anniversary, Hazel Stewart was arrested – charged with the murder of her first husband and her former lover's wife.
Q You seem to be able to transform your looks chameleon-like to mirror both your real life and fictional characters: Trevor Nunn and Sebastian Faulks stated you brought to life Isabelle in Birdsong. Is this by design or chance? Have you chosen parts with a pre-requisite that there is such a similarity?
A
I don't consciously choose a role in regard to how a character looks. I am attracted to the story and challenge of the woman and character and role. After that, it is a matter of amalgamating myself, and what I look like, with ideas that I (and the designer and director) have about how the character looks, moves and speaks. One will naturally bleed into the other. But I do like to be able to leave the character at the door when I come home at night.


Q Can we assume that playing Mon Mothma (one of the few female roles in Star Wars) adds some light relief to all the serious roles you take on, as well as swelling the inbox and social media traffic?
A
I loved playing Mon Mothma. It was so much fun to be part of Rogue One and the Star Wars' universe.


Q Your latest work, Tin Star, began screening last month on Sky Atlantic. Billed as a revenge thriller, you play Tim Roth's wife Angela. Tim is known for his knack of portraying violence on screen. Is your role again something new for you?
A
Angela is not just what she initially seems when we first meet her. And I relished the idea that she had a wealth of story under the surface. I loved how Rowan and Alison (the creators) spoke about her, and the scope for discovery. Violence plays a large part in this piece. And, you're right, I hadn't really been part of anything like it before. So I was thrilled to jump in.


Q Tin Star is filmed in the Canadian Rockies – did you have any time to explore?
A
We filmed a lot in the Rockies, journeying out of Calgary each day to different locations in the mountains which are gobsmackingly mesmerising. It was such a treat to visit them each day. They are such a provocative character in the landscape there: they demand to be looked at.

We took a family holiday when we had a break from filming, and did a road trip though the mountains. We spent the whole time in awe!


Q What do you enjoy during leisure time when not working?
A
I love a Sunday with no plans. Just mooching about at home with the family and the dog. Cooking, playing games, going for a walk and hanging out. Bliss.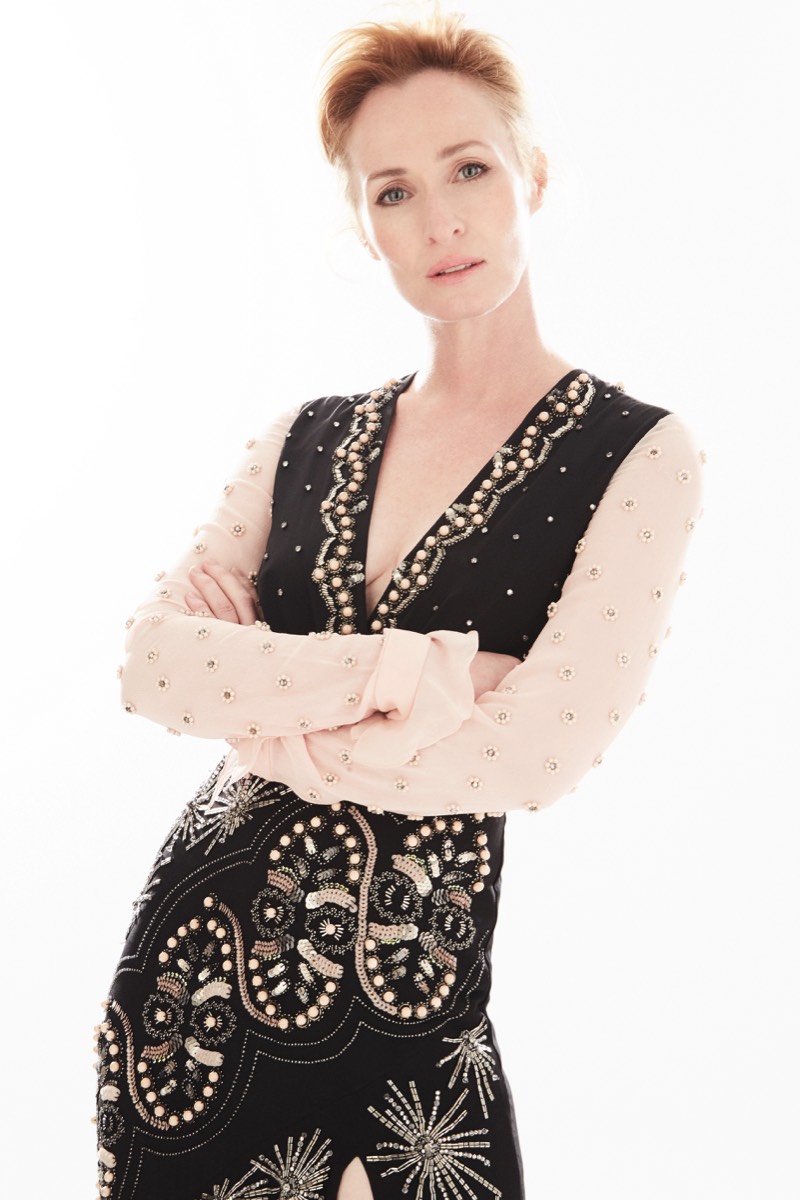 Profile: Genevieve O'Reilly
Genevieve was born in Dublin, Ireland in 1977. In 2000, she graduated from the National Institute of Dramatic Art (NIDA) in Sydney, Australia with a degree in Performing Arts.

Besides Mon Mothma, Genevieve portrayed Officer Wirtz in The Matrix Reloaded and The Matrix Revolutions, as well as Princess Diana in the 2007 TV movie Diana: Last Days of a Princess.

Her film credits also include Cyber Wars, The Young Victoria and Forget Me Not. Genevieve has appeared in numerous TV series such as BeastMaster, Young Lions, All Saints, The State Within, The Time of Your Life, Spooks, New Tricks, Law & Order: UK, Waking the Dead, Episodes, Midsomer Murders, The Last Weekend and Crossing Lines.

Theatrically, Genevieve has performed such stage roles as Olivia in Twelfth Night, Veronica in The Ugly Man, Millamant in The Way of the World, Ruth in Così, Queen Isabel in Richard II, Valerie in The Weir, Isabelle in Birdsong, Helena in Emperor and Galilean, Jennifer in The Doctor's Dilemma and many more.

In 2003, StarWars.com announced that Genevieve would reprise the role of Mon Mothma in Star Wars: Episode III Revenge of the Sith, a character previously portrayed by Caroline Blakiston in Star Wars: Episode VI Return of the Jedi. Cast for her strong resemblance to Caroline, she carefully studied the British actress's performance in order to capture the character's voice and mannerisms.

In 2016, it was revealed that Genevieve would return as Mothma in the Anthology film Rogue One: A Star Wars Story. She also voiced her character for two episodes of the TV series Star Wars Rebels, which aired in 2017.
essence info
Genevieve O'Reilly stars in Sky Atlantic's new ten-part epic revenge thriller drama Tin Star opposite Tim Roth and Christina Hendricks. The story follows a former London police detective (Tim Roth) who moves to a small town in the Rocky Mountains with his wife (Genevieve O'Reilly) and children, where he is now the new chief of police. Tin Star is a tale of the corruption of innocence; of murder, of grief and of all consuming revenge – set against the backdrop of a remote and beautiful mountain town. The 10 episode series started last month on Sky Atlantic.