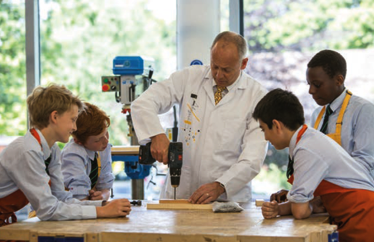 The values-driven education that pupils experience at Reed's equips them not only with the excellent academic qualifications and the interpersonal skills they will need for the future but, most importantly, it ensures that when they leave Reed's, they will possess a strong moral compass and a desire to go into the world and improve it.
The Headmaster, Mark Hoskins, believes that the School's core values of Integrity, Compassion, Curiosity, Resilience, Responsibility and Independence, which they seek to instil in all their pupils' characters, produces well-rounded individuals who are confident, personable, generous of spirit and deed, and who will possess a lifelong love of learning.
Set amongst 40 acres of countryside and benefiting from a beautiful and secure campus, the pupils enjoy the space, flow and surroundings which provide an inspiring setting. Relatively small for a senior school, the fact that retains fifteen percent of pupils as boarders means it brings with it all the best advantages for day pupils, such as wrap-around care and outstanding pastoral support, allowing each and every child to be known and valued.
The structure of all-boys school from eleven to sixteen allows boys to develop and mature in an environment where they participate in all aspects of school life, be it drama, music, sports or the array of co-curricular activities that Reed's offers, without being distracted or stereotyped and where the academic lessons are tailored to inspire and motivate them to excel. A co-educational Sixth Form then helps establish a community which prepares all pupils for their transition to University and for life beyond the security of Reed's.
At the heart of the school is the understanding that exceptional pastoral care is fundamental to shaping pupils' character and happiness and they do this within an educational environment where they nurture and encourage, stretch without stressing and push without pressurising.