Kevin Pilley visits the peach state, Georgia, in the American Deep South and follows the Gone With The Wind Trail.
"The South. Noun. The place where the tea is sweet and the accents are sweeter. Summer starts in April. Front porches are wide and words are long. Y'all is the only proper noun. Chicken is fried and biscuits come with gravy. Macaroni and cheese is a vegetable. Someone's heart always blessed."

That definition of the American Deep South greets visitors on a cushion of the wraparound porch of The Twelve Oaks antebellum (pre-American Civil War) mansion B&B in Covington, Georgia. The classic white colonnaded 1836 house was the inspiration for Ashley Wilkes's swish residence in the Gone With The Wind film (1939). Author Margaret Mitchell suggested it.

Formerly a judge's house and cotton broker's home, The Twelve Oaks has been lavishly and luxuriously restored to become once again the epitome of aristocratic southern living. There is even a Frankly Scarlett Suite, where a visitor can pretend to be the spoilt daughter of a rich plantation owner and slaveholder, a southern belle and a feisty feminist icon, all in the same room. They can also be a bit of a Pansy, as that was the original name of Vivien Leigh's famous character.

Forty-five minutes from Atlanta, the house is decorated with crystal chandeliers, sparkling glassware, carved leg antique tables and period paintings. The suites have ribcage showers and copper bateau soaker tubs. There is a croquet lawn and swimming pool. It's run by former insurance underwriter Nicole Greer Munn and her husband John, a jet mechanic. Son Parker provides the turndown service and leaves chocolate truffles by the bed. Chris and Travis act the roles of servants brilliantly.
Says Nicole: "It was my favourite house growing up. When it became available I knew I had to buy it and make it beautiful again. All thirty windows were gone and there was a lot of water damage."

The Twelve Oaks offers authentic five star antebellum bliss with caramel apple pancakes, peaches and cream-stuffed French toast, strawberry shortcake with bourbon whipped cream, buttermilk biscuits and granola and berry yoghurt served in antique champagne glasses for a down home breakfast. On display are repro GWTW suits and period gowns and dresses.

The Twelve Oaks is part of Georgia's Gone With The Wind Trail which remains as popular as ever. The Vampire Diaries was filmed in Covington and the executive producer always stayed with the Greer Munns.

Nearby, on north Cherokee Road in Social Circle, Louis and Billie van Dyke's Greek revival mansion Blue Willow Inn offers formal dressy southern buffets. Mitchell visited many times while courting Redd Upshaw, her first husband and inspiration for Clark Gable's character.

It offers traditional cuisine in the form of collards (heartless cabbage), grits (corn porridge), catfish, hushpuppies (savoury deep fried balls), peach cobbler (Georgia is, after all, the Peach State) and fried green tomatoes, although not necessarily in that order.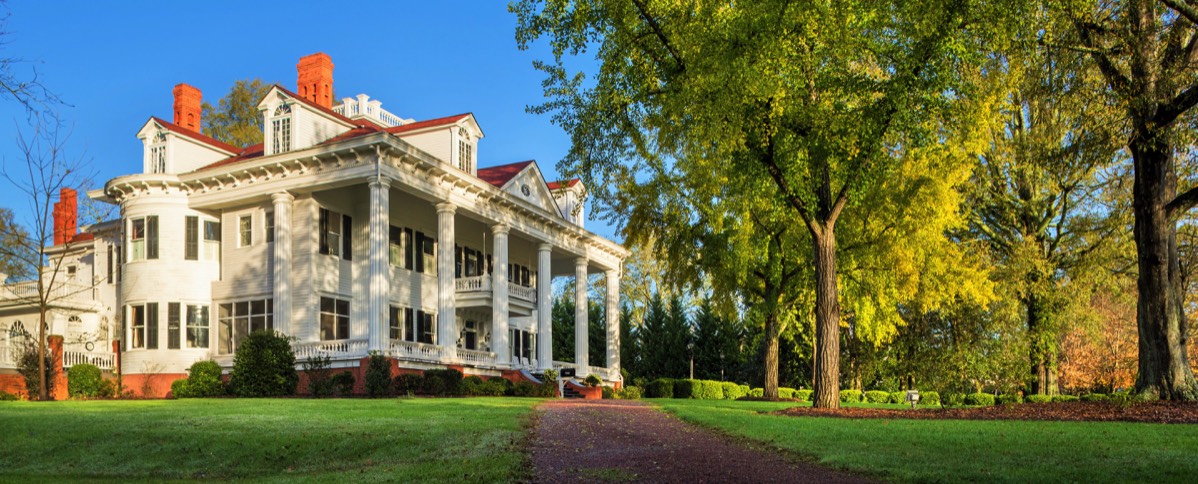 The Twelve Oaks, Covington, Georgia - Image provided courtesy The Twelve Oaks
The Trail takes visitors to what Mitchell called 'The Dump' – The Crescent Apartments in Atlanta where she and second husband, copy editor John Marsh, lived between 1925–32, and where she wrote her masterpiece and last work. Mitchell was thirty-six when it was published in 1936.

In the Margaret Mitchell House and museum we learnt her father was an attorney and her family came from Aberdeenshire on his side and Ireland on her mother's. That she collected erotica and was interested in pornography, liked to be called Peggy, described herself as "an unscrupulous flirt" and wrote her first book at thirteen. She even wrote a western.

Mitchell spent her early childhood in Jackson Hall, destroyed in the Great Atlanta Fire of 1917. She "sat on the bony knees of veterans and the fat slippery laps of great aunts" and heard them talk of the early days. Her mother, May Belle, was a suffragist who advised her: "Give of yourself with both hands and overflowing heart, but give only the excess after you have lived your own life."

As a debutante in the Roaring Twenties, Mitchell performed scandalous Tango and provocative Apache dances. She flapped. She was taken to the Georgian Terrace Hotel by Rudolph Valentino who she had interviewed working as journalist for the Atlanta Journal.

Excluding Vivien Leigh, the cast of Gone With The Wind all stayed at the 1911 midtown hotel while attending the film's premier at Loews Grand Theatre (formerly the 1893 De Give's Grand Opera House) which was demolished in 1978 after a fire. No black actors were allowed into the one-screen, 2,088 seat cinema.

The Georgian Terrace Hotel has now been stunningly modernised. It is close to the spot where Mitchell died in 1949, run over by an off-shift taxi driver on her way to the cinema.

The Atlanta-Fulton Central Library displays her Remington typewriter along with her 1937 Pulitzer Prize. She is buried at Oakland cemetery amongst 7,000 Confederate graves.

Marietta, Georgia also has a museum with gowns and personal scripts. In Jonesboro, where Margaret Mitchell's grandparents had their Rural Home farmhouse (the inspiration for Tara in the book), The Road to Tara Museum can be visited. Housed in an 1867 train depot, it displays wigs, stills, costumes and Mitchell's favourite china; admission is $7.
Union Army Civil War reenactors shoot muskets in firing demonstration - Photo copyright: Russell Ensley
The best Gone With The Wind tour is provided by Civil War historian Peter Bonner who talks visitors down and through Tara Boulevard and the red earth road of Clayton Country. GWTW appeals to something in all of us. We all want to be part of that life. We dream of being the perfect knight, beau ideal, belle and scallywag which Mitchell defined: "As Southerner turned Republican. We all want to dress that way."

Bonner takes us to battlefields and tells stories of the local characters who inspired Mitchell's characters. He says: "Gerald O'Hara was Mitchell's great-great grandfather, Philip Fitzgerald." If lucky, he'll take you to a shed where Tara's remains lay, the façade from the film, which he is lovingly restoring. He also has parts of the original Fitzgerald farmhouse. He hopes to open a museum.

As Bonner explains: "The film romanticised the Deep South. It was the Hollywood version. Not the real Georgia Piedmont – the area between the Blue Ridge Mountains and the coastal plains."

But The Twelve Oaks on Monticello Street, Covington – which has 200 similar historic homes – remains the place to indulge in aristocratic southern fantasies: rocking in a white chair sipping iced tea (the Champagne of the South), imagining yourself in plumes, burgundy ball gowns, blue peignoirs, perfecting the 'dressed by Walter Plunkett' look and Olivia de Havilland and Vivien Leigh impressions, twirling a parasol, being flirtatious but chaste, fun-loving but chaste, and saying: "Fiddle Dee, tomorrow is another day", the original title for Gone With The Wind and the film's closing line.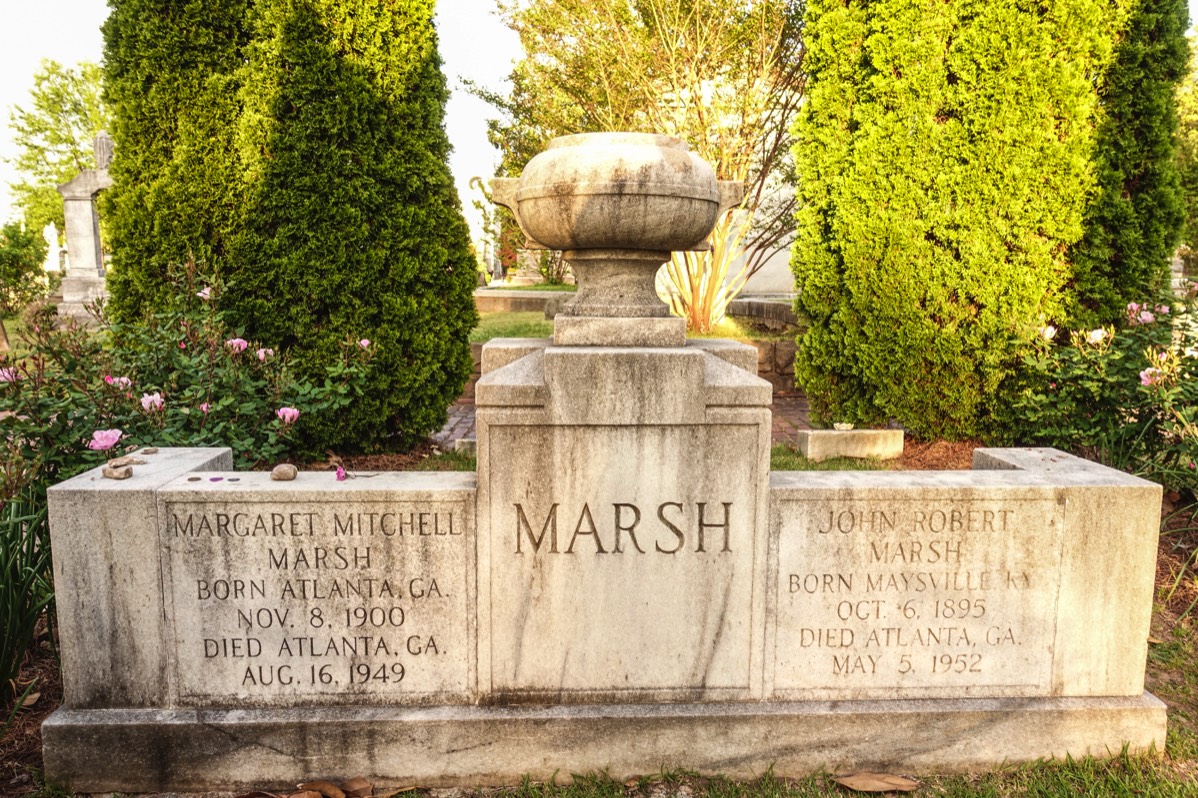 Grave of Margaret Mitchell on Atlanta cemetery – author of Gone with the Wind - Photo copyright: Erik Lattwein
Alternatively, just 'flap' and celebrate your high waistline, imagining yourself in bobbed hair wearing T-straps, challenging old orthodoxies and flouting norms, having far too many 'southern smashes' and mint juleps (bourbon whiskey, sugar, shaved ice and 'muddled' mint) as you Charleston your life away. And learn to fly like Mrs Mitchell.

On the National Registry of Historic Places, The Twelve Oaks is considered one of the finest examples of antebellum architecture. It hasn't changed much in nearly 100 years, apart from the Vampire fans to meet at the daily Nibblin' and Sippin' hour (there is a Salvatore Brothers Suite), the fluffy towels and togas, the chromotherapy and the remote control fireplaces.

The only thing missing is mint julep: now it's Riesling or Chardonnay with tacos and chilli cheese chunks.

But it is the ultimate southern privileged experience nonetheless.

The cat's meow and the real bee's knees.