Interior inspiration from Milan…
The Salone Internazionale del Mobile was founded in 1961 as a vehicle for promoting Italian furniture and furnishings exports and soon became the most keenly awaited event in the world of furniture. Fiona Applegarth looks back on the 2019 Salone del Mobile and Euroluce.
It was over 20 years ago when I made my first visit to Milan Design week. Having established Sable Interiors a few years earlier, I was really eager to expand the portfolio of companies we could incorporate within our expanding project work and decided I should see what I could discover in Italy, the home of great design.

I have attended the trade fair every year since, and each time it has not only inspired me, but also fuelled my passion for what is emerging in the world of interiors. I am never disappointed with what I discover there as it is, undoubtedly, the home of some of the most talented and innovative furniture and lighting designers in the world. During one week in April every year some 2,300 furniture companies fill the 210,000 square metres of the 24 halls, and more than 350,000 trade visitors, like me, are attracted to visit.

The Salone del Mobile exhibition is one of the most important events in any professional interior designer and architect's calendar. It allows us the opportunity to research the multitudinous existing and new suppliers, and a wide variety of cutting-edge and innovative product finishes and launches. The life blood of design.

Abuzz with excitement, we arrived and explored the first halls. It wasn't long before we started to spot the key ongoing trends for 2019. Immediately we noticed the wonderful sinuous shapes inherent in the designs for both furniture and lighting. Sofas and chairs adopted a more feminine feel with gentle rounded edges: moulded and undulating with fluid lines and soft comfortable, generous cushions, seating design embraced convex sections and curved arm details.

Leg designs for furniture were predominantly more cylindrical and slim in profile, not heavy and chunky. Perched upon slim T-shaped and tubular metal bases, the effect was a lighter feel as if these pieces were floating. Sideboards and storage cabinets had similar wonderful pencil thin cylindrical leg details.

To complement the seating, many companies continue to show 'clusters' of rounded coffee and side tables, all working together in a mixture of varying diameters, heights and finishes. Fun, interesting and a joy to behold, gone are the more regimented and strict hard lines of large square and rectangular coffee tables.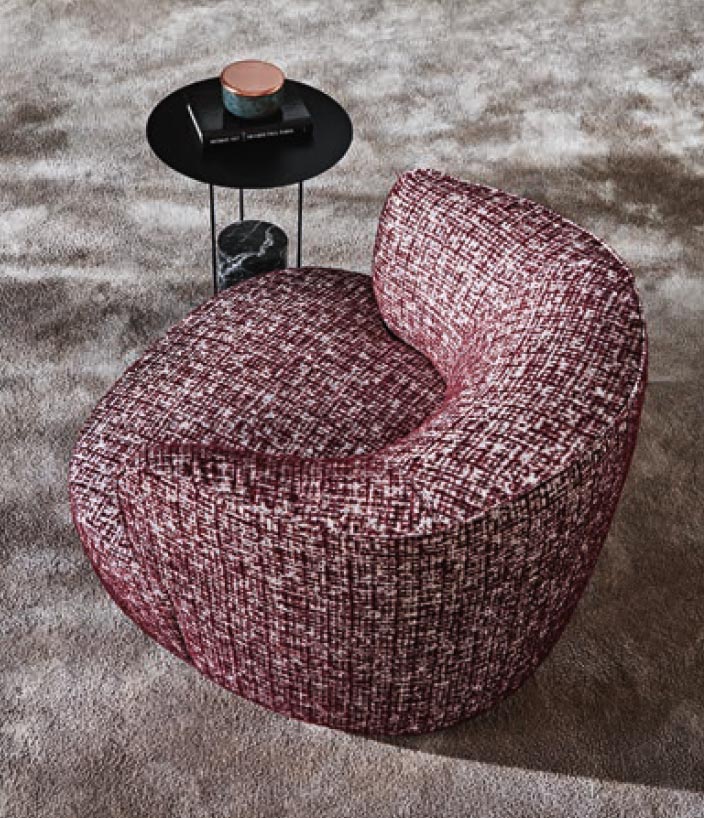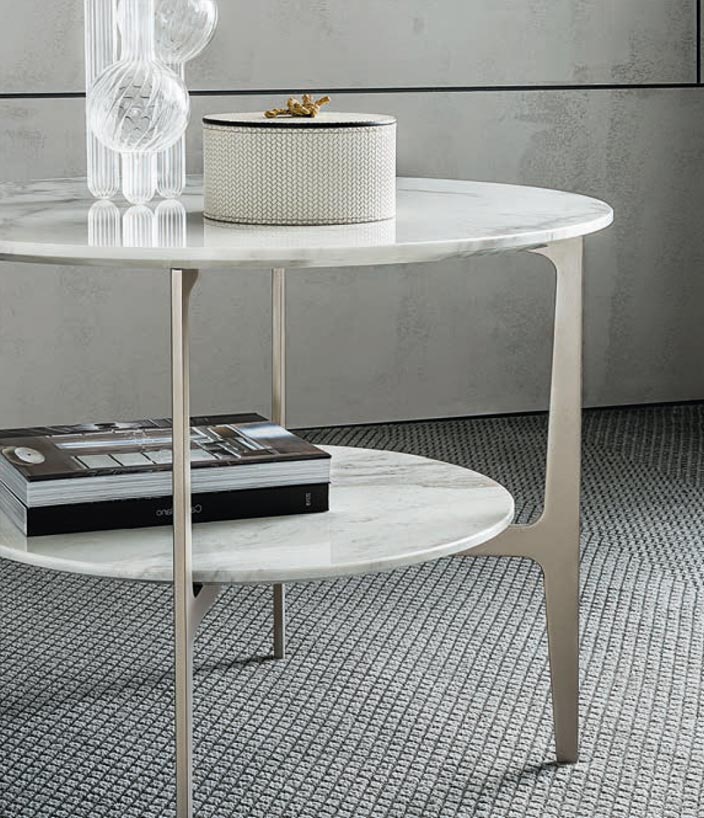 In my design work I have always had a passion for beautiful finishes. These are vital elements in a successful design scheme as they add depth and interest. As with London, in Milan we continued to see a propensity towards warm metallic tones of gold and brushed brass lacquered steel. Wood tones are less severe and warmer too in soft grey and tobacco colours rather than dark chocolate, and with a more appealing and apparent grain detail.

The use of natural stones on table tops, paneling and cabinetry continues to be prolific. Although we saw darker more masculine coloured stones such as Kenya Black and Sahara Noir, lighter stones such as Calacatta Oro and Carrara were consistently more popular choices.

Glass is a fascinating medium to work with and we discovered a wealth of tabletops and panels in 12mm thick extra clear beveled glass with a vast selection of innovative artistic decorative printing. The intention behind this new development is to create interesting effects and also to simulate natural stones which appear very realistic and at the same time allow for stronger thinner profiles to be created.

Storage unit, walk-in wardrobe closet and TV unit designs move towards less minimal forms with rounded edges. Wing and tip-up doors in wood and lacquer drawers all favoured simple, less complicated flush metal handles.

Even the majority of mirrors were circular and, in many cases, huge and oversized so they made a strong statement and dominated the wall on which they were installed.

A common theme running through fabrics was a more natural approach. The use of tactile and textural semi-plain weaves in soft natural fibres such as fuss-free cotton, cut velvets and natural linen were all used to dress the season's new furniture collections.

Although an abundance of neutral and nude tones were evident, our senses were stirred from time to time by the combination of vibrant colours such as warm spicy mustard, orange, green and Persian blue. Modern primitive, glamorous ethnic and Oriental designs were all represented. As were nature inspired decor with bold botanicals. This was one of the biggest ongoing trend themes in fabrics, mosaics and wall-coverings.

For the first time many companies devoted areas of their stands to launching outdoor ranges of furniture surrounded by lush palms and other greenery. At times we were transported to exotic climes as we relaxed into deep sofas and chaise longues overshadowed by large parasols and stylish sun deflectors. Garden furniture is now a very big theme as we enjoy warmer summers.
Four of the huge pavilions at the fair were dedicated to hosting the biennial Euroluce lighting exhibition, and on our second day we were keen to discover what the world's leading quality lighting brands were showcasing. Lighting has the ability to create a feel-good quality in every setting and is one of the most dynamic design elements available to a designer. Once again, we were not disappointed as we continued throughout the day to be delighted in viewing outstanding pieces.

Similar to the furniture halls, clustering of spherical elements was the most obvious trend in lighting. Simple spherical glass shapes, intricate compositions and globe pendants in clear and diffused glass with metal suspensions were on offer wherever we turned. The jewel in the crown, lighting took our breath away and was celebrated like royalty.

Truly inspired by what we saw in Milan this year, the design team at Sable Interiors is full of enthusiasm and eager to incorporate many of the newly launched products within our current design projects. It was a worthwhile trip. Roll on next year!
essence info
Fiona Applegarth is director of interior design company Sable.
Sable Interiors Ltd, 124 Summer Road, Thames Ditton, Surrey KT7 0QR
Website:
www.sableinteriors.com
Telephone:
020 8398 9777