Actress Jo Hartley has starred alongside some of our country's acting heavyweights: Julie Walters, Damian Lewis, Vicky McClure and John Simm, to name a few. She has also played Eddie the Eagle's mum, but came to fame as Cynthia in This is England. Currently starring in Sky One's comedy Bliss, Andrew Peters got to the bottom of Jo's love for acting.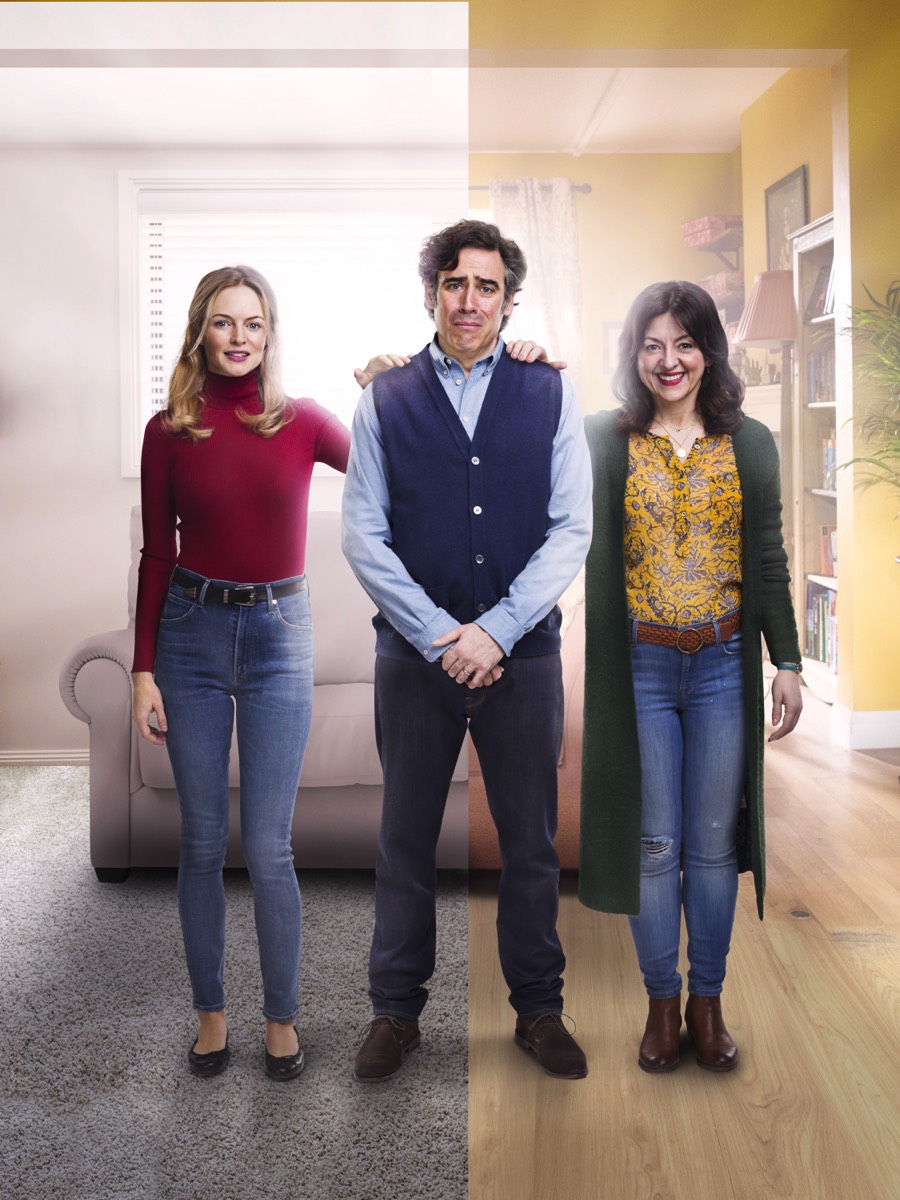 Heather Graham, Stephen Mangan and Jo Hartley in Sky One's Bliss - Photo copyright: BSkyB
Q Jo, what made you want to become an actor?
A
I've wanted to act since I was a little girl. I found it quite magical how some actors could just transform themselves into different characters, I've always loved stories. The moment I realised I wanted to be an actor was whilst I was in The Sound of Music at secondary school. I played Gretl. My family was in the audience and auntie Betty was visiting from New York. I remember feeling that buzz as I walked out onto the stage, thrilling. It stayed with me. Growing up, I was always a huge fan of films.


Q You frequented the famous Hacienda nightclub in its heyday – do you have fond memories of those times?
A
So many. Some of the best nights of my life were danced out there in my early twenties. It was a great scene to be part of. Lots of my friends were in bands at the time, Stone Roses, Oasis, Happy Mondays and Inspiral Carpets, we would all meet up and head down to town. I remember what I wore the first time I went in the Hacienda: white Levis, red jumper and brown brogues, I was on a date. It was the best place on earth for about five years. I never missed a weekend.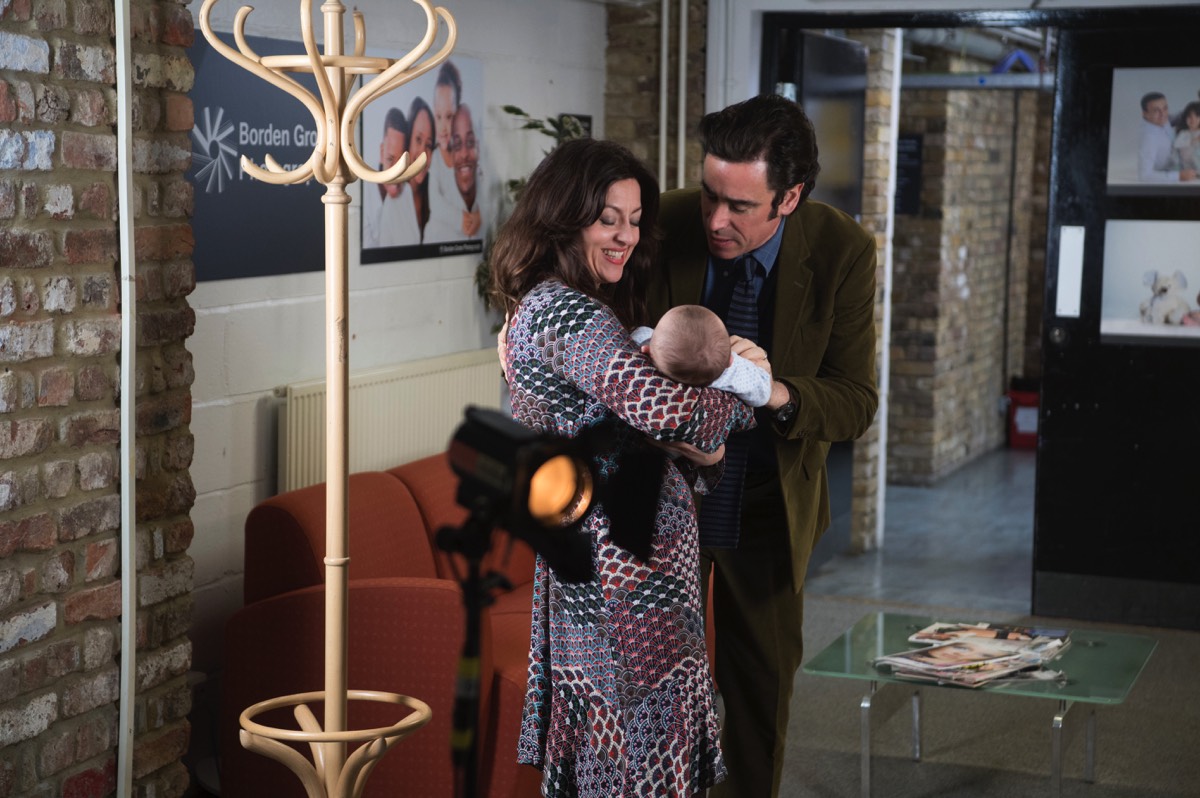 Jo and Stephen Mangan in Bliss - Photo copyright: BSkyB
Q How did you go from being a young girl from a working class background with a passion for drama to now 'living your dream'?
A
Living the dream is right, and that's a great question. Hard work, passion, determination and persistence. I always knew I wanted to be an actor, the question was how to achieve it? My family supported me all the way, I couldn't have done it without them. Learning not to take rejection personally is important. Regardless of background or class, if you are determined and have self-belief, you will succeed. Coming from a working class background has had its advantages. I was brought up with a strong work ethic and I guess I might never have worked with Shane Meadows (This Is England director). He kickstarted my career, believed in me and I'm grateful to him for that.


Q Starting acting later than some, how did you adapt and learn the profession?
A
Well, I began acting when I was 11 years old and I've never really stopped. I was 28 when I had my first professional gig, Dead Man's Shoes. Before that I attended Oldham Theatre Workshop, Questors Theatre in Ealing and I took private classes during the period up until I became a professional actor. I recently read an amazing book called To The Actor by Michael Chekhov. I'm always learning, seeking, and pushing myself. Technically I learn so much by being on set and watching other actors.
Q In your opinion, what's the most important aspect of being an actor?
A
Many things. Authenticity, finding the essence of the role, trusting the process and don't act. I need to look after myself: mentally, physically and spiritually. Keep an open mind, allow yourself to be vulnerable and unselfish. Find the truth behind the words. Always listen, collaborate, it's not just about you, and allow the spirit of the character to work through, be moulded into whatever the script requires. Prepare well, know the character and backstory, know your lines like knowing your address, meaning don't be thinking about them whilst performing. Personally, I believe I attract roles depending on where I am. I focus on strengths, but also try to do what scares me. A healthy attitude, good sense of humour and remaining teachable helps. Always treat people as you would like to be treated.


Q Did you imagine the This is England saga would have the impact it has had?
A
No, the life of it has evolved beautifully. I remember we all got a standing ovation at the Rome Film Festival. A memorable moment after all that hard work, that was when I realised it was special. I'm happy This Is England found a life, everyone involved is so beautiful, they care, and it really shows. We are family.


Q What changed for you after that role in the first series (This Is England '86)?
A
Many things, life certainly got much better for me after that. Varied work opportunities came my way. I did my first comedy after TIE '86, The Mimic, I loved making that. Such fun times. The boys wrote the part of Jean for me after watching This Is England.


Q Many of your earlier roles were serious, but you've recently had some fun with others, Eddie the Eagle and David Brent: Life on the Road to name two. Would you want to play an out and out comedy role?
A
Yes, I'd love that. Like Jim Carey, or Laurel and Hardy. Maybe something more off beat, like Napoleon Dynamite. I've always had a silly side, although technically comedy can be challenging. You can't just play for laughs, it's not about being silly, again it's about finding truth. The writing has to be smart for it to work, it's all about timing and pace. I'm always creating characters with mates and I loved working with Ricky Gervais on Life On the Road. He knows how to do it, such a talented man. I'd really like to work with him again.


Q Who have been the biggest influences on your acting career?
A
Gosh, so many...

Actors:
Judy Garland, Jack Lemmon, Daniel Day Lewis, Gary Oldman, Robert De Niro, Al Pacino, John Cassavetes, Gena Rowlands, Marlon Brando, John Turturro, Katharine Hepburn, Sam Rockwell, Julie Walters, Frances McDormand, Meryl Streep, Christopher Walken, Isabelle Huppert, Juliette Binoche... the list goes on.

Directors:
Francis Ford Coppola, Martin Scorsese, John Hughes, Steven Spielberg, Alfred Hitchcock, Stanley Kubrick, Sergio Leone, Michael Haneke and, of course, the wonderful Mr Shane Meadows.

Photo copyright: Pip Jo's top by Solace, London Stylist: Holly Ounstead Hair: Narad Kutowaroo Makeup: Rebecca Richards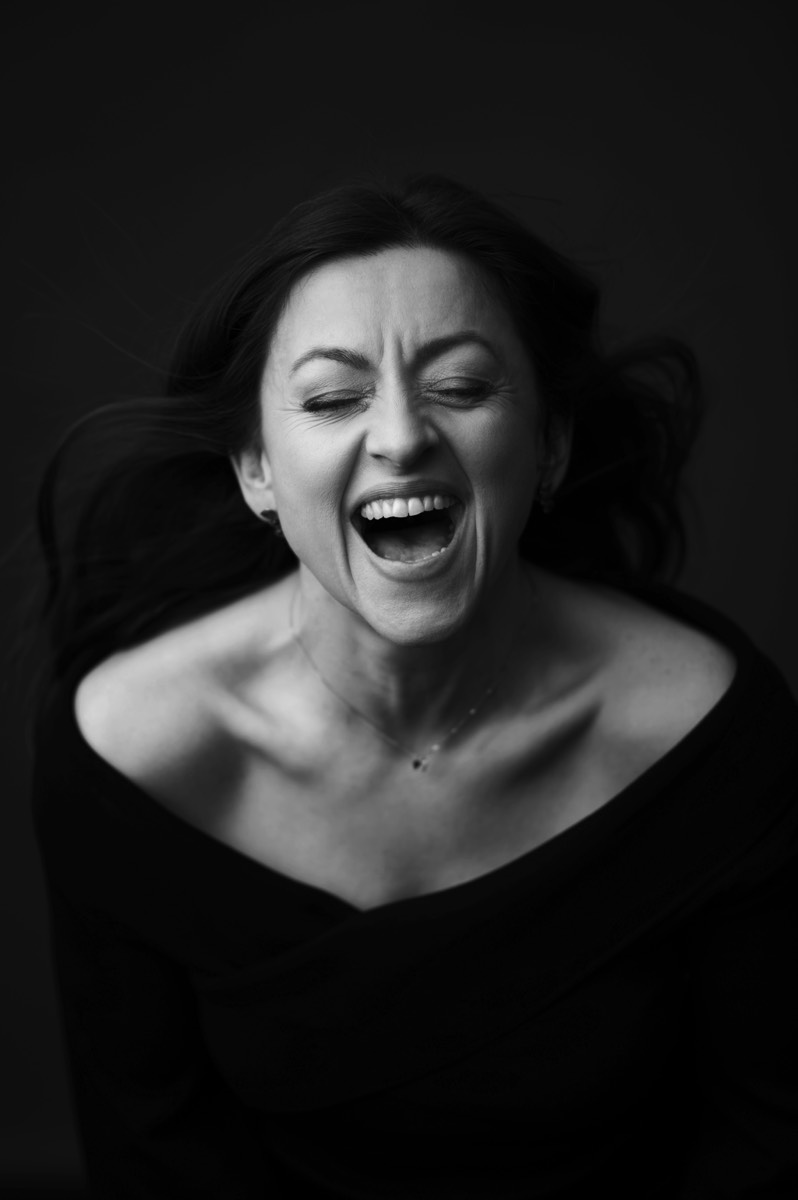 Profile: Jo Hartley
Jo Hartley was born in Oldham, Lancashire and attended North Chadderton Comprehensive School. At the age of 11, she performed in The Sound Of Music as Gretl where Jo got her first taste for acting. Later, she went on to join Oldham Theatre Workshop where she stayed for several years. At the age of 17, Jo's father died, so she decided to travel and put her acting on hold.

After five years of working and living in Japan, she made a decision to come home and revisit her acting aspirations. Jo joined Questors Theatre Group in Ealing, London and engaged in one-on-one tuition with various different acting tutors based in London and Manchester.

In 2002, at a commercial casting, Jo met award-winning British film director Shane Meadows. After working together on This Is England, Shane invited Jo to audition for Dead Man's Shoes starring Paddy Considine. Dead Man's Shoes was Jo's first feature film and she has been acting professionally since.

Jo has starred alongside some of our country's acting heavyweights, with Julie Walters in The Jury, Damian Lewis and Vicky McClure in Stolen and John Simm and Joanne Froggatt in Moving On.

Perhaps her most famous role has been as warm and lovable Cynthia in the multi award-winning This Is England. She appeared in the highly acclaimed Eddie The Eagle as the mother of Eddie, played brilliantly by up-and-comer Taron Egerton and directed by Dexter Fletcher with a cast that included Hugh Jackman, Christopher Walken and Keith Allen. Then followed Life On The Road, a feature alongside Ricky Gervais, who revisited his career-defining character David Brent ten years on from The Office.
Q If you could choose a role, current or past, what would it be?
A Gena Rowlands in A Woman Under The Influence. (John Cassavetes, 1974).

Q Would you ever be tempted to go and try to break America?
A Sure, I'd love to work in America. I'll work hard and see where my journey takes me, put it out there. My auntie Betty worked with the filmmaker Otto Preminger for many years. Let's see what the universe has planned for me, I'm excited.

Q You've done some writing, would you like to do more?
A Yes, I'm currently working on a project with my writing partner, Maria, who lives in New York. We connect each day for a couple of hours and I've learned some discipline. It feels like the natural thing to do after being inspired by friends and peers, Johnny Harris, Alice Lowe, Michaela Coel, Phoebe Waller-Bridge and, of course, the amazing Sharon Horgan, who is an executive on Bliss. I had a conversation with the producer of Bliss, Clelia Mountford, whilst in New York last year and she inspired me. So Maria and I put pen to paper. I had an idea and we just chipped away at it. I love collaborating and I'm excited about what the two of us have created. Let's see what others think. We'll be knocking on some doors soon.

Q What made you decide to get involved with the Draw the Line campaign?
A I was asked to get involved, it was an honour to be asked, and I believed in it. Change is possible, that's my own experience. Physical violence towards women effects men too, it just felt right to say yes. It's about unity.

Q You are currently starring in Sky One's drama/comedy Bliss. Can you tell us a little more about this?
A Sure. It's about a man with two families who know nothing about each other. My character, Denise, has a son with Andrew, and Heather Graham's character, Kim, has a daughter. Andrew (Stephen Mangan) doesn't set out to get himself into this mess, but he's hopeless with women. I wouldn't say he's a bad person at all, he's just weak and very selfish. He hates confrontation. What's heartbreaking is he truly loves them both.

The series highlights how selfish choices affect others dramatically and how people-pleasing really doesn't pay off. When I read the scripts, I was gripped. David Cross, the creator, is incredibly talented. His work is complex, layered and unique. I was so happy when I got the job, it's been a dream and an honour to work with such a fantastic team. I hope people love it, so we can do more.
Quick five
Film or book?
Film.

Favourite film?
The Wizard Of Oz.

Cat or dog?
Dog.

Old or new?
New.

What would be your motto?
The best is yet to come.
essence info
Bliss is currently airing on Sky One.
Instagram:
@johartleyactor
Twitter:
@MissJoHartley
One to watch: Clifford Samuel
Clifford Samuel recently starred in the BBC One drama McMafia opposite James Norton, Juliet Rylance and Faye Marsay. The series premiered in January this year to critical acclaim and has already been picked as one of the highlights of 2018 in television.

Clifford Samuel began acting at the Anna Scher Theatre. He is from North London and born of Nigerian heritage. Since graduating from the prestigious Guildhall School of Music & Drama, Clifford has been part of the Royal Shakespeare Company, making his debut in Julius Caesar and The Two Gentlemen of Verona in Stratford-upon-Avon before touring the United States with the plays.

He has most recently starred in Boudica opposite Gina McKee at Shakepeare's Globe in London.

Clifford's further theatre credits include The Events (Young Vic), The Lightning Child (Shakespeare's Globe), The Girl In The Yellow Dress (Theatre 503), Statement of Regret (National Theatre) and Obama The Mamba (Lowry).