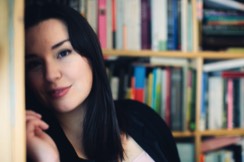 Stephanie Brookes, foodie expert and BBC Radio London contributor, offers her pick of an eating establishment for this month: Osteria Romana in Knightsbridge.


On a quiet side street in the heart of Knightsbridge, discover a true slice of rustic Italian cuisine, specifically, the traditional, and often forgotten, dishes of Rome. Osteria Romana's founder, Andrea Reitano, wanted to recreate bygone dishes of the Eternal City and to unearth many of his grandmother's treasured culinary techniques and recipes. Such is the dedication to authenticity, much of the produce is sourced directly from markets in Rome.
On a particularly rainy Saturday afternoon, we made our way to Knightsbridge and on arrival the welcome we received felt like a true Italian greeting: warm, gracious and hospitable. It instantly revived our rain-soaked spirits. As we were led to our table, the scent of aromatic basil instantly permeated our area of the restaurant. A charming little addition diners observe is the fresh basil plant centrally placed on the table – fortunately, it is there for an actual purpose. Our waiter promptly snipped a few choice leaves, added them to a small serving bowl, along with a good drizzle of extra-virgin olive oil. We were given a generous basket of freshly-baked bread, which we used to mop the green-flecked oil. The basil is then removed, allowing plenty of room for the feasting to truly begin.