Local boy Tom Chilton became the World Touring Car Championship (WTCC) champion at the end of last year. The change in racing format this year will see him returning to the British racing scene. Euan Johns touched base with Tom for his thoughts on new challenges.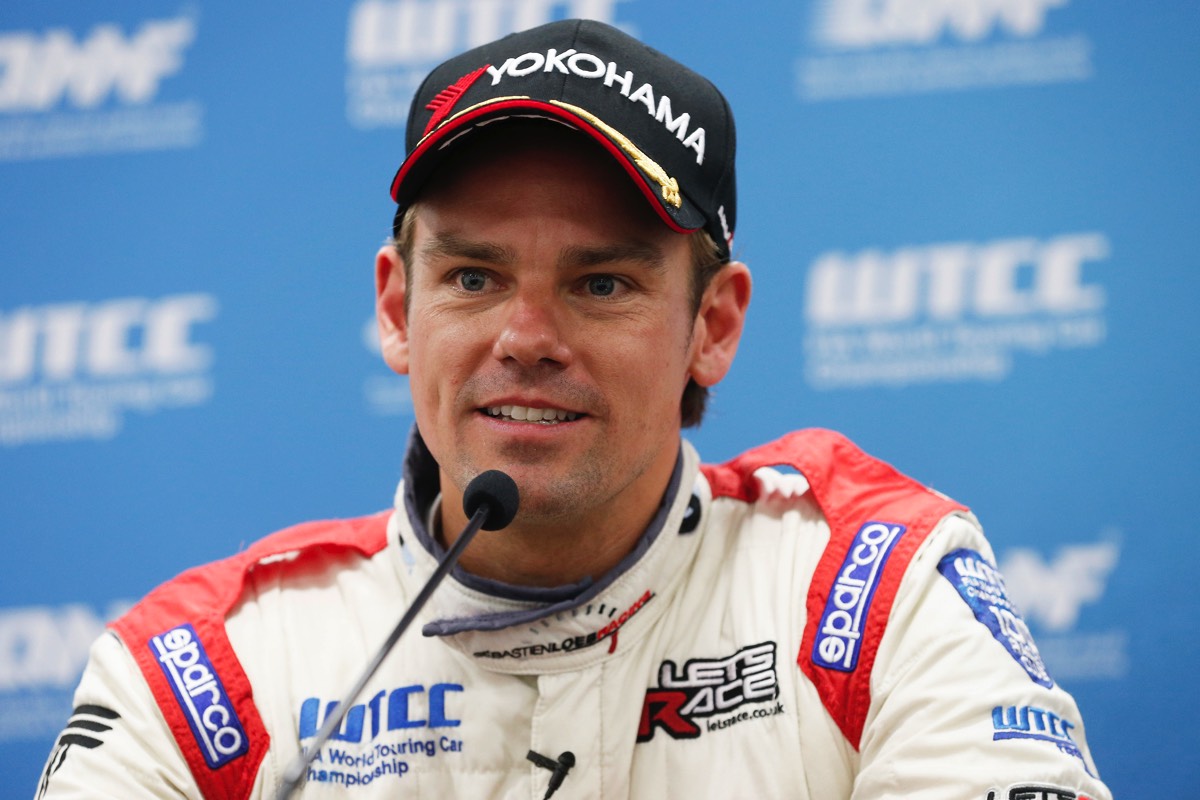 Q Tom, born in Reigate and still living in Reigate – you obviously like the town. What's the best thing about it?
A Yes, I love the Reigate area very much. A lot of my close friends and family live here and I love them all dearly. I like the town as it always has a clean and happy feel to it. It also has some great history behind it from the castle and caves to the stunning Priory Park, so it's more than just a town and place to live to me. It has great schools, shops, churches and viewpoint, plus it's also only 30 minutes to London or Brighton and between Gatwick and Heathrow, which has always been handy for my job, especially in the World Touring Car Championship.

Q Do you know a local Italian menswear shop – Fortanini? Giuseppe Fortanini currently sponsors young karting driver Alfie Prince.
A I know exactly where the Italian men's shop is in Reigate and to be honest I feel bad as I've never wandered that far up the high street as I usually stop at M&S to grab some food! I didn't know he sponsored any drivers. I will be going up there to say hi now, so thanks for the heads up.

Q Both your younger brother Max and you are in the motorsport industry – what attracted you both to the sport?
A Motorsport has been engrained in us from a young age with our father being a massive petrolhead. To cut a long story short, it started in a pub many moons ago involving my dad and a few of his best chums making a bet on who could find the best Ford Escort Mark 2 for under £100 which had failed its MOT. This turned into racing in a field with these amazing rear drive cars, and then the wives became jealous each weekend they were away having fun. So they came along to race too. Best part was my mum was busy or didn't want to race, so Dad said to me why don't you race the women? I started off racing a Ford Escort Mark 2 with my dad's mates' wives at eight years old. Max started at the same age, but in the British Comer Cadet Karting Championship which was a higher level than I was racing. We both got the motorsport bug and love going sideways, being competitive, having fun and making good friends.

Q Max took a different racing route (Indy and F1). What attracted you to touring car racing?
A Our main racing roots from a young age mainly stemmed from the size of our bodies in a funny sort of way, with myself being too healthy in the love handle department! In single seater racing, especially F1, you need to be a maximum weight of 75 kgs and preferably under that. So suited and booted with helmet that's hard to achieve when you're over six foot.
Q Any brotherly rivalry at all?
A Luckily we don't have to be competitive with each other as we race in completely different championships. But I know he really hates being beaten by me at anything: whether that's at golf, PlayStation or the fastest route by car into London, which as we all know is just down to who's missed the most traffic jams and red lights!

Q When did you first race competitively?
A When I was 14, in BRSCC Tcars at Castle Combe (Wiltshire), just after passing my National B racing licence at 13 years 10 months of age.

Q You travel the world during the WTCC. Do you mind this or does it sometimes get a little much on top of the BTCC racing calendar?
A Last year was the hardest of my life with racing, but at the same time, the best. As much as I loved it winning lots of races in the world championship which all went into the title, it didn't give me enough time to focus on the British. I was jetlagged and had no time left between racing, looking after the children and keeping up on my fitness training. I felt if I carried on like that I would burn myself out and not have made the most from myself in one Championship.

Q Favourite way to relax whilst not racing?
A I have a physio session every week which really helps to straighten my body out and relax me. I also enjoy going for a jog around Priory Park to unwind. Only a runner really understands that one though!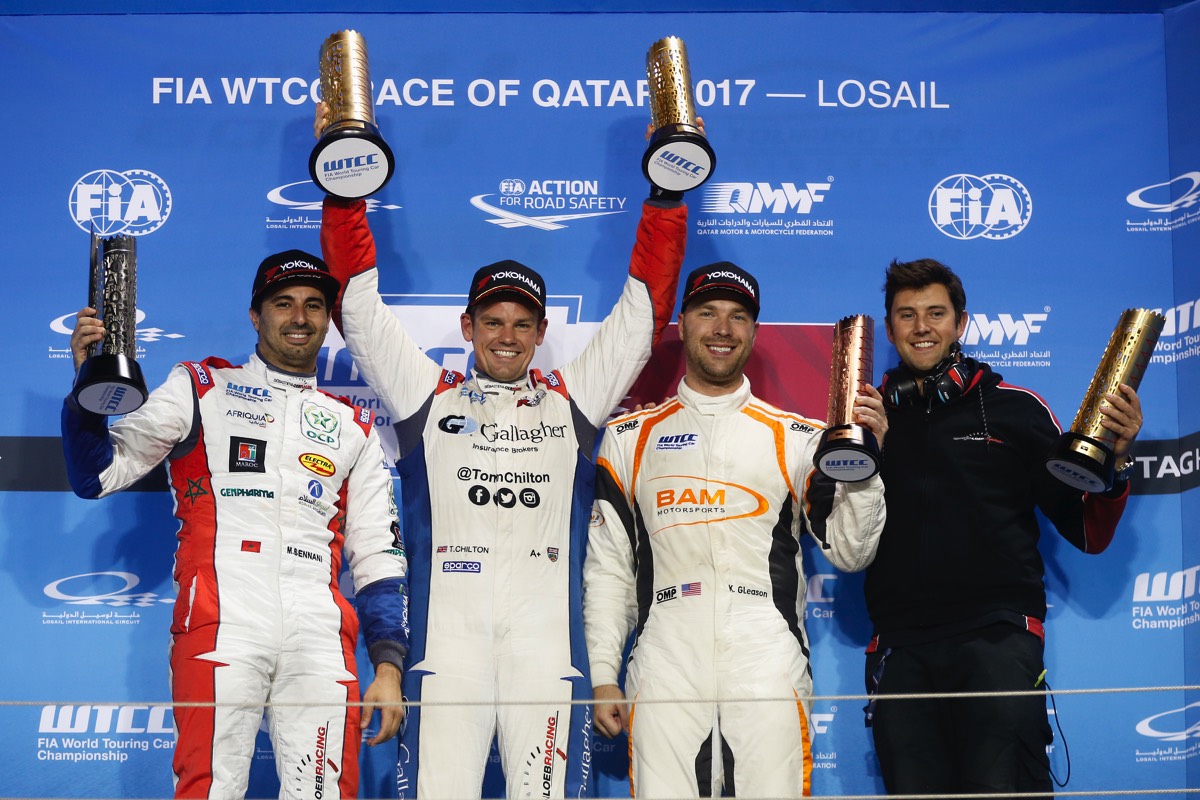 Profile: Tom Chilton
Tom Chilton, British World Touring Car driver, joined forces with Sébastien Loeb Racing in 2016 to get behind the wheel of their Citroën C-Elysée race car, a machine that provided Tom with podiums and race wins and his first WTCC Championship title.

After 10 highly successful years in British Touring Cars, where he was the youngest race winner at 19 years old in 2004, he went on to take 12 wins, 45 podiums, the manufacturer's title and the 2010 BTCC Independent Championship.

He made the jump to World Touring Cars in 2012 and was immediately on the pace picking up a best Yokohama Independent Championship finish of third in 2015. Last year he won his first WTCC title.
Q Last year was a very good year for you as you won the WTCC Independents' Trophy. What were the highlights?
A To say you are world champion at anything and have a big shiny trophy in your living room makes you remember what a great year it's been. Every time I look at that trophy, I experience a flood of memories. Everything from crossing the finish line in first place at Monza, holding off an ex-world champion in the same car, to holding big drifts in the wet at Motegi in Japan and pulling out the biggest lead of my life by 13.1 seconds.

All the drivers are good friends of mine and in the WTCC we have happy hours when we all meet for drinks after the drivers' briefings for a catch up. I don't know any other championship that's tried to keep this family feel. I think it's extremely healthy and nice to all be in a WhatsApp group and have some banter. It's very easy at our level of competitiveness for things to get messy on the track: you can well imagine there's the potential for some serious tension.

This is the same in all forms of motorsport, but what's good is we are all friends off the track and I genuinely feel this leads to more respect on track. The racing is extremely good considering in the TC1 cars we have some down force that is usually a killer for overtaking. We don't give anyone an inch, but like to think we put on a great show.

Q Your association with Sébastien Loeb Racing appears to be a good one. What's changed for you from other teams you have been with?
A SLR is a highly professional team and I would say it's been the best I've ever worked for. No stone is left unturned and there are never any excuses. Everything at that team works like clockwork.

Q Do you think you can push on from this in 2018 in the new World Touring Car Cup (WTCR) format as it looks as though the racing will become even more competitive?
A The problem for me in WTCR is it's a world cup now, not a championship and harder to achieve any support at all from sponsors or manufacturers. Commercially, for me, the best option is now the British Touring Car Championship (BTCC). I'm really excited about moving to Motorbase Performace with Nestlé Shredded Wheat and racing with Gallagher again. To be back in a Ford Focus brings back lots of good memories from when I was 2010 BTCC independent champion. Can't wait for the season to start.

Q You've appeared regularly on Top Gear over the years. What's been the highlight?
A BBC Top Gear has been my TV highlight and all nine episodes I've filmed have been great. I think the most fun we had though was the bus race and when I had to roll the double decker bus. I don't think many people can say they've done that because, as I can vouch, they don't go over very easily! We had to put sandbags on the top floor and I had to clip lots of high ground on the inside and get a tap from behind to get her to roll over. I never thought it was possible, but I was getting a Scandinavian flick coming off the tarmac at Lydden Hill Race Circuit onto the rallycross track and it seemed safe to a point!

Q Fancy being Stig…or have you already?
A I would be happy to be the Stig…sadly I've been too busy with racing and wouldn't be able to commit full time.
essence info
Website:
www.tomchilton.com
Twitter:
@TomChilton_
Instagram:
@tomchilton