In this seemingly more environmentally-aware era, a timely Victoria and Albert Museum (V&A) exhibition Fashioned from Nature opened last month and shows until January 2019. It examines the complex relationship that man has had with nature through fashion over the past 400 years.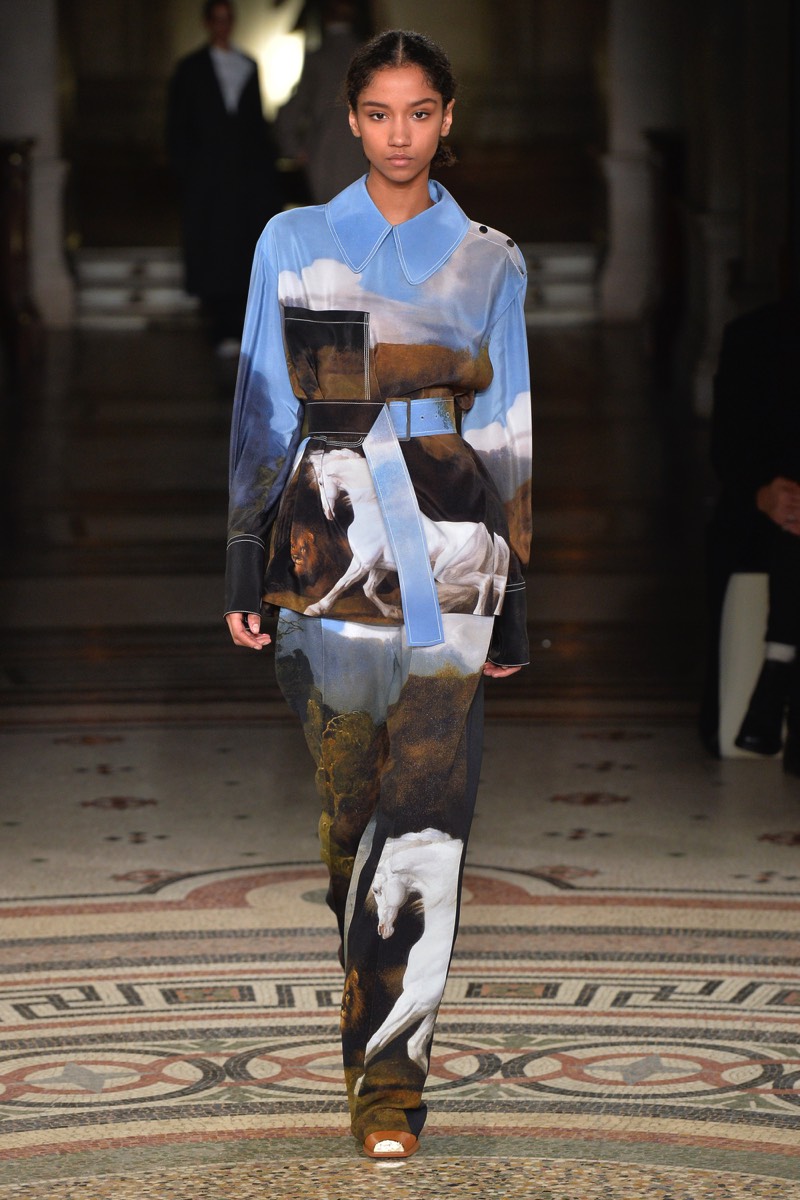 Ensemble, Stella McCartney, Winter 2017 Photo copyright: Stella McCartney
Think globalisation and concerns about the environment are new concepts? Think again. After visiting this new exhibition at London's V&A Museum, you may come away with a different view. It looks at how designers have always been inspired by nature and along the way have helped destroy it. It's a warning and comes against a backdrop of good news that a microbe has been found that decomposes common plastic into its constituent parts in days rather than years. Is it natural? Of course it is: nature has been the inspiration for most developments throughout mankind's short existence; architects, musicians, artists and scientists all owe a huge debt to the natural world.

Man's relationship with nature has never been a simple one from the moment human beings clothed themselves with animal skins, initially borne out of necessity and then increasingly through fashionable adornment to make a statement or satisfy a whim.

Nature had a hand in the colour of royalty. Until William Perkin produced the colour in the laboratory, purple or mauve (as he called his creation) came from the innocent sea snail Murex. Huge numbers were required to dye clothes and therefore purple garments were expensive and rare. The colour found fame and favour with the Romans, being adopted by Julius Caesar following his visit to Cleopatra.

The V&A's exhibition is an exhaustive illustration, both beautiful and in certain instances macabre, sometimes both. So the beautiful nineteenth century emerald green flecked bodice and skirt presents a picture of it being worn by a very elegant lady. On closer examination, however, the floral decoration consists of literally thousands of beetle wing cases. There was a brief American trend for wearing live beetles ornamented with jewels and chained to a lapel. There's plenty from that era to get the jaw dropping, such as the earrings made from the iridescent heads of Red-Legged Honeycreeper birds. Practices such as wearing live fireflies originated from tribal customs in Central and Southern America: all food for thought.
One of the many plus points to be gleaned from the exhibition is the fact that nature's beauty is there for all to see. A range of stunning fabrics adorned with skilfully printed or woven flora and fauna bears evidence to this.

Of course, when thinking of more modern advocates mirroring nature, fashion designer and couturier Alexander McQueen springs to mind. He once stated: "Everything I do is connected to nature in one way or another." In his creations he was as irreverent as he was worshipful of the natural world he came to know as a young ornithologist. Christian Dior had a different angle, having been keen on growing flowers when young. He later translated this love into designing "clothes for flower-like women."

It is, of course, the fashion industry's perennial problem, exemplified by Dior who strove to impose something new for each season, to be in awe of the new; the relentless quest to produce something the eye has not seen before, to startle and dazzle. The ever-evolving fashion scene really began in the seventeenth century with Louis XIV who insisted on his courtiers changing clothes every six months and then cartwheeled forward resulting in garments using materials from all over the world, an early form of globalisation. The ship leagues, horse and barge miles all notched up to feed a designer's creativity.

Comment was made in the late eighteenth century about the use of dyes and their polluting affect on the waters. The first exponent and father of environmentalism, Alexander von Humboldt, catalogued and at the same time lamented man's impact and ever increasing requirements and demands from the world and its resources.
Man's silk waistcoat embroidered in silk with a pattern of macaque monkeys, 1780-89 Photo copyright: Victoria and Albert Museum, London
So fast forward to today, have things changed? Well, clothes are far more of a commodity now as the revolving door of fashion becomes ever faster. We buy more clothes now and they don't last as long. The 1930s' tweed jacket could still be worn today: how many clothes manufactured today will be around and fit to wear in seventy years time?

The future? Well, the exhibition's advisors from the Centre for Circular Design and Centre for Sustainable Fashion are keen to point out that everything is natural as it all comes from planet earth. The exhibition provides some pointers as to what's possible, for example, Stella McCartney's recyclable suits. The most eye-catching example is perhaps Emma Watson's Calvin Klein-designed, red carpet, show-stopping dress made from recycled plastic bottles.

Desire will not go away, it is an inherent human characteristic to service. This and an ever increasing population begs the question: can we use all the waste we create? The challenge for fashion and life in general will be how efficient we can be offering some fashionable food for thought.
Calvin Klein Green Carpet Challenge dress worn by Emma Watson to the MET Gala 2016 - Photo copyright: Matt Baron/REX/ Shutterstock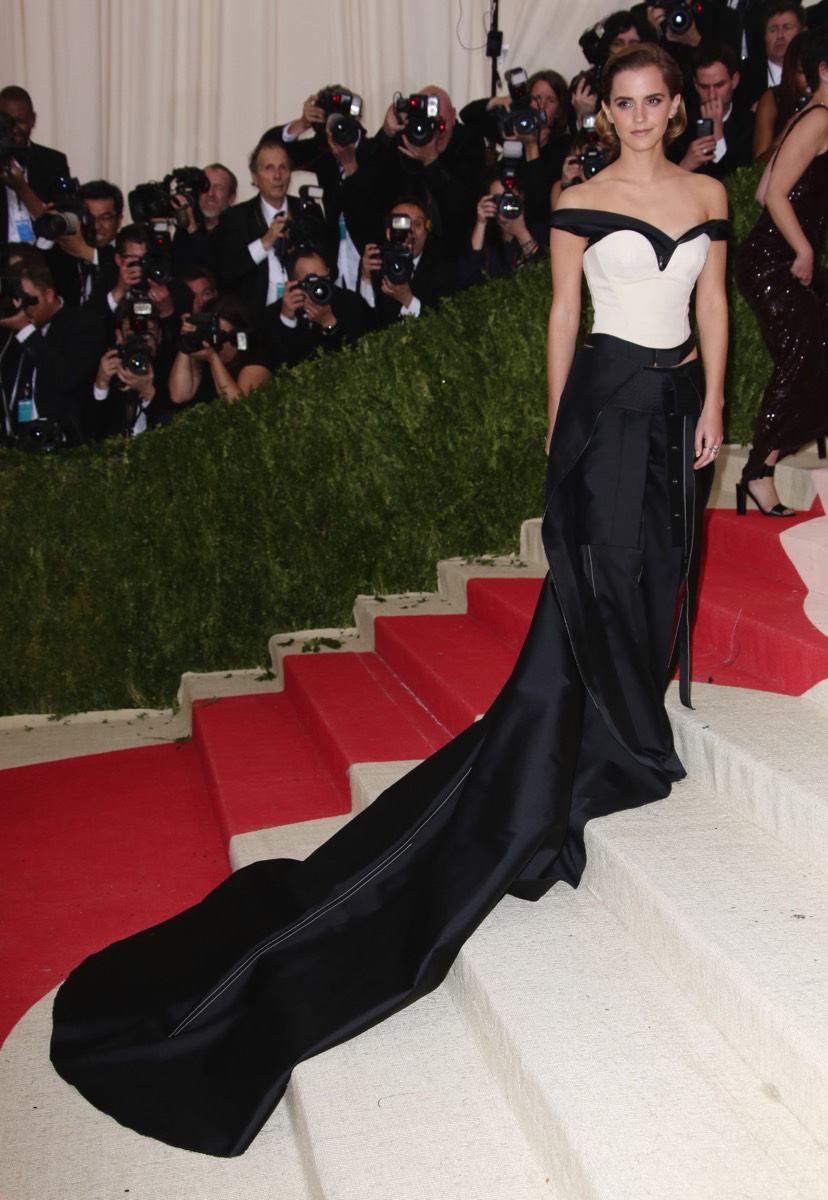 Fashioned from Nature: exhibition profile
Fashioned from Nature shows how fashionable dress draws on the beauty and power of nature for inspiration, with exquisite garments and accessories from Christian Dior, Dries van Noten and Philip Treacy. It explores how fashion's processes and constant demand for raw materials damage the environment, featuring campaigners and protest groups that have effectively highlighted this issue such as Fashion Revolution and Vivienne Westwood. It also looks at the role of design in creating a better, more sustainable fashion industry.

The exhibition showcases contemporary designers of desirable, creative and sustainable popular fashion. Menswear and womenswear from Stella McCartney, known for a commitment to and success in developing new alternative sustainable materials, is displayed alongside an upcycled dress by Christopher Raeburn.

At the 2016 Met Gala, actor Emma Watson wore a Calvin Klein look made from recycled plastic bottles. With separate parts, it was intended to be re-worn in different ways. The look was created as part of the Green Carpet Challenge with Eco-Age, an initiative to pair sustainability with glamour. It is shown at the exhibition with a floral dress from Erdem's Green Carpet Challenge collection.

Fashioned from Nature draws attention to the use of innovative fabrics. Vegea use grape waste from the wine industry to form a leather-substitute and its Grape gown will be on show, as will a Ferragamo ensemble made from Orange Fiber derived from waste from the Italian citrus industry alongside an H&M Conscious dress made from recycled shoreline plastic.

About the sponsor: European Confederation of Flax and Hemp (CELC)
From grower to point of sale, the organisation brings together all players in the European flax fibre industry. Founded in 1951, CELC is the specialist representative of enterprises in 14 European countries overseeing the fibre from plant to finished product.
essence info
Fashioned from Nature

Victoria and Albert Museum (V&A)
Cromwell Road, London SW7 2RL

Open daily:
tickets £12.00 (concessions)

Website:
www.vam.ac.uk