Monaco sunrise - Photo copyright: La Turbie | 123rf.com
Acclaimed chef Alain Ducasse admits that he remains more attached to the Louis XV restaurant than any other in his global empire. Even in Monaco, the glitzy Mediterranean principality where cosmetic surgery is a casual form of art, it rates as one of the best. Kevin Pilley sampled a touch of the high life.
They were talking yachts when I arrived. A man at the next table looked at me over his glasses as if he instinctively knew that my only private means of water transport was a lilo. The woman beside him shot me the same sneer of withering contempt as if she suspected that the Vaucluse asparagus and crushed black truffles would be wasted on me and the turbot and caramelised endives would go over my head.

The Félix Hippolyte Lucas ceiling fresco bore down on me. The tapestried walls pressed in. Haughty courtesans looked down from their gilded fin de siècle portrait frames, branding me a philistine in l'art de table, a child of Colonel Saunders rather than Careme or Escoffier.

"Je propose une flute de Billecart Salmon champagne rose followed by un Clos Saint-Joseph avec votre coquillages et peut-etre un Château de Beaucastel Vielles Vignes Châteauneuf-du-Pape", said the sommelier, leaving me with the wine list.

My throat went dry. My heart lurched. My Adam's apple did a bungee jump. I noticed that one bottle of Château Pétrus 1945 would cost me about hundred times my Visa limit.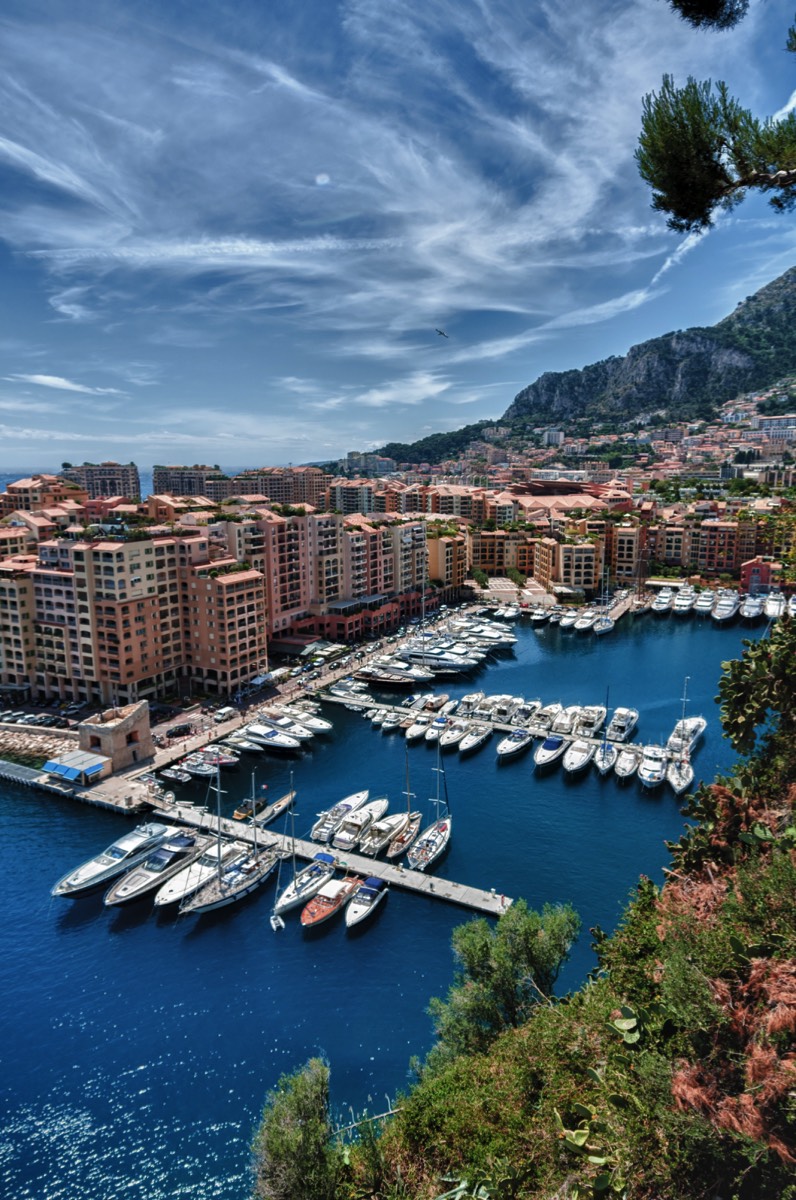 Monaco - Photo copyright: o2beat | 123rf.com
It is a once-in-a-lifetime experience to eat in an Alain Ducasse restaurant. Someone once described him as 'The Muhammad Ali of cooking'. I was in his Louis XV restaurant in Monte Carlo. It was my first time in a 'temple of taste' and 'shrine to savoir-faire'.

In the old days, with its lavish splendour and staff in nankeen breeches and gaiters, Monte Carlo's Hotel de Paris was a magnet for the haute monde. It became a place of uninhibited self-indulgence, a byword for the high life. The rich and famous all went there. A Russian grand duke once smashed sixty magnums of Champagne against a marble pillar just for a toast. Fourteen hundred bottles of fine wines were consumed every day in its heyday.

The one kilometre long cellars of the grand nineteenth century palace hotel now hold 250,000 cellars or 'cave'. It is considered one of Europe's finest and most valuable collection of wines. Upstairs, the restaurant offers a choice of sixteen different mineral waters, as well as fifteen different coffees, sixteen different teas and fifteen types of cigar.

Ducasse has helped establish the luxurious and super-trendy Mediterranean resort as one of the great gastronomic destinations of the world. A local helicopter firm even offers a gourmet taxi service up to the auberges and excellent restaurants in the neighbouring French department of Alpes-Maritimes. Monaco's masterchefs have become celebrities and as famous as former residents and visitors like King Farouk, the Prince of Nepal and Charles Wells, the man who broke the bank at Monte Carlo.

Although it is only the size of London's Hyde Park, Monaco has the highest density of Michelin-starred restaurants than anywhere. The famous ultra-chic principality on the French Riviera, eleven miles from Nice, has been connected with the name of Michelin for many years.
Service amuse bouche at Le Louis XV - Photo copyright: Pierre Monetta
Prompted by the waiter, I had a ragout of cod and Perugina sausage thickened by the swimming bladder of a Norwegian stockfish, then Pyrenean suckling lamb. I got through three napkins just drooling at the dessert trolley.
Over one lunch for two heady hours, surrounded by the opulent chic and conspicuous choc of one of the world's greatest restaurants, I fulfilled my jet-set fantasy and sampled the ultimate of sensual delights.

I wanted to say "Bravo", but it sounded corny. I wanted to praise the Niçoise peas and make discerning comments about the Xeres vinegar, but I didn't know where to start. The waiter said it all for me when he came to the table: "Culinary art is the search for the absolute. Here we set an impeccable ideal. Our kitchen renders very good what is already very beautiful." He smiled, letting me digest his words. "Perhaps next time I may recommend the strained Muscat pumpkin soup, followed by our veloute of Breton lobster with chestnuts and maybe bass filet with sautéed cuttlefish and anchovy fritters. It is exquisite." He kissed his fingers.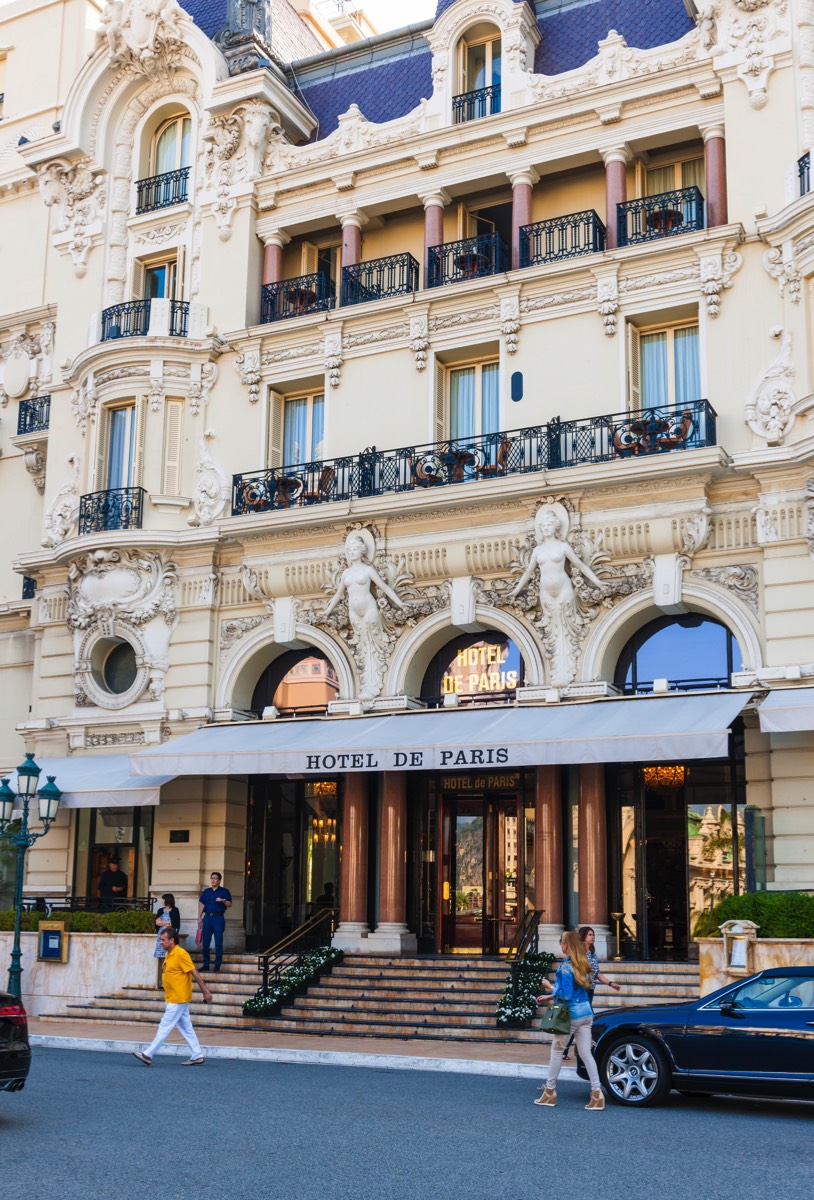 Photo copyright: Elena Elisseeva | 123rf.com
The couple on the table beside me were still wearing their pearls-before-swine expressions. He was puffing away at an unfeasibly large, long cigar. She was swilling an ancient cognac. As I passed them on the way out, I wanted to say: "The Château d'Yquem is so hit or miss here. Such a shame there was no eel on today either. But Alain told me that the fishermen in the Straits of Messina are on strike. Of course, it would never have happened in King Farouk's day."

In my mind I also heard my fingers clicking towards the waiter and the voice of an experienced epicure and globe-trotting gourmand saying: "Put a case of Pétrus in the back of the Lamborghini, garçon. And book me the same table for the same time tomorrow, will you? Ringo will be coming. Miss Bassey too. I don't know about Herr Becker."

In my mind's eye, I saw the man's eyes popping and his nostrils flaring as he choked on his outsized Cohiba.
essence info
Le Louis XV – Alain Ducasse à l'Hôtel de Paris is located on Place du Casino, MC 98000, Principality of Monaco.
Telephone:
011 377 98 06 88 64
Websites:
www.hoteldeparismontecarlo.com
www.easyjet.com
flies daily to Nice
www.visitmonaco.com