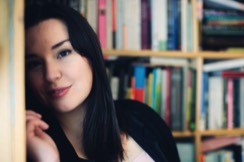 Stephanie Brookes, foodie expert and BBC Radio London contributor, offers her pick of an eating establishment for this month, Blanchette in Soho.


It's no secret that if you follow me on social media, I have a true love affair with Paris. Photos of the City of Light are posted regularly on my pages, usually to remind me of dishes I've come to love and know so well. I've always felt incredibly fortunate to visit so often, and to indulge in the culinary delights of the city.
It's with those dishes in mind that I was eager to sample the French-inspired cuisine of Blanchette. Opened in 2013 by brothers Yannis, Malik and Maxime, their love of great food and almost thirty years in hospitality has helped create a restaurant reminiscent of the traditional bistros of Paris. Their menu offers a tempting variety of small, sharing plates of beloved French classics, while also bringing their own, modern interpretation.
We started with an order of Cheese Beignets with onion confit: perfectly formed little fritters designed for that pre-lunch nibble. The moment you bite into the crispy cheese batter, a pillow-soft cheese filling emerges which was equally satisfying and deceptively rich. The savoury cheese is complemented by a deliciously sticky, sweet onion confit.
The following dish of Duck Rillettes with pickled endive, Piment d'Espelette and toasted sourdough was a beautifully constructed dish.