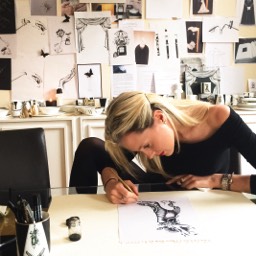 Resisting her family's wishes for a career in dentistry, Lauren Dickinson Clarke decided to explore her artistic inclinations. After studying fashion design at university, Lauren learnt the beauty of creating by hand. After five years of working in fashion, she rediscovered her passion for drawing and crafting to create her first ceramic design, The Creation of Madam.
Q Lauren, across your designs there's a real emphasis on hand-crafted details and craftsmanship. Why are these so important to you?
A
Craftsmanship has always been close to my heart. There's something beautiful and almost poetic about someone who gives so much of themselves to their work. When an object has been lovingly crafted, there is something just magical about it.
Q How do you take an idea to the finished product?
A
All my pieces begin as illustrations. Inspiration occurs at the most unusual times and once an idea strikes I put pen to paper. There is a very long drafting and redrafting process before they are applied to a physical product. The final illustrations need to be tweaked to suit the shape of the finished piece. Once the design is completed, the illustrations are applied by decals onto fine bone china. The pieces are fired, glazed and hand-painted with a shimmering 22 carat gold rim. It is a true labour of love from start to finish. The most important questions I ask when I'm designing are: "How will this make our customer feel?" and "What interaction will occur between the customer and this creation?"
Q Who or what inspires you the most?
A
I've always been inspired by neo-classical art and architecture. Surrealism has a place in my heart too, as do some of the greats, such as Monet and Lippi. But I'm often curious about modern movements. The Moody Muse collection was inspired by the concept of the muse, these illusive women who inspire and motivate self-expression. This in turn led me to ponder on modern self-expression. I found myself being intrigued by meme-culture and how we are often communicating visually through emojis and gifs. The Moody Muse collection is the result of these ponderings – a strange merging of art history and modern communication means. So, as you might tell, inspiration can strike from many a varied place!
Q What does your typical working day look like?
A
Oh my goodness, I wish I had a straight answer for this! Every day is so different, depending on the time of year. The best days are the ones when I am alone with my pens.
Q Do you have a favourite design or product that you have created?
A
I would say that I have two favourites – The Creation of Madam and The Shoe of Eden.
Q Are you working on any new projects at the moment?
A
We're about to release our range of Moody Muse scented candles having created the scents from scratch with one of the finest perfumers in Europe. Each candle comes complete with its own matching hat!
I am also working on an illustration at the moment which is inspired by the gardens of the Getty Villa. It's an exotic motif with pearls and diamonds in place of the foliage and flowers. My goal is to create a whimsically surreal motif, but with the added glamour of fine jewellery.
Q How would you describe your own home style and what is your favourite room in your home?
A
I have to confess, my home is a live-in mood board. Every wall is plastered with drawings and doodles, ideas and scribbles. I've always loved the idea of a home being the gallery of you, your desires and dreams. Mine certainly is! My favourite room is the lounge because it holds so many cherished memories of good times with friends.
Q What is the best advice you have ever received?
A
I have been lucky enough to receive a lot of very helpful advice over the years. A friend once told me that whatever I do, I have to stay true to myself and my vision. Whatever life throws at you, your gut always knows what's best. Always trust your instinct.
Q If you didn't work as a designer, what would you be and why?
A
I would most likely work in branding or film-making because I love the idea of producing a body of work which elicits an emotion from the people who view it. I think that being able to provide a moment of escape or fantasy is a wonderful thing. This is the motivation that inspires my work every day.
Q What does the future hold for Lauren Dickinson Clarke?
A
Over the next year we will be expanding our reach into new markets. So far our designs have been embraced in China, Kazakhstan, Korea and Europe. If all goes well, my range will soon be available in Russia and the US, which is very exciting.
But more importantly, I will be working hard to craft new pieces that build an emotional connection with customers. We'll continue to dream, design, create and hopefully inspire others along the way.