Romantic gestures and expressions of love depend largely on where you are in the world. If in Cuba, do what the Cubans do. Say it with lobster claws or a bouquet of flamingos. Cuba should be near the top of every couple's bucket list, whether for an anniversary, birthday, St Valentine's Day present, infidelity guilt trip or honeymoon, as travel writer Kevin Pilley discovered.
The emblem of Havana is 'La Giradella' – a symbol of love, loyalty and hope honouring Ines de Bobadilla, the city's only female governor who succeeded her husband Hernando who disappeared looking for the Fountain of Eternal Youth. She waited patiently for him in the city's 1558 harbour Castle Fuerze. A sculpture of her now tops its watchtower.

Havana is also famous for a very modern love story. Dom and Letty (the newly wed Mr and Mrs Toretto) chose to honeymoon in Cuba at the start of 'Fast And Furious 8 – The Fury of the Furious'. And had a great time revving up and screeching down the Malecon seawall road. Havana is the place for handbrake turns as well as salsa.

"They locked down twenty blocks and brought in US cars for the first time in fifty years," said the concierge of the new Gran Manzana Kempinski La Habana, Cuba's first modern luxury hotel, chosen for the film's Blu-ray/DVD launch. I happened to be there. "The movie's like West Side Story, but with cars, not songs. Explosions rather than singing and dancing," the porter told me. "It's made a billion dollars."

The historic landmarks and sights of Cuba don't change. Viejo Havana, the 60,000 classic fin sedans, Almendrones taxis and man-powered rickshaws, the Che Guevara Mausoleum in Santa Clara, 1930 Hotel Nacional at Malecon, the 1929 El Capitolio building, Hemingway's Finca Vigia house, Fidel Castro's Finca Biran birthplace in eastern Oriente and his final resting place, the Santa Ifigenia cemetery, and the new Kempinski.

I didn't see Vin, Jason Statham or any cyberterrorist in the glam shape of Charlize Theron. But Tyrese Gibson ('Roman') was puffing away hunkily on a fat, hand-rolled $40 'Cohiba', taking in the views of the El Capitolio building and Vieja (old) Havana. "He wrote a book on manology," the bar lady said, looking at him not me. Bottles of US$495 Krug circulated along with the chasers.

When in Cuba do what you can do now. Lap up the luxury and live the high life. Overlooking the Capitol Building, National Arts Museum and Grand Theatre, the Kempinski is the best and most expensive hotel CUC, Cuban convertible currency, can buy.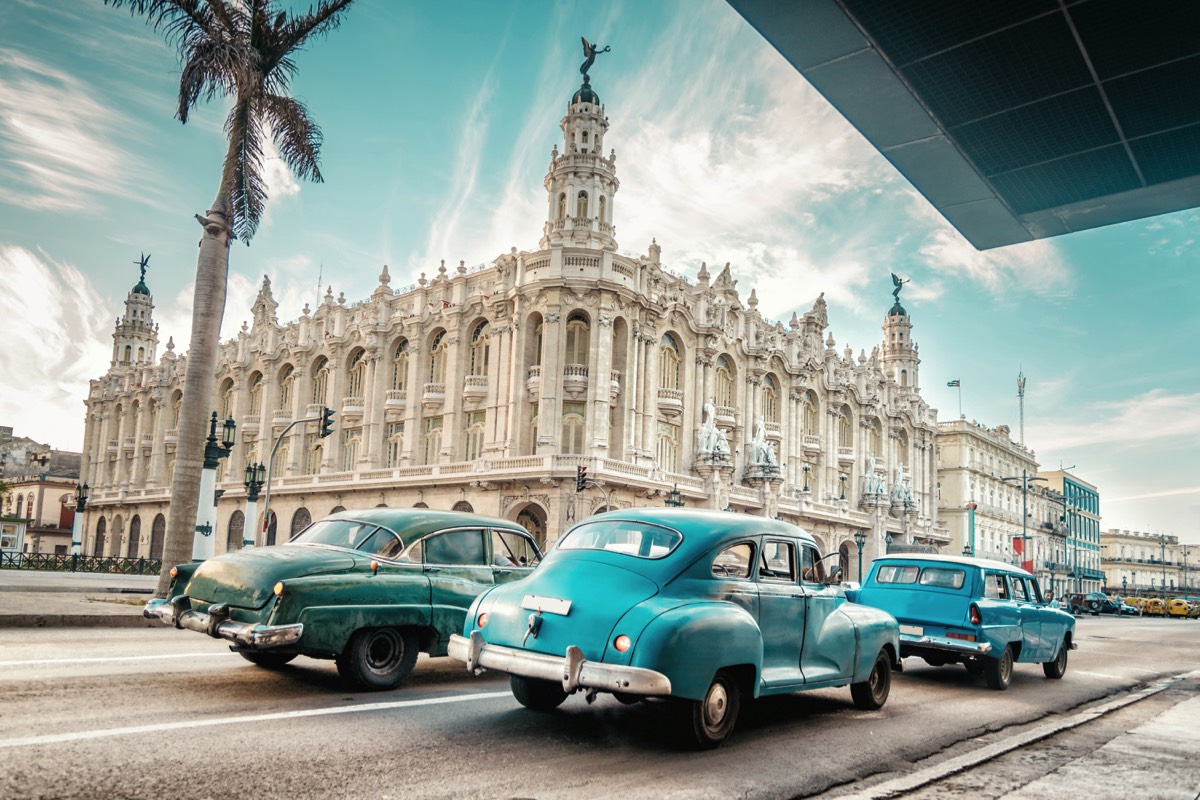 The Gran Teatro de La Habana Alicia Alonso, Photo copyright: Stuart Abraham
Arriving at the converted 1894–1917 shopping arcade, it was a relief not to be handed a warm, pseudo-Prosecco or be issued with a colour-coded wristband to signify what had been pre-paid and what meal plan I was on. The Kempinski's new 246-room, fifty suite hotel is not all-inclusive, that's what makes it so exclusive. For someone who was so outwardly anti-elitist and loathed social exclusiveness, it's hard to know what Castro would have made of Hollywood coming to Havana. What would 'El Barbudo' (The Bearded One) have thought of the 'Spa Albear by Resense', especially its 'targeted and lavish facials'.

He would have been proud of the 'pan con lechon' (pulled pork sandwiches) and Boniato sweet potato chips. But angered by the 'Degustation of Burgers'. Pleased by the bee hummingbirds embossed on the dining room tables – the 'Zunzucito' is found only in Cuba on the Isla de la Juventud where the Castro brothers were imprisoned.

But he would have been saddened by the complimentary in-room Italian coffee. The former leader may have questioned, as I, why the Presidential suite is named 'Lorca' not 'El Commandante'. He would've probably chosen a room facing the El Capitolio rather than the courtyard.

He may have been tempted by the Hemingway Suite overlooking the Il Floridita bar where 'Papa' sank industrial quantities of daiquiris.It was the Cuban cocktails that made his face red, not the marlin fishing.

Like the Fast and Furious crew, Fidel's comrades and compatriots would've, of course, splashed about in the Bella Habana rooftop pool and had a mojito or two at the inexplicably-named El Suridor (The Spout) panoramic bar. You have to. It's one of the world's great roof terraces. Love has to be recognised and rewarded by luxury.
Varadero Golf Club, Image provided by
cubaholidays.co.uk
But then, ideology restored, Fidel's utopian romantics would've chucked their complimentary 100% cotton super-soft Egyptian towels in the drop-off and condemned the £340 a night low season tariff and the whole establishment as a plaything of the idle rich. But they are dead now and Cuban tourism is alive and kicking. Cuba is revolutionising itself.

There hasn't been luxury for years. It's back now, it's permitted again and reinstated. And the old vintage luxury is getting a bit dated and grubby. The 1950s' chic is left to the classic Oldsmobiles, the convertible Chevvies and open-top Cadillacs parked outside ready to take visitors to the beach, nearest domino bar or salsa club. There's little with which to compare the Kempinski. Until Starwood performs a face-lift and make-over on the 1875 Hotel Inglaterra, the 1930 Nacional off the Malecon seawall road will never change.

Down south, however, in Varadero, is Xanadu.

A Cuban national monument, the 1927 four-storey, beachfront Xanadu Mansion on the San Bernardino bluff in Varadero Golf Club was built by French-American chemical magnate, Irénée DuPont de Nemours. He retired to Cuba, buying himself 180 hectares of the Hicacos Peninsula in the municipality of Cardenas at four cents per square metre. This included eight kilometres of beach. DuPont installed the largest privately-owned organ in Latin America. The $11,000 organ is still in the basement, but is no longer operational. Precious dark hard woods were brought from Santiago de Cuba for Xanadu's ceilings, stair rails and columns. Floors and bathrooms were done in Cuban, Italian and Spanish marble.

Xanadu cost over $1 million dollars to build. The gardens were planted with coconut, banana, avocado and papaya trees. Parrots and cockatoos were imported to make the Cuban version of Xanadu more tropically enchanting and to add to the privileged location and exclusive atmosphere. The golf course was laid out in 1929 and Xanadu has always stood for luxury, pre and post-Revolution.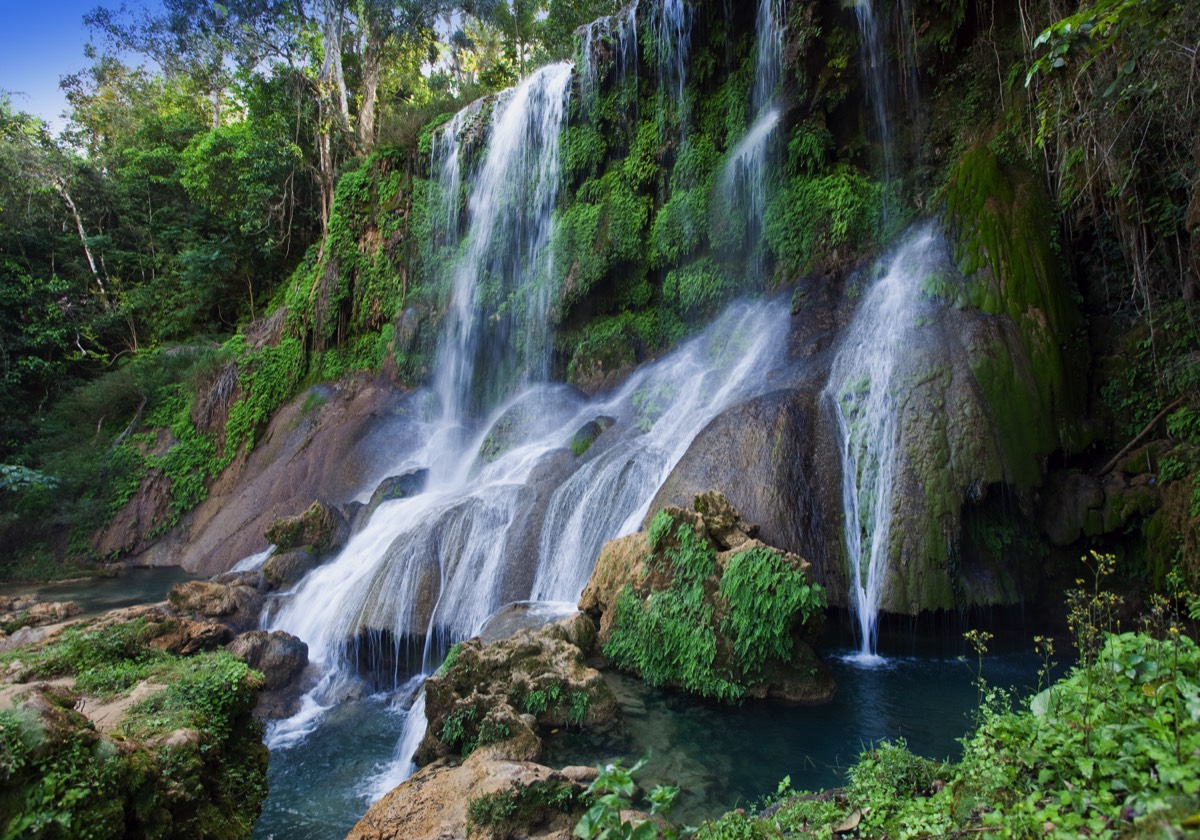 Soroa waterfall, Pinar del Rio, Cuba, Photo copyright: Stuart Abraham

At £200 a night half board, visitors can stay in six second floor rooms – Califa, Oasis, Irenee, Samarkanda, Marco Polo and Kubla Khan. Enjoy the view of the sea and use the dark, mahogany-panelled lounge and grandish staircase. Xanadu has its own extensive cigar menu: a Cohiba Behike 54 costs €40.

No handicap certificate is required on Varadero's golf course and a round costs £70. The scenic five par five, five par three, eight par four, 72 par 1998 course with shoreline holes and sea water lagoons was designed by Canadian Les Furber, protégé of Robert Trent Jones Snr. Golf is spearheading the country's tourism drive. Following the Dominican Republic's lead, Cuba hopes to be a major golfing destination within thirty years. Xanadu's chef, Eduardo Lima Martin, trained in Havana's Sevilla Hotel and Peru winning Cuba's prestigious Pia Dorada Trophy and is considered one of the country's leading chefs. His specialities include Lobster DuPont-style (warm Caribbean lobster salad with soya) and Canadian/Uruguayan Chateaubriand.

Once Cuba had three problems – breakfast, lunch and dinner. However, a Gastro Revolution is underway in Cuba with 'Paladares' (private restaurants) introduced in the 1990s to enable people to profit from a burgeoning tourist market and open restaurants.

At Nao in Havana visitors can dine on malanga or elephant ear balls (a mashed yellow root vegetable), pimientos de padron, yucca chips, suckling pig and buy a 'Hemingway Did Drink Here' t-shirt. On the menu at the renovated mansion Starbien are carpaccio and chicken sesame shaslik. There is even a sushi bar and Scandinavian restaurant.

The best restaurants are Cha Cha Cha, Otea Mahera, Nazdeorie, La Guaerida and El Del Frente – The One In Front. Visitors must go to its rooftop terrace and sample the lobster tacos.

But elegant fine dining options, waxing and cuticle restoration weren't high priorities on the revolutionary agenda. I'm not the First Minister of the Central Committee of the Communist Party, but, unlike Fidel may have done, I wasn't ashamed to indulge in the colonnaded, high-ceilinged grandeur and bask on the rooftop of the new, super-swish Kempinski. I didn't guiltily press a button to make my bedroom window opaque so no-one could see me shedding my populist 'Guayabera' pleated dining shirt and slipping into my decadent fluffy bathrobe prior to my 90 minute, 140 CUC ($183) in-house European revivalist rubdown and post-revolutionary pedicure.
essence info
For further information about holidays to Cuba, visit
www.holidayplace.co.uk
or call 020 7644 1770.
Varadero Golf ClubWebsite:
www.varaderogolfclub.com
Email:
info@varaderogolfclub.com
Virgin Atlantic flies from London Gatwick to Cuba
Website:
www.virginatlantic.com
Telephone:
0344 8747747