Aston Martin launched the DB11 with a V12 engine last year to much acclaim. Perhaps with environmental issues in mind and aiming to appeal to a wider market, Aston has now come up with a V8 version that doesn't disappoint. Euan Johns finds it a charismatic car to drive and one that possesses a punchier character to its big brother.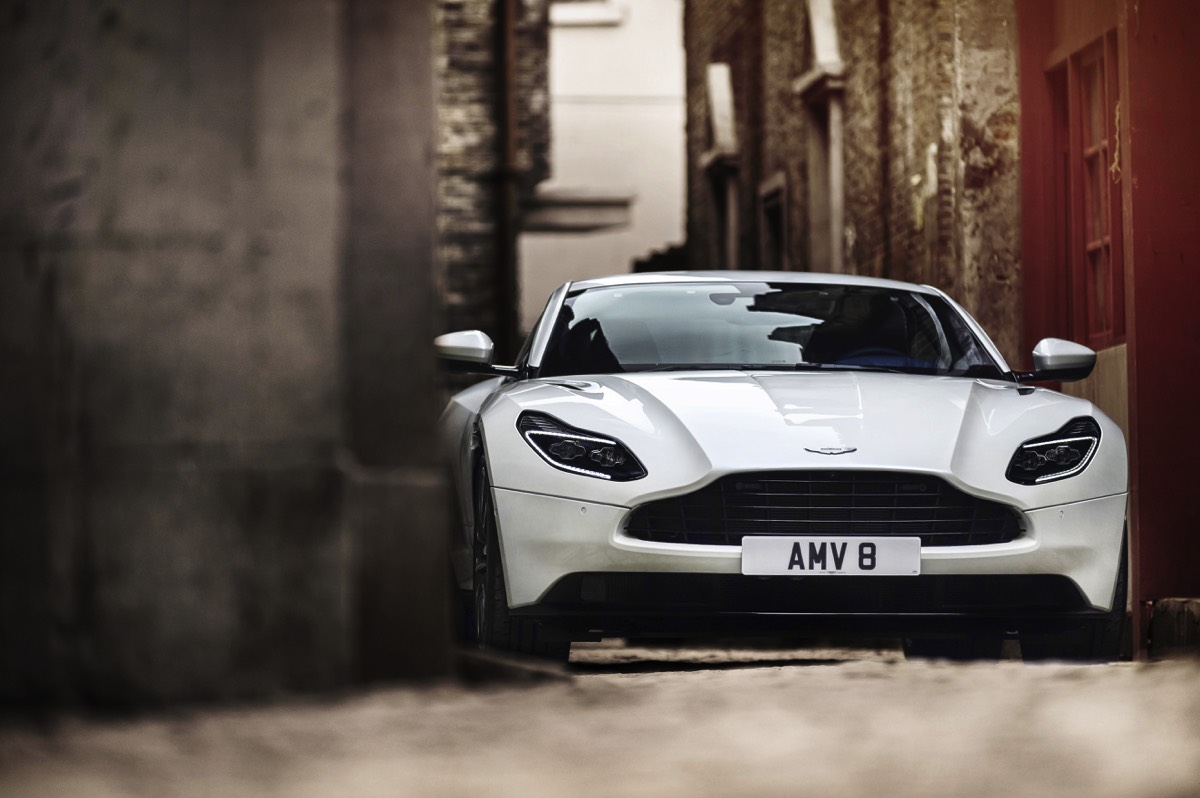 After its successful introduction in 2016, Aston Martin's definitive GT, the revered DB11, recently became available with a 4.0-litre, twin-turbocharged V8 power source. This new engine is provided by Aston's technical partner Mercedes-AMG, and complements the current 5.2-litre V12 version. Driving the vehicle, you'd never think the engine came from further afield than Aston's headquarters in Gaydon as the car's behaviour lives up to its esteemed pedigree. Aston's engineering team has done a great job with the new engine to reveal more of the car's sporting nature and performance, coupled with some improved efficiency.

All of that apart, the added bonus is that the V8 is around £13,000 less than its big brother, which is not bad and might pay for a few extras from the option pack to add a personal stamp. On top of that obvious benefit is the fact that the V8 really has a distinct character from its elder. This originates from its increased lightness as the power available is pretty much the same as the V12.
Not only lighter, the suspension, stability control and steering have all been tweaked and consequently the result is that the V12 has been transformed from the well-mannered, calm car it was into a true sports car that arrives with the brute force associated with classic Astons. Indeed, at low revs, drivers will have to restrain the right foot to avoid risking sending the car into overdrive.

The V8's potency is beyond question, propelling the DB11 from 0-62 mph in just over 4.0 seconds (just slightly shy of the V12) and on to a top speed of over 185 mph. This exceptional performance is matched by impressive CO2 emissions of 230g/km and an EU combined fuel economy figure of 28.5 mpg. This V8 will bring the manufacturer significant benefits in markets where car taxation is structured around engine capacity, so this is a definitive thrust at the Chinese market, amongst others.
There are subtle visual differences between the two variants that include a unique alloy wheel finish, dark headlamp bezels and a pair of bonnet vents instead of the quartet featured on the V12. These vents come in a choice of black or titanium-finish mesh, again different from that fitted to the twelve-cylinder variant.

Inside both the V8 and V12 there's the same standard equipment levels and the same extensive choice of colour and trim options. If required, drivers can also elect to enhance the specification of the car using the same Option Packs and Designer Specification packages, plus a suite of Q by Aston Martin – Collection options.

This is truly a great car to drive: it rides well, looks sumptuous and is powerful to boot. All of that and throw in some serious charisma – what's not to like? Come on Santa, it will fit down the chimney, with a push...
essence info
The V8-powered DB11 is on sale now with a recommended retail price from £144,900 in the UK.
Website:
www.astonmartin.com