Tom Peacock explores the world of Tattersalls, Europe's leading bloodstock auctioneer.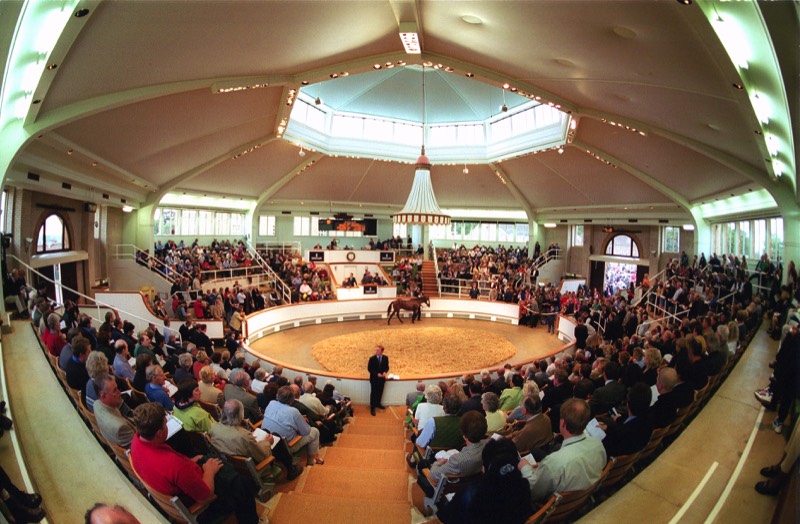 Photo copyright: Trevor Jone
A little racehorse being led around the ring at Tattersalls' auction house two years ago had not even been given a name, let alone the chance to prove his ability. He was simply Lot 954 of the December Foal Sale, an eight-month-old colt with a faint white stripe down his forehead whose father was the 2002 Derby winner High Chaparral.

Champions in 'the sport of kings' come in many varieties, but surely no-one had an inkling that it would be this fledgling individual when he changed hands for £60,000, a modest enough sum for a well-bred thoroughbred. Had it been foreseen that the foal would grow up to become Rekindling, conqueror of the £3.5 million Melbourne Cup in Australia, the price would have been exponentially higher.

This is why people come to the oldest bloodstock auctioneers in the world, founded near Hyde Park Corner in 1766, but now firmly established in Britain's racing centre of Newmarket. It has not only tradition, but a proud reputation for producing elite performers, selecting thousands of racehorses to go under the hammer each year. Anyone is allowed to view this unusual piece of human and equine theatre, and even register to buy, still in the quaint currency of a guinea or £1.05.

As a racing career does not begin until a horse is two, some of the foals will require patient new owners. Others will be speculative purchases by 'pinhookers', who nurture them on farms and possibly attempt to resell them for a profit at Tattersalls the following autumn when they are yearlings.

This is where the even more serious money is. The three days of Book 1 of the October Yearling Sale, purveyor of premier league talent, was the highest grossing in European history and totalled an incredible 102,290,000 guineas. Seventeen individual yearlings fetched over a million.
"It's truly international. In any different year we'll sell to 30 or 40 different countries from every continent – South America, Africa, Australasia, absolutely everywhere," says Tattersalls' marketing director, Jimmy George.

The figures can be ludicrous, within reach of only the sheikhs and oligarchs. Outlay, of course, is no guarantee of success and many better resemble James Corden than Usain Bolt once they finally reach the track. It is a combination of luck and judgement, with the more affordable lots sometimes being the ones which float to the top.

The dream is always to discover a winner of the Investec Derby at Epsom, not only because it is flat racing's flagship event, but because that horse could become the most coveted of future breeding stallions, commanding six figure sums for its service.

Whilst the majority of these potential stars are raised at the immaculate studs of the recognised breeding hotbeds in Ireland, France and the land outside Newmarket before being retained or sent to the sales, it is not unknown for them to hail from elsewhere.

Surrey even produced its own superstar in Kingston Hill, who was second in the Derby four years ago and went on to claim the St Leger, the oldest of the five great Classic races. He is now a stallion himself and was delivered almost within shouting distance of Epsom's grandstand at Woodcote Stud, where manager Barry Reilly and his wife Fiona have been working their magic for a quarter of a century.

"It's make or break at the sales and it can be quite daunting for a horse," explains Barry. "I think you know the best ones quite soon. Obviously you want them to look correct, but there's a school of thought that foals that get up quickly after they are born will be good.
Photo copyright: Tattersalls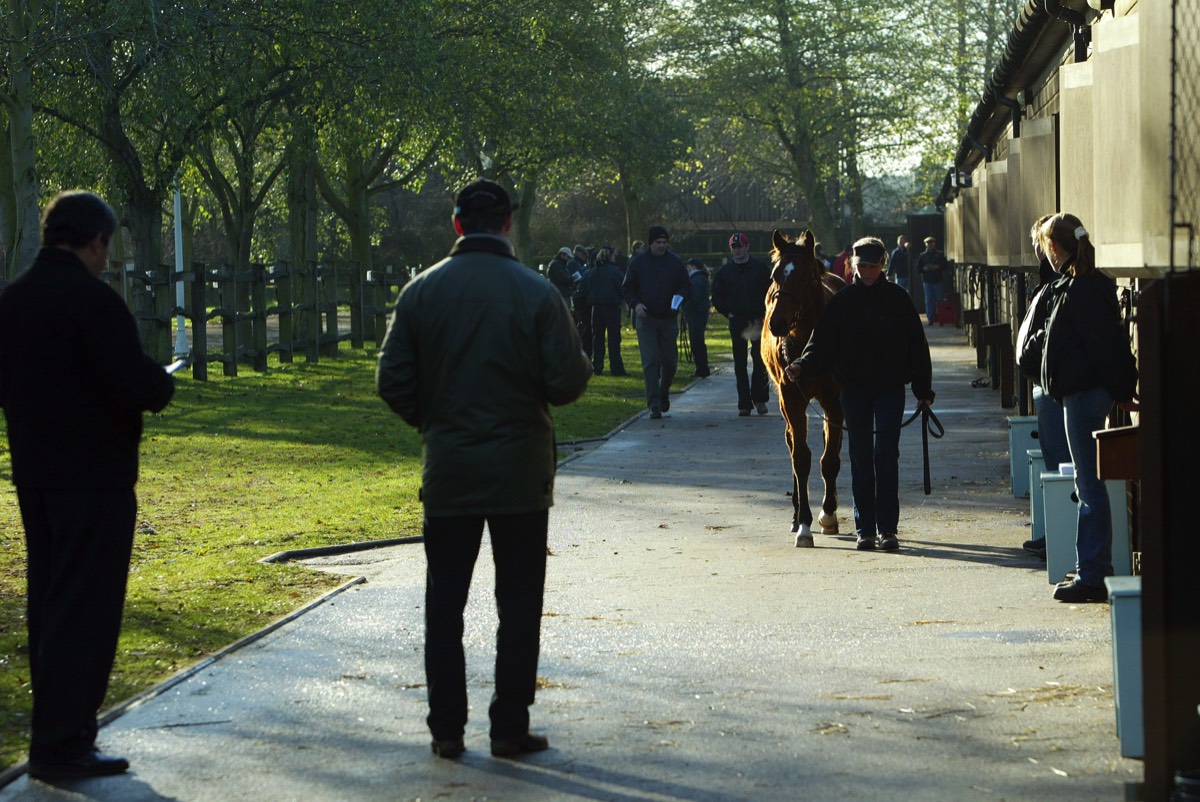 An introduction to Tattersalls
Founded in 1766 by Richard Tattersall, Tattersalls is the oldest bloodstock auctioneers in the world and the largest in Europe. Today, Tattersalls is an international firm offering 10,000 thoroughbred horses each year at 15 sales at either its Newmarket headquarters in England, or at Fairyhouse outside Dublin, in Ireland.

Tattersalls have a commitment based on more than 200 years of service to offer the best thoroughbreds to be found anywhere in the world. Whether seeking Classic winners, Champion two year olds, legendary foundation mares or Champion National Hunt performers, buyers from more than fifty countries and every continent can find the right sale.

Tattersalls holds nine sales each year at Newmarket, including market leaders in every category. Book 1 of the October Yearling Sale is Europe's premier yearling sale with more than 700 yearlings and unrivalled as a source of European Classic and Group winners. In the past decade there have been four Derby winners sold at the October Yearling Sale and all yearlings offered in Book 1 are eligible for the Tattersalls' Millions, Europe's most extensive sales race series.

Books 2 and 3 of the October Yearling Sale follow four days later, followed by the Autumn Horses in Training Sale, the largest sale of its kind in the world.

The sales season culminates with the two week long December Sale of breeding stock, foals and yearlings, widely regarded as the world's most international thoroughbred sale.

Completing the sales portfolio are:
• February Sale, established as Europe's premier midwinter sale.
• The Craven Breeze Up Sale in April, which sets the standard for European two year olds in training sales.
• The Guineas Breeze Up and Horses in Training Sale in May.
• The July Sale, which combines breeding stock with quality horses in training.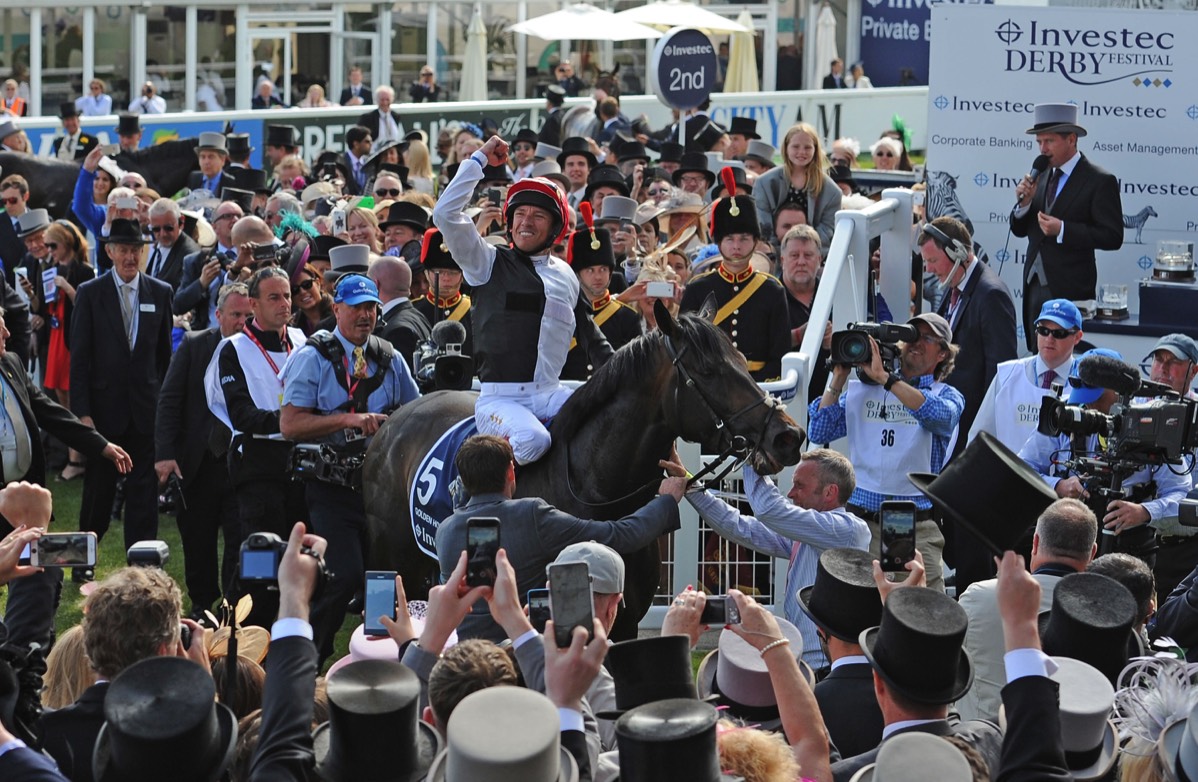 Frankie Dettori and Golden Horn winners of the 2015 Investec Derby © Epsom Racecourse Photo copyright: Epsom Racecourse
"It's like children on their first day of school; there will be some that pick things up early on and go to the top of the class. Kingston Hill, who we called 'Milo', was like that. He wasn't a show-off, just a complete pro."

The latest Woodcote high-flyer is Poet's Word, sold to Emirati businessman Saeed Suhail for a princely 300,000 guineas at Tattersalls and regarded as one to watch in 2018 after second places in the prestigious British and Irish Champion Stakes.

"We usually have a dozen mares about the place and we've only got 67 acres here, but we've had eight Group One (top-level) winners and hopefully plenty more," Barry says. "It's still a lot of work – even the grass in our fields has to be kept between five and six inches as that's the optimum for energy and sugar."

So how do you pick a Kingston Hill or a Rekindling from the scores of horses stabled at the sales complex waiting to be bought? Essentially by attempting to marry up the most auspicious breeding (or pedigree) with the correct physique.

"It isn't easy," admits Harry Herbert, who runs Highclere Thoroughbred Racing which brings people together to have shares in horses. The well-known syndicate is named after Highclere Castle, the setting for Downton Abbey and Harrys' family seat. You narrow them down, looking at their temperament, athleticism and what you can afford. I think some of the professionals are surprised we do find quality horses for between 40 and 240,000 guineas, but it's down to an almost forensic process."

Facing scrutiny by the experts through the first week of December will be a full catalogue of unknown prospects, including a half-sister to Rekindling and another to Derby runner-up Jack Hobbs. As the outlay shows, the gambling is not only restricted to the racecourse.