Bella Alladio of Alladio Sims Garden Landscape Design looks at creating a low maintenance garden to harness autumn hues and provide colour for the winter.
The clean lines, sharp angles and crisp layout of this London front garden we completed during a summer needed to be set off, but also complemented, by a low maintenance, striking but harmonious planting scheme. Instead of choosing the more traditional blue and mauve tones that soon disappear after the relatively short flowering season of many such coloured summer flowers, we opted for a muted palette of warm hues expressed through foliage, bark and stems more than via flowers, to give the garden a longer season of interest. This is an important consideration, especially for a front garden.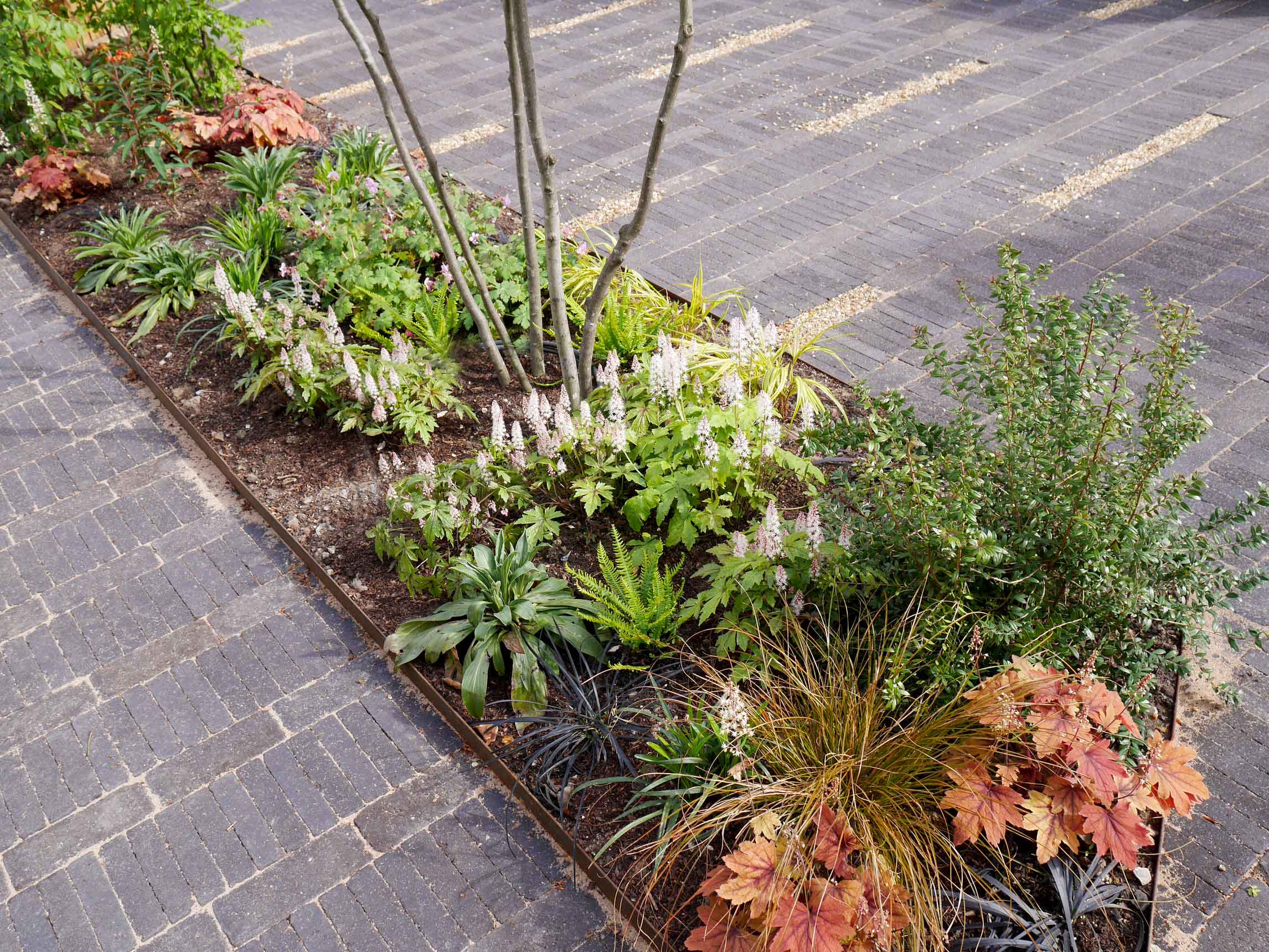 Set off by the sharp edges of Core-ten steel and complemented by the warm greys of the Chelmer Valley brick pavers, the borders are filled with a combination of structural, lush and delicate planting with cinnamon accents. Image courtesy of Alladio Sims Garden and Landscape Design Ltd, Dulwich private garden, 2017
In the last decade or so planting schemes that focus on golden autumnal hues have been centred mostly around ornamental grasses, thanks to their flower spikes that glow beautifully in the soft September light. We always include ornamental grasses wherever possible, but in this London front garden we tried to layer the planting scheme a bit more. Whilst we still kept many ornamental grasses, mostly of the smaller types such as carex, hackonechloa and ophopogon, we introduced some shrubs and flowering perennials too, which are typical elements of a more traditional English border, but selected them for the colour of their stems and foliage rather than their flowers. This helped us to create a more cohesive scheme.
Of course the key for this London garden was always low maintenance, so we had to carefully select well-behaved grasses and avoid larger specimens that can be more difficult to manage long term, such as some of the larger Miscanthus. We opted for mat forming and low growing grasses that mix well with ferns and perennials, choosing Geranium Macrorrhizum 'Bevan's Variety', a very hard working and unfussy variety that takes on rusty hues in autumn and winter, Polystichum Polyblepharum with its evergreen lush green fronts with their brown spots and bronze stalks, Tiarella 'Spring Symphony' with its delicate and long lasting white flowers, purple at the top and held together by bronze stalks and matching bronze flecked leaves, Heuchera 'Marmalade' for its rich amber to peachy bronze foliage colour with its hot pink underside, that creates an exciting accent throughout the borders and goes well with Euphorbia Griffithii 'Fireglow' with its explosion of orange stems and flowers and finally the elegant tall spires of chocolate coloured Digitalis Ferruginea.
For the larger and more structural elements we chose Myrtle 'Tarentina' because of its beautiful bronze stems, Carpinus betulus hedge for its tawny brown leaves that persist well throughout the winter, Rosa Glauca for its deep purple leaves and wonderfully bright red hips, and Amelanchier Canadensis for its autumnal brilliance, with its majestic glowing orange foliage.
The sense of colour harmony that pervades the borders is, of course, only a mirror for the rich tawny hues of the hard materials chosen to surround them. So it is no surprise that the warm brown-anthracite tone of the lovely Chelmer Valley brick pavers chosen for the permeable path and driveway perfectly complement the warm planting scheme, together with the rusted steel hedging and golden flint gravel.
With its crisp layout and unusual and engaging planting, this London front garden no doubt warms up the gloomiest of winter or autumn days.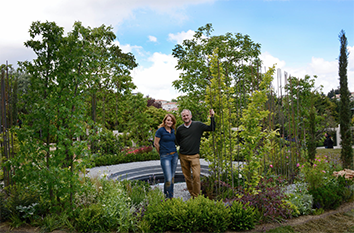 Jon and Emanuela in the show garden they created for the Istanbul Flower Festival in 2016


Profile: Alladio Sims
Alladio Sims Garden Landscape Design Ltd was established in 2015 after Jon Sims and Emanuela Alladio collaborated on a Silver Gilt winning show garden at RHS Hampton Court Palace Flower Show. The two directors continue their collaborative approach throughout their practice with Jon's background in interior architecture giving distinctive spaces and Emanuela's passion for plants and photographic eye adding great texture and contrast.
essence info
Alladio Sims Garden Landscape Design Limited
Unit C Willow House, Dragonfly Place, London SE4 2FJ
Website:
www.alladiosims.co.uk
Email:
hello@alladiosims.co.uk