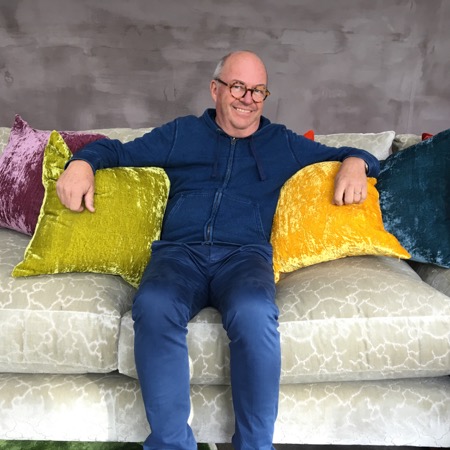 William Yeoward is one of England's most renowned designers. Known for his sophisticated, elegant and highly individual style, he has designed beautiful products for the home since he opened his first store in Chelsea in 1985. Following the release of his sixth book, Blue & White and other stories, Aimee Connolly sat down with William to talk about his early career and his love of colour in the home.
Q William, before opening your first store in 1985, you worked at Designers Guild. How did this experience help you launch your own brand?
A
It is always fascinating to see the success of growing a brand, as was happening with Designers Guild when I was working at the company. I learnt to enjoy creative energy, which I hope I always encourage at William Yeoward. My job is to find out what a person has a talent for and then develop it.
Q Do you think your background as an interior designer prepared you for product design?
A
I feel that to understand what is required in product design one needs to have gone out looking for it. If, as was so often the case with my decorating work, if I could not find what I wanted, then I would make it myself. It was this that encouraged me to create my own products for the home and I have done so ever since.
Q As a designer of products that are made to last, what do you think of this throwaway culture where interior items are so frequently replaced?
A
I think it is such a shame that customers don't look in more detail at what they are buying. I like to think that when buying a William Yeoward product our clients appreciate the detail in both the design and execution that make them treasure their purchases. Our planet cannot possibly sustain the quick disposable society that we seem to have become.
Q You've recently published a book, Blue & White and other stories. Can you tell us about it?
A
My sixth book, Blue & White and other stories, is a much more intimate reflection on my recent work. The book is a mix of professional photography and a more personal 'instagram' approach that to me captures images in a very immediate way and provides a visual understanding of the inspirational journeys that I go on as I travel the world. These journeys do have a vital influence on my work and this book engages with this creative thought process.
Q The book focuses on your passion for colour in the home. What three tips can you offer homeowners uncertain of using colour in their own home?
A
Don't ask too many friends if 'you've got it right'. If it feels good to you – use it. If it is wrong, then it can always be changed! It wasn't there until you put it there! Have confidence and know yourself.
Q What is the last item of luxury you bought yourself?
A
A fountain pen! I had surgery recently and I was so impressed by the fact that my surgeon wrote with a fountain pen.
Q What is your favourite room in your home and why?
A
My library. I read. I love log fires and I enjoy closing the shutters and losing myself in a private world surrounded by all of my favourite pictures, books and music.
Q If we were to take a tour of your home, what would we learn about you?
A
I do a lot of shopping and I have a lot of glasses and plates!
Q What does 2018 hold for the William Yeoward brand? Do you have any exciting projects you can tell us about?
A
2018 is always going to be the time to show off our new thoughts and concepts. As I write, I have half an eye on our edit for Christmas 2018. Always look forwards, never back.
essence info
Website:
www.williamyeoward.com
Website:
www.amara.com
This article first appeared in The Lux Pad,
www.amara.com/luxpad
All photos copyright William Yeoward