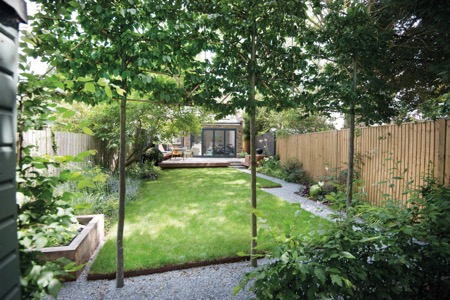 The trunks of these pleached trees double up as goal posts, while the raised vegetable planter on the left is a good way for children to get used to planting - Image courtesy of Alladio Sims Garden and Landscape Design Ltd, London private garden, 2017

Emanuela of Alladio Sims Garden Landscape Design Limited lets us into her world and explains the reasons behind what she and her business partner Jon offer in their garden design and project management company.
Q Emanuela, how did you get in to garden design and what services do you offer at Alladio Sims?
A
Like many others in this business I got to garden design as a second career. Previously I had worked as a linguist and conference interpreter. I studied at the London College of Garden Design where I met my business partner, Jon Sims. In 2015, following a successful collaboration on 'The Secret Garden Party', a main show garden created for the RHS Hampton Court Palace Flower Show, Jon and I decided to set up a company together to offer a more comprehensive approach to our work, and to make the most of our different skills sets. Our practice offers a design and project management service to deliver our clients beautiful outdoor living spaces from initial consultation through to completed gardens. We work with professional landscapers and nurseries and are driven by a passion for excellence and meticulous attention to detail.
Q What should homeowners consider when re-designing a garden?
A
The first thing to consider is that house and garden should feel like they belong to each other and the best way to achieve this is to plan the garden design together with the house or the extension. This will not only allow for economies of scale, but also for a better and more uniform 'feel'. Not to mention disruptions to the work already done when the garden is being built. If no changes are made to the house, then the best time to work on a garden is during its dormant season – autumn through to early spring – and the starting point should always be a clear brief and comprehensive garden survey.
Q How can homeowners add a 'wow' factor to a garden?
A
There are lots of ways in which this can be achieved: introducing a path with a sculpture at the end to draw the eye, creating a focal point by uplighting a multi-stemmed tree, a bespoke bench to use as a lounger and/or for entertaining or a feature wall or screen to act as a 'room divider' giving the garden secret spaces.
Q What changes can be made to a front garden to add curb appeal?
A
A front garden forms the first impression as we approach a house, therefore, it should always look smart and clutter free (think about where bins will be stored and how to screen them or minimise their presence). Another important point is off-street parking and ways in which a drive can be integrated into the garden when not used as a parking space. And, finally, one could choose a style that complements the house period, or one to contrast it, to create an immediate wow factor and add curb appeal.
Q What quick updates instantly lift a garden?
A
Edging is a priority – any border or lawn looks a million times better when the edges are sharp.
Q Are there any shrubs, plants or flowers which are your personal favourites and why?
A
Osmanthus delavayi is my favourite shrub as it's such a hard working plant – evergreen and easily clipped and shaped: it produces little but highly fragrant flowers in spring. Its glossy leaves light up darker corners and it is useful against fences and walls to soften boundaries too. Hackonechloa macra is my favourite grass; it is well behaved, softly arching and perfect to light up a difficult dry shade spot next to hostas or aquilegias. Peony Krinkled White is my favourite flower – graceful and delicate pure white with a bright yellow centre, it doesn't last for long, but it's worth the wait every year!
Q Can you give us your top three insider garden design tips?
A
Have a clear list of your objectives and allocate a realistic budget to achieve them, consider the key views out and try and draw the eye with a path or via an archway and limit your materials and plant palette – simplicity and repetition will bring all the key elements together beautifully.
Q Finally, what's hot in gardens for 2018?
A
There are so many hot trends! This year the emphasis seems to be back to bold colours and natural materials to create a strong story between indoor and outdoor spaces. The attraction of bees and pollinating insects is still going strong and native 'wild' plants and single flowers are in high demand in gardens both large and small.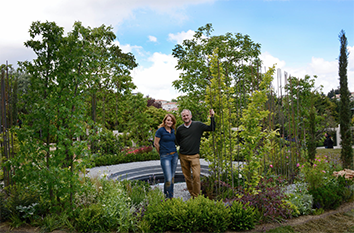 Jon and Emanuela in the show garden they created for the Istanbul Flower Festival in 2016


Profile: Alladio Sims
Alladio Sims Garden Landscape Design Ltd was established in 2015 after Jon Sims and Emanuela Alladio collaborated on a Silver Gilt winning show garden at RHS Hampton Court Palace Flower Show. The two directors continue their collaborative approach throughout their practice with Jon's background in interior architecture giving distinctive spaces and Emanuela's passion for plants and photographic eye adding great texture and contrast.
essence info
Alladio Sims Garden Landscape Design Limited
Unit C Willow House, Dragonfly Place, London SE4 2FJ
Website:
www.alladiosims.co.uk
Email:
hello@alladiosims.co.uk