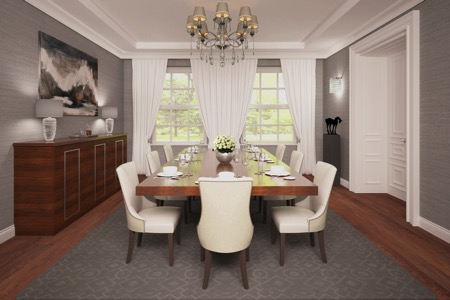 A beautiful dining room should give a sense of occasion and grandeur. Jenny Allan from JCA Interiors offers advice on designing the perfect entertaining space.
As dining rooms are typically used in the evening, there is an opportunity to use a moody, rich colour scheme in the interior design. Dark greys and taupes will always look elegant and provide the ideal backdrop for statement pieces of artwork or sculpture.
Dining room furniture must be practical and comfortable, as well as stylish. Chairs should be high quality and comfortably seat diners for a few hours over the course of an evening. When planning a dining room design consider the maximum number of chairs required. Some designs suit a set of matching chairs, while others can be enhanced by adding an oversized chair at either end of a table to add flair.
There is a multitude of beautiful fabrics to choose from when deciding on upholstery. Adding studded details or a spectacular fabric to the backs of chairs will create a very special design and take a room to the next level.
For added flexibility in a dining room consider buying an extendable table. This will offer a good solution for entertaining six people of an evening and then twelve at Christmas. Having options is always helpful, however, be sure to have enough stylish dining chairs so the look is cohesive whatever the occasion.
Commissioning a bespoke dining table is the perfect way to make a dining room an incredibly special place. A stunning table made out of luxury materials such as beautiful hardwoods, possibly with marquetry or inlay, is the ideal focal point in a room and will be a great investment piece that can be passed down through generations.
A matching credenza will also add to the luxurious style and is very useful for storing tableware, glasses, cutlery and table linen. It can also be an anchor piece within the room making the dining space feel more complete, rather than just having a table and chairs.
To further enhance a design, effective lighting is essential. Mood lighting will help to create atmosphere, while statement lights such as crystal chandeliers hung over the table will create drama. Depending on the length of the dining table, consider hanging two or three statement light pieces above. This can work well and give the room an even more striking appearance.
When designing a room it is important not to overlook accessories and finishing touches that complete the design. Accessories are like jewellery and rooms can feel bare without them. Dressing the table in a stylish way is the icing on the cake and can transform the space. There are many choices of tableware and it is really down to personal preference. Just ensure it complements the overall design. Finish with a large, beautiful floral arrangement placed centrally on the table or perhaps place three smaller vases with roses down the length of it to elongate the room.
A stunning dining room should be an uplifting, dramatic and elegant space: a place to invite friends and family, a room which can be enjoyed by all and which makes special occasions even more memorable.

JCA Interiors

Jenny Allan is founder of interior design company JCA Interiors
Telephone:
020 3714 9325
Email:
info@jcainteriors.co.uk
Website:
www.jcainteriors.co.uk