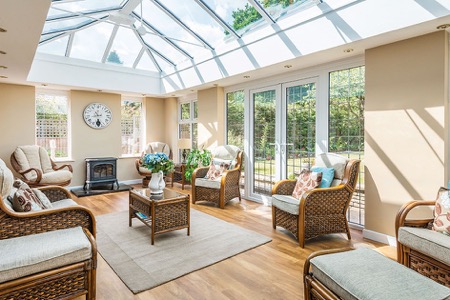 With the changes in the housing market essence talked to Paul Jones of Castle Conservatories, Surrey and London's premier design and build company, about how extending your property with an elegant orangery or conservatory can truly enhance your home and lifestyle providing space, and bringing the outdoors inside.
According to recent RICS (Royal Institute of Chartered Surveyors) statistics housing stock levels are at an all-time low. This seems to indicate that many homeowners opt to stay put adding value to property through home improvements. This can be anything from upgrading windows and doors, improving energy efficiency to adding an orangery or conservatory to extend living space.
At Castle Conservatories we are often asked what is the difference between a conservatory and orangery? Here is our guide to where they originated and why.
Orangeries became popular in renaissance Italy in the 17th Century, when advancement in glass production gave architects the ability to obtain large manufactured panes of glass to use in their designs. Originally built for elegant homes of the day to protect precious citrus fruit from the elements, they were seen as a symbol of wealth and became the room for entertaining on a grand scale. They were the ultimate addition to some of the most beautiful buildings in Europe housing everything from fountains to magic grottos. Owners were thus able to display wealth and status to guests via this means.
The modern orangery is a luxury extension of the natural living space creating a gym, games room or dining area, enhancing a home and adding value to it.
The concept of a conservatory grew out of the original orangery idea. Designed with optimum glass and roof panels to provide the highest light ratio, they were able to open up a residence to bring the outdoors inside.
Conservatories were also developed to house exotic plants and even animals to shield them from the colder climates of Western Europe. Popularity in the United Kingdom was at an all-time high in the 19th century born from the nation's natural love of gardening. In modern times Victorian designs remain as popular as ever. Famous conservatories in the UK can be seen at Kew Gardens, Chatsworth House, owned by the Duke and Duchess of Devonshire and the Eden Project in Cornwall.
So, what's the difference? A conservatory should have sidewalls and a predominantly glazed roof. Many Victorian conservatories were built using metal and glass and this style still remains popular. Today the use of modern materials such as UPVC frames gives a stylish and more durable alternative.
Orangeries commonly have increased brickwork and utilise tall windows to maximise light. Less than 75% of the roof is glazed and will typically feature as a lantern style roof. Advances in technology have allowed modern designers to create a whole new range of roofing styles. Both orangeries and conservatories commonly add around 7% of value to a property.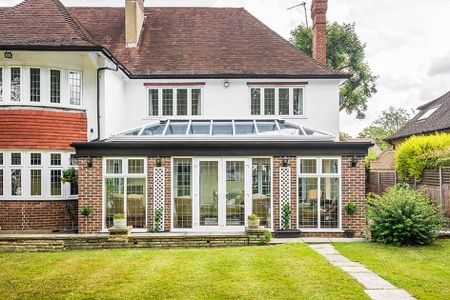 Case study
At Castle Conservatories it's the care of our customers we truly value. Many projects start as recommendations from other clients. We asked Mr and Mrs Sinnet from Surrey to share their experience with us.
In 2015 Castle Conservatories were requested to design and build a substantial orangery for the client's Surrey home. Working closely with them to project manage the build from start to finish, an in-house team of building experts carried out all aspects of construction resulting in a seamless transition between this and the main part of the property. Careful consideration and consultation ensured the orangery was a sympathetic design matching existing features, brickwork and provided the dream space they were looking for. Warm roof technology maximised light, whilst the unique insulating perimeter fulfilled the prerequisite that the room could be used all year round.
"Our new Orangery has completely opened up the house and we use the room constantly all year round. The room amazes people who visit us and we certainly feel it has the wow factor. We were impressed throughout the whole process of the professionalism of the different teams coming in and how courteous they all were. We had no issues at all and would be more than happy to recommend Castle Conservatories." Mr and Mrs Sinnett, Cheam, Surrey
Today modern orangeries and conservatories are designed with warm roof construction and state of the
art glazing solutions to really create a year-round
space. Unique roofing systems provide the best of both worlds. Designed to ensure the light of a conservatory and the feel of an extension. A variable depth insulated perimeter ceiling creates a real living space that processes a much greater thermal efficiency in comparison to a standard conservatory.
Castle Conservatories will work with a client to find the best solutions to their needs, project managing a build and offering a complete service that will result in a great extension for any home. Careful, relevant advice ensures all the client's lifestyle enhancement expectations are met with a minimum of fuss.
Castle Conservatories
Woodcote Green Garden Centre, Woodmansterne Lane , Wallington Surrey SM6 0SU
Contact:
Paul Jones
Telephone:
020 8669 1500
Email:
Paul@castlecon.com
Website:
www.castleconservatories.com