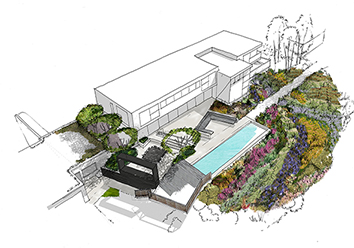 A broader approach to any design project can achieve a property's full potential. Emanuela Alladio of Alladio Sims Garden Landscape Design Limited advocates planning outdoor spaces right from the beginning of any project.
When planning a new extension or build, we tend to think inside the box. We visualise the house as the main box, sitting somewhat alone on a piece of landscape, and then divide this empty box into separate rooms, each with its own very specific function to fulfil – each a smaller, yet still empty, box (furnishings are often brought into action at a later stage).
Once the main box is finished, we stop to wonder how the box relates to the space around it. Only at the end do we think of ways to soften the building and make it sit more naturally within the outside space. The result is that often the finished box doesn't connect with the neighbourhood or the wider landscape, and the inside/outside flow is seriously compromised and its potential lost.
Yet when we admire images of houses and gardens conceived with an integrated approach, we are in awe. So why consider the relation between house and landscape as an afterthought? Wouldn't it be better if someone was in charge of thinking outside the box from the very beginning of a project?
We could do so much more if we engaged the building with its surrounds from the very beginning. If, at the early planning stage, client, architects, garden designer and interior designer all sat at the same table the result would mean much fewer lost opportunities, well-integrated solutions and useful economies of scale.
We hire architects to create forms from interconnected spaces, focusing on concepts such as flow and aesthetic, we hire interior designers to introduce the right mood and texture to each and every one of these spaces. All our energy is spent worrying about what happens inside – floors, furniture, curtains, light fittings, kitchens and bathrooms – forgetting that this beautiful flow will stop as soon as those brand new bi-fold doors open – and we are faced with an empty and alien back garden.
Yet the solution is out there. Bringing in a skilled garden designer can continue the dialogue outside. A skilled designer will absorb information from all sources and develop the outside space to extend the link with the house. Your brilliant, new, glass-clad, sleek kitchen living area will no longer open to an uninspiring and empty back garden. You will discover a new world of potential and create a stunning outdoor room.
Some tricks are simple: choose the same porcelain tiles installed in the kitchen for the patio area – in a different finish to add slip resistance outside – to achieve that instant, seamless, indoor/outdoor transition. Make the most of the expanse of glass walls in your new extension by controlling the views out, creating new ones, adding light and water for a touch of drama.
Of course, just like a good architect or interior designer, a great garden designer will guide you through this process, looking at the 'outside box' and dividing it up into a series of meaningful layers each with a different function: privacy, drama, entertaining, framing the view etc. And the difference will be in the small details – identifying the best aspect for dining or enjoying a swim or a view, making the space feel much bigger and more inviting thanks to directional paving or the right materials and plant palettes, choosing the best plants for the site given the local soil, drainage and exposure to the elements. Once this process is complete, the indoor/outdoor flow will be seamless.
Despite this enormous potential, so often garden designers are called to 'intervene' right at the end of the renovation, new build or extension, missing out on some earlier opportunities. Considering the outer environment can bring so many tangible advantages to any development, for example, by making the most of an existing level, framing a borrowed view from the landscape and creating a positive link between the building and its surrounds. This can be easily achieved if the garden designer is engaged from the beginning as a three-way conversation with the architect and client. It would often mean saving on costs too as later 'interventions' are minimised.
This holistic approach to an extension or a new build is already very established across the ocean and is being adopted here too, producing some amazing results. Next time we admire a stunning new build if we ask ourselves why our eyes are so drawn by what they see it will no doubt be the very unique connection that the building has managed to establish with its surrounds, the creative use of local materials, the effective and functional use of space, the clever yet understated details. This very elegant product will be the result of clever thinking outside the box.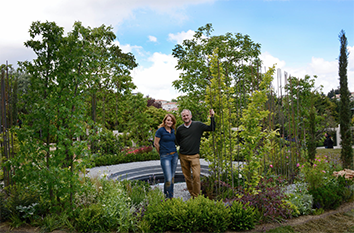 Profile: Alladio Sims
Alladio Sims Garden Landscape Design Ltd was established in 2015 after Jon Sims and Emanuela Alladio collaborated on a Silver Gilt winning show garden at RHS Hampton Court Palace Flower Show. The two directors continue their collaborative approach throughout their practice with Jon's background in interior architecture giving distinctive spaces and Emanuela's passion for plants and photographic eye adding great texture and contrast.
essence info
Alladio Sims Garden Landscape Design Limited
Unit C Willow House, Dragonfly Place, London SE4 2FJ
Website:
www.alladiosims.co.uk
Email:
hello@alladiosims.co.uk