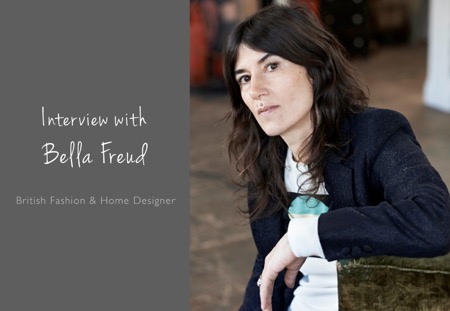 With an enviable artistic lineage – Bella Freud is the grandchild of Sigmund Freud and her father was artist Lucian Freud – it's no surprise her creativity is boundless, spanning fashion to filmmaking and most recently home design with the launch of a lifestyle collection. Here Bella talks to Jane Pople about her inspirations, being a female entrepreneur and her penchant for rich minimalism.
Bella Freud's fashion designs have been a stalwart of British cool for over a decade, with her iconic jumpers adored by the likes of Kate Moss and Alexa Chung, her signature style epitomises effortless chic. Launching her own label in 1990, she won Most Innovative Designer at the London Fashion Awards just a year later.
Q Bella, what first inspired you to create a home accessories line and is it something you have always wanted to do?
A
I think my interest in home wear began with my obsession with sheets. My grandmother ran a small country hotel during the summer months in Co Cork, Eire and she allowed me, aged eight, to help her prepare the rooms, and crucially showed me how to do hospital corners on the beds. In my teens I stayed at the grand house of a friend of my father's and became entranced by the exquisite nature of the pale blue linen sheets in these much grander bedrooms. That's where it all started.
Q Do you think fashion for the home is becoming more important to the consumer and how do you see the industry changing over the next decade?
A
I think this area is a huge area for growth and creativity. People are really interested in expressing themselves through the style in their homes, not just clothing. I see fashion brands automatically including home accessories into fashion collections rather than waiting to launch as a separate medium. What needs to evolve is the buying approach so that lines aren't so segregated: it's good to see things as a story rather than just themes.
Q An interest in film is evident throughout your career, from your producing of short films to collaborating with John Malkovich. What is it that draws you to film as a medium and do you have further plans to work in the field again?
A
I find I can access and suggest my ideas using film, I can tell the story better. I have a short film idea that I'm working on now and I'm hoping to shoot it soon.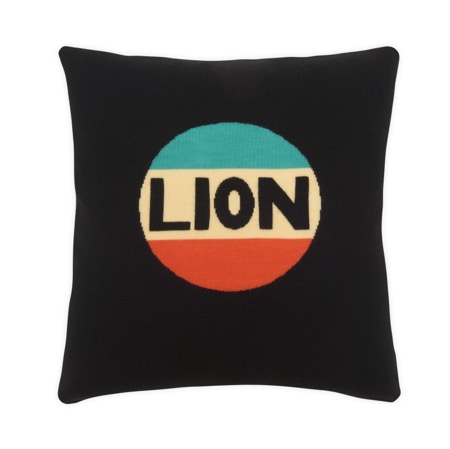 Q As a leading British fashion designer and female entrepreneur, what advice would you give to young women looking to follow in your footsteps? Do you think it's still harder for women to make their mark in the industry?
A
The business of fashion is hard generally, but it seems particularly difficult for women to protect their interests. Most of the people in power financially are men and being 'tough' as a woman is not respected the way it is with men. It is generally admired as a strength when a man is adamant and demanding, yet when a woman is the same it is met with resistance and often distaste.
Q What is your favourite part of the working week and do you have a particular product you like to work on most, e.g. fragrance or fashion?
A
I particularly like designing the match boxes, I love making the design work in a square shape. It is so simple yet it looks strong and immediate. I enjoy trying to bring a new product into my world. I tend to think of what I long for and then design for it and watch it spring into life.
Q If you could create a home or fashion collection with anyone from the past or present who would it be and why?
A
Ohhh! So tantalising... Maybe from the past it would have been fun to collaborate with Biba or Coco Chanel on some bed linen and towels. Now it would be with the Vampire's Wife: we could have a brilliant time creating.
Q How would you describe your own interior style and what is your favourite room in your home and why?
A
I like playing with colour combinations and using deep colours against a muddy grey to let it glow. I like a rich minimalism which doesn't even make sense, but it sounds right. It is minimal in that it's not elaborate and the unlikely colour combinations make it luxurious. I am just building my home so I have yet to see which will be my favourite room.
Q What is your favourite way to waste time?
A
I don't really waste time if I can help it, even sleeping is incredibly useful and rewarding. Putting things off is my most common way of wasting time: I don't enjoy it as I know I'm doing it and know it's destructive.
Q You've just discovered a time machine that can take you to either the past or the future. What year do you go to and why?
A
I wouldn't mind going back to 1900 in Vienna, a time of great creativity in the world of music and art. I'd only stay for a short time though as for a woman it was ten times more difficult to be free to be a creator.
Q What's next for you and your brand – do you have any exciting projects for 2018 that you can share with us?
A
I am working on some really luxurious pieces, one off specials made in beautifully coloured heavy cashmere. And I'm developing my bed linen collection so that when I find the ideal partner I am ready to press go immediately.
essence info
Website:
www.amara.com
This article first appeared in The Lux Pad,
www.amara.com/luxpad