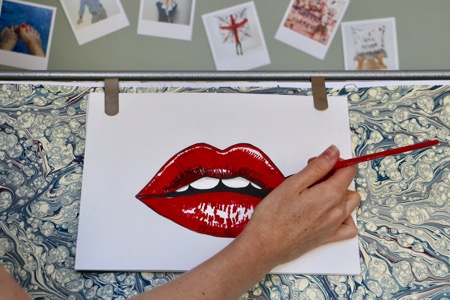 Ali Mapletoft is changing the way we view sustainable fashion. With a background in filmmaking, it was a love of luxury goods that steered this natural creative away from the film industry and into the world of ethical design. Ali founded Age of Reason, a luxury fashion and home accessories brand, filling a gap in the market for high-end designs that have a message and purpose. Aimee Connolly caught up with Ali to find out more.
Q Ali, have you always wanted to be a designer and how did you get started in the industry?
A
I was a short film director when I started the brand, but I think it was my upbringing in the Kingdom of Lesotho in Southern Africa that really gave me a fever for design. My parents are artists who owned a pottery and gallery and I grew up in remote mountains around craftswomen: weavers, potters, basket makers and painters. Our house was full of hand-woven tapestries, rugs and beautiful African pots. I love high quality materials like natural wool and silk: there's nothing quite like creating something beautiful out of incredible materials.
Q Were there any challenges in starting your business?
A
In some ways ignorance was bliss. As a filmmaker I had a network, so starting from scratch was daunting and lonely at times. It's a challenge building a brand that people recognise for quality, integrity and meaningful design. There aren't any shortcuts; I just keep making my pieces as well as they can be, and I gather up talented people on the way to join my team.
Q What is the story behind the name Age of Reason?
A
Playing around with names when starting out was great fun – I wanted a name that was timeless but conveyed a strong message. I chose the name after the Age of Enlightenment because I believe that beautiful, luxurious fashion and interior pieces can be made in a sustainable, empowering way. We manufacture in the UK with a small team using the best materials we can find. Our production line is fairly paid, independent and largely female.
Q Age of Reason is changing how people view sustainable fashion and homeware. What first motivated you to create a brand that focused on ethical and sustainable design?
A
I love buying things with a story, and if the workforce is empowered and thriving I want to know about it. Working in Soho can be dangerous – I've done a lot of shopping in London department stores! I noticed a gap six years ago when I found it amazing how very few sales assistants could tell me how or where something was made. I found it genuinely baffling in a luxury environment and it put me off buying on a number of occasions. I wanted to create a brand that sang integrity.
Q What's a typical working day look like for you?
A
I try to start my day with coffee, reflecting on how I want my day to go. It's like meditation with caffeine, which suits me just fine. My husband gets the children ready, which really helps.
I head to the studio at about 9am, after breakfast. I never start the day with emails: they come later in the day after I've done at least one exciting, creative thing. If I'm drawing, I enjoy listening to singer-songwriters like Patti Smith, or my Mum's old favourite, Joan Armatrading. I'm a sucker for Nina Simone too. She made an incredible contribution to music. I tell my daughters what her achievements meant then and now as a woman of colour. Women and their histories inspire me – there's always a moodboard on the wall featuring inspiring women: Florence Welch, Susie Cave, Munroe Bergdorf and Adwoa Aboah are all up there. I'll always step out to get lunch because I love to walk. Afternoons are for meetings and plotting new paths.
Q What would a tour of your home reveal about you?
A
You'd learn that I love accents of popping colour and texture. I'm not about clutter – I'd rather have a few standout pieces and keep the rest chic and pared back. I love a statement chair with a shaped cushion on it and developed a passion for Street Art from time in London, so paintings by Pure Evil and Eine adorn the walls. I need books in my life, so great shelving is a must and you'd learn that someone in the house played guitar!
Q What three home comforts couldn't you live without?
A
It doesn't matter how busy I am, I always take a bath and read a bit at night. I love a luxurious candle to accompany this little ritual – I have a Bella Freud 'Ginsberg is God' candle on the go at the moment. I love good tea and coffee, great bedding and more books.
Q If you weren't a designer, what would you be?
A
I'd probably be a filmmaker or writer. As long as I'm creating something that has impact, I'm happy. I need joyful adventure, freedom and powerful creation. I think being any kind of artist would give me that.
Q What's the best advice you ever received?
A
A friend reminded me: "You can do anything, but you can't do everything." I have a great team of people supporting me. I don't pretend to do this alone.
Q What does 2018 hold for Age of Reason?
A
I'm extremely excited about growing into the brand I've always dreamt of. The home interiors range will grow and I'll be adding more wall art to my collections. There will also be a top secret collaboration with an organisation that champions women – watch this space!
essence info
Website:
www.age-of-reason-studios.com
Website:
www.amara.com
This article first appeared in The Lux Pad,
www.amara.com/luxpad