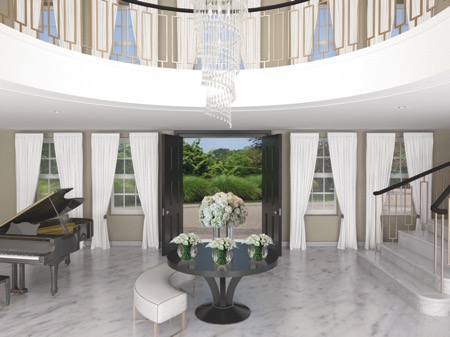 Entrance halls offer the chance to make a statement, to set the scene for the rest of the home. Jenny Allan from JCA Interiors explains how to make sure this area gives that great first impression.
When designing a whole house the entrance hall is always the first place to start as it is the central pivotal point of the home and sets the scene for the rest of the design.
The style must be cohesive with other principal rooms which lead from the hall as there will be internal vistas through to those rooms when doors are open.
An essential part of creating a stunning entrance area is an impressive front door and it should look good from the inside as much as outside. It must be in proportion and complement the architecture of the property whilst being inline stylistically with the rest of the interior.
A further essential consideration, at the central core of the property, is the staircase which has the ability to be an incredible design feature. A multitude of choices are available in all different finishes: from floating wooden treads to marble helical staircases, there is an opportunity to create a real statement feature that will be the focal point of the house.
Good lighting is also critical in the successful design of an entrance hall. A chandelier or modern piece of designer lighting creates impact and can make a powerful first impression. The proportions of double height entrance halls should be enhanced by this feature light which encourages the eye to be drawn upward, emphasising the height and space on show. Further wall lights or downlighters can be incorporated to balance the powerful centrepiece ensuring all areas have adequate light.
Creating a flow through the house is an important part of an effective design. This should be felt from the moment the front door is opened and furniture selection in an entrance hall is a key part of this. Mirror the shape of the hall with a console or central table which is attractive, but easy to walk around. If the hallway is a large area, it is important for the space not to feel empty and sparse, so ensure there is enough furniture and features to make it feel homely. In some cases it may be appropriate to add a seating area or even a grand piano to complete the design.
The entrance hall can be an ideal place for prized pieces of artwork or sculpture as there will be enough space around them so they are displayed and shown in their best light. Adding these pieces will offer the perfect finishing touches to an area of the house which has the potential to 'wow' visitors and create a stunning first impression.
Elegant, characterful or imposing, perhaps a mixture of the three, there is a myriad of options for creating a successful entrance hall, but just ensure it relates in a holistic way to the interior design of the rest of the house.

JCA Interiors

Jenny Allan is founder of interior design company JCA Interiors
Telephone:
020 3714 9325
Email:
info@jcainteriors.co.uk
Website:
www.jcainteriors.co.uk