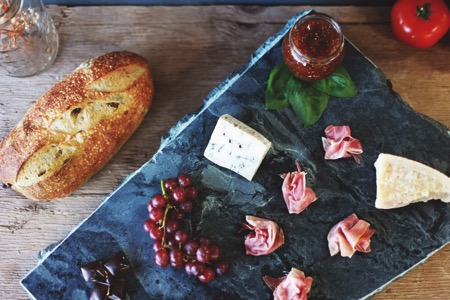 Serving Slab, medium
Soapstone is often overlooked in the interiors' world and frequently takes a backseat to the more glamorous marble and granite. One company, SPARQ home, however, is rapidly altering the perception of this chalky textured stone by marketing collections of barware, tableware and cookware crafted entirely from soapstone, giving this unusual material its own time in the limelight, Emily Bird finds out more.
With a name derived from its 'soapy' soft feel, soapstone has been mined for thousands of years and is formed at convergent plate boundaries where the earth's crust is exposed to constant heat and direct pressure. Traditionally used in the creation of handmade ornaments, and even gravestones, thanks to the stone's easy-to-carve properties, its modern uses include kitchen construction. It is still used to create intricately carved sculptures to this day.
Established by Steven Chavez and Justin English, SPARQ home was formed when the founders discovered the wastage left from soapstone quarries around the world.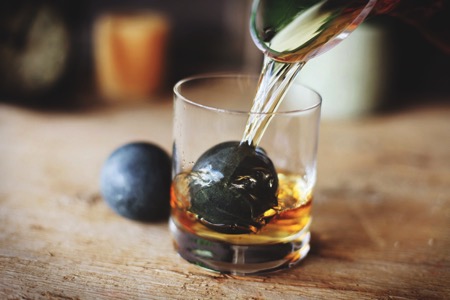 Sparq Whiskey Spheres, set of two

The soft, carvable quality of the rock is a negative aspect in the mining stages as, when drilled, soapstone breaks into smaller pieces often too small for many of the industries that require it.
On learning of the extensive waste of this undervalued and incredibly useful material, Steven and Justin set about transforming the discarded stone into beautiful and impeccably stylish accessories for the home.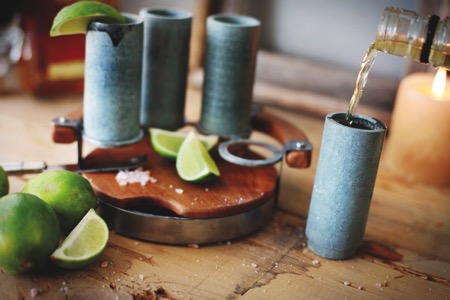 Tequila Shooters, set of four
Boasting a host of beneficial properties, soapstone is one of the best natural materials for conducting and maintaining temperatures, making it fantastic in the making of serveware and barware. Both non-porous and non-absorbent, it is ideal for serving food as it will not stain and the stone's resistance to acids and alkalis also make it a wonderful material for drinking vessels.
Physical properties of soapstone
Soapstone is composed primarily of talc (where the powder comes from) and shares many physical properties with that mineral. These properties make soapstone valuable for many different uses. The stone's physical properties include:
• soft and very easy to carve
• non porous
• non absorbent
• low electrical conductivity
• heat resistant
• high specific heat capacity
• resistant to acids and alkalis

Soapstone is a rock and its mineral composition can vary. Its composition depends upon the parent rock material and the temperature/pressure conditions of its metamorphic environment. As a result, the physical properties of the soapstone can vary from quarry to quarry and even within a single rock unit.

SPARQ home has developed a wide collection of home accessories to take advantage of soapstone's quality of retaining both cool and hot temperatures with ease. From oven-to-table platters to pizza stones and serving slabs, keeping meals warm at dinner parties is a simple task, and each piece can be cooled to transform the items into serveware for chilled cheeses, charcuterie and desserts.
Whiskey rocks, increasingly gaining in popularity as a way to chill drinks without watering them down, are also available, with the soapstone holding the cold temperature much longer than other forms of ice replacement. Whilst the classic square rock shapes are available in both large and small sizes, whiskey spheres can also be found which offer a design-led addition to a favourite cocktail.
SPARQ home's collection is now available at Amara.
Website:
www.amara.com and www.store.sparqhome.com
Profile:
SPARQ home
Originally, SPARQ home was founded on a mission to preserve nature's soapstone quarries across the globe. In most quarries, up to eighty per cent of all soapstone mined is deemed waste or scrap material. For businesses such as kitchen construction, large, flawless slabs of soapstone are hard to come by with each cut of stone evaluated and claimed as scrap or useful.

When making large cuts of stone, the scrap far outweighs the useful slabs. As such, these blocks of scrap stone are left behind, lining the roads of the quarries. From an aesthetic view, the blocks of stone destroy the landscape of the quarries and from a pure environmental angle, these blocks are left to die, wasted on the roadside.

In an effort to regain control of soapstone waste, and make useful a stone that has so much to offer, founders Steven Chavez and Justin English have set out to clean up the disastrous quarries worldwide and find a purpose for the discarded soapstone. This is where SPARQ home was born as Steven and Justin turned to the stone's natural properties of maintaining warm and cool temperatures.

Building on the success of the company's soapstone product line, Steven and Justin expanded into stainless steel, bringing the same level of sophisticated design and usefulness to entertaining ware.