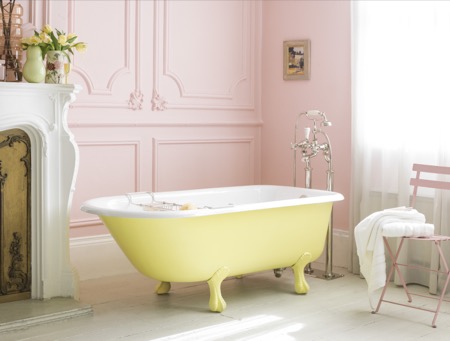 Catchpole & Rye, purveyor of fine sanitary ware for luxurious bathrooms, offers its ideas for updating the 'smallest room in the house' this spring using pastel colours.
Spring is in the air, and in fashion and interiors that means one thing: a proliferation of pastels! When it comes to the bathroom, however, a gentle, muted colour palette is not just for warmer months – it works wonderfully all year round, creating a peaceful, tranquil ambience in a room made for relaxation and indulgence.
Traditionally seen as feminine, romantic and perhaps a little saccharine, pastels are finally showing their more versatile side. Pastels also look fabulous paired with metallics such as brass and copper – another sign that they're a great choice for bathrooms.
For a gentle introduction to this look, stick to a neutral palette for a bathroom and introduce the chosen pastel as for any accent colour. Catchpole & Rye baths can be painted any shade chosen: powder blue, muted mint, lemon yellow or coral pink, a crisp background will stop the overall scheme from appearing too sugary sweet. The room pictured top looks so inviting – the pale walls and floor create a serene backdrop for the soft blue bath.
Ice-cream shades can help to counter the clean lines and hard surfaces of a bathroom, softening the space and adding a fun, quirky edge. For those who have had their fill of industrial chic, this could be the perfect antidote!
By painting the bath a slightly paler tint of pink than the walls, it is given subtle prominence in a sophisticated scheme.
Of course, it doesn't have to be the bath that takes centre stage – cisterns and vanity units can also be painted to suit a scheme where pastel tones add a splash of individuality without overpowering the room.
Adding vibrant bright or dark, moody colours into the mix brings pastels bang up to date. As well as creating a strong sense of drama, an atmospheric wall colour adds definition to a pistachio green bath, the contrast heightening the intensity of both colours and giving the paler shade more gravitas. Colour layering in this scheme could have a touch of the tropical about it – perhaps a fearless combination of zesty orange, sky blue and sunshine yellow would feel joyful and full of fun.
See the Catchpole & Rye website for more information and inspiration.
Catchpole & Rye
Website:
www.catchpoleandrye.com
Telephone:
London showroom 020 7351 0940