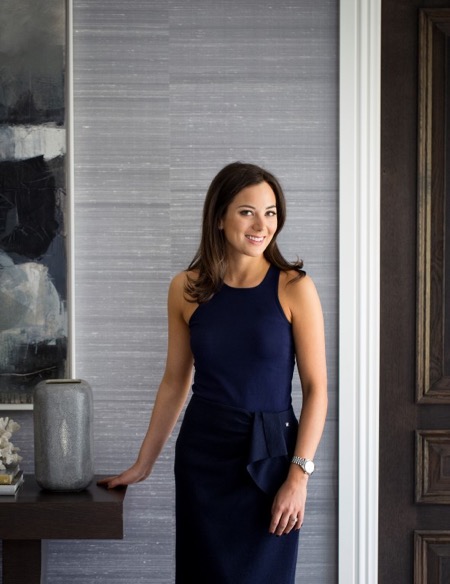 Interior designer Sophie Paterson talks to Jane Pople about the secrets of good interior design and how she overcame career challenges to be where she is today.
Sophie Paterson has an enviable combination of tenacity and business acumen, coupled with wonderful creativity and a natural talent for style. These skills have seen her rise through the ranks to head her own studio, Sophie Paterson Interiors, and become renowned across the industry. Her portfolio boasts many stunning projects that range from a luxury Chelsea apartment to a sprawling urban family home.
Q Sophie, what is the secret to interior design?
A
I'm not sure it's a secret, but I think the key is really prioritising the functionality of the space and not just going for something that will look good in a photo. Having lived in various properties I have designed, I've learnt on a personal level how important comfort and practicality can be. Small things like having a table in reach of all your chairs so you can put down a drink, having fabrics that don't give you a nervous tick every time someone sits on them, sofas that feel comfortable to sit on, rugs that disguise stains, wall coverings that resist scratches and marks. I think if you are designing high-end residential projects and you haven't lived in one of your designed interiors, you could be tempted to prioritise aesthetics over functionality which is never the correct choice. Every client and every home needs to take practicality and comfort into account in order to be truly luxurious. Otherwise you are just living in a show home not a real home.
Q What was the biggest challenge you faced when setting up your own interior design studio?
A
There were many challenges ¬– obtaining trade accounts is one hurdle that springs to mind – you need trade account references to set up most trade accounts, so convincing the first fabric house to give a trade account is hard work! I remember being interviewed by Zoffany and Andrew Martin for a trade account, which was daunting at the time. Now I look back and think what was I worried about, but you have to constantly push yourself to grow, so things I used to get phased by don't even register with me now as a stressful situation. When I look back, I think it's a blessing that at the tender age of 24 I didn't fully realise everything that was involved in setting up and running a successful design studio!
Q What is the best advice anyone has ever given you?
A
Stop worrying about everything that could go wrong and start thinking about all the things that could go right. In reality, you will find a solution to any problem you come up against. If you think about everything that could go wrong, you'll end up procrastinating or even failing to try.
Q How would you describe your own home style and what's your favourite room?
A
My home is classic contemporary with a little rustic chic thrown in. My favourite room is either the kitchen or my TV room because they are so relaxing to spend time in. My TV room has layers of gorgeous textures and comfort; my kitchen is such a great space for socialising. I love the views across the garden from all the French doors.
Q If you could design the interior for any space in the world, where would you choose?
A
I get asked this question a lot. I don't have a particularly interesting answer. To me the ideal project isn't just about the building, it's about the combination of the building, client, brief and budget. If you get all those things right, then magic happens!
Q What is your favourite type of project to work on and do you have a most memorable project?
A
I like working on complete refurbishments where you get to see a total transformation, and I prefer to work on whole houses or apartments rather than just a few rooms, as I always feel the rooms that are left feel even worse after you've renovated the others to a high standard. One of my most memorable projects was designing the nursery for our Cobham project after the rest of the house. We had left this room earmarked as a future nursery. Unveiling the room to the clients was such an emotional experience. They were in tears, we were in tears and even our builder was spotted wiping a tear away! It was such a special room and turned out beautifully. Another noteworthy experience was the recent handover of a Knightsbridge apartment project. The client was very trusting and didn't visit the project once in the year's renovation. When we handed the turnkey project over even their personal photos were in the photo frames, candles lit and flowers in the vases. The client's reaction was just so special and to see how much they loved it is why we all do this job.
Q How would you spend your dream day off?
A
If I was in London then I'd either go to Scotts, Zuma or Roka for a long lunch with my husband and baby daughter. Food is one of my passions – often I can be eating one meal whilst planning my next! After that I'd check into the spa at the Corinthia for some pampering. The interiors and treatments there are spectacular.
Q Where is your favourite place in the world?
A
One place where I really relax and switch off is my in-laws' home in Ranch Santa Fe in California. The weather, the beautiful location with gorgeous beaches so nearby, the food, the activities (I love tennis, hiking and shopping!) and company is a great combination. I generally don't like staying in hotels, so this is one of my favourite places to go to switch off.
Q What are your top three tips for interiors in 2017?
A
Embrace metal finishes such as bronze and antique brass. Not only are they more fashionable than chrome, but this is a trend that has longevity – it's a classic look so won't look dated in five years.
Colour wise, I love burgundy red, as well as warm tones such as almond and rust on a neutral base.
Q What would you be doing if you weren't an interior designer?
A
Good question. I really don't know! I love organising things and I'd also need something creative.
Q What does the future hold for Sophie Paterson Interiors?
A
We are completing some very large projects this year: a multi-unit project in Marylebone comprising a townhouse, an apartment and all the communal spaces within a high end development, a 13,000 square foot new build house in Chelmsford, an apartment in Marbella, a Grade II listed apartment in Knightsbridge, an apartment in Mayfair and a Grade II listed apartment in Belgravia. We are also expanding our team to allow for the large new projects we have lined up for later this year, so exciting times.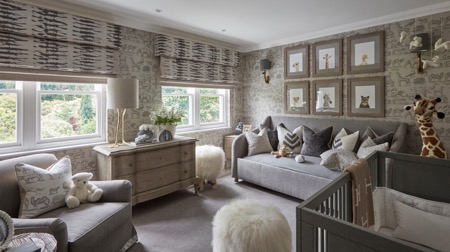 Website:
www.amara.com
and
www.sophiepatersoninteriors.com
This article first appeared in The Lux Pad,
www.amara.com/luxpad