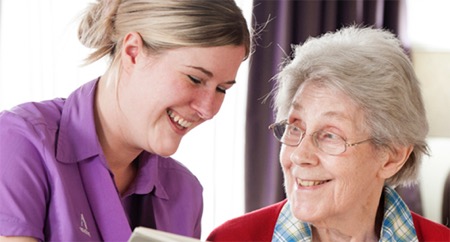 essence meets Hannah Markland, manager at Moore Place care home in Esher, to discover more about this contemporary residential home.
Ask Hannah Markland, the new manager at Moore Place care home in Esher, what the favourite part of her day is and without hesitation she'll say that it's chatting to the residents. "They are a real group of characters from all walks of life with amazing experiences," she beams. "Spending time with them reminds me how much I love my job at Moore Place care home."
Moore Place – an oasis
Hannah, who studied health and social care, brings with her a wealth of experience in the care industry which spans 16 years. "I gained most of my knowledge from a nurse that I worked with. She was an outstanding old-fashioned matron who put me through my paces as a young carer, but taught me so much about always achieving high standards and excellent care." Such ambition, coupled with her great skills, is what has helped Hannah move forward in her new role as home manager at Moore Place.
A modern, high-quality residential care home set in luxurious and stunning surroundings, Moore Place, provided by Anchor Group, offers first class care and facilities, with spacious en-suite rooms in a light, contemporary and elegant setting over five floors. "You certainly can't beat the views and the close proximity to Esher High Street, allowing residents to remain independent by enjoying trips to the local shops."
Hannah continued: "We are also situated within the Surrey greenbelt, overlooking the Moore Place Golf Course. Our gardens are beautifully landscaped with colourful flowerbeds and a greenhouse for the green-fingered residents."
With cosy lounges, a coffee lounge, an activity room, cinema and a hair and beauty salon, residents are never short of anything to do at Moore Place.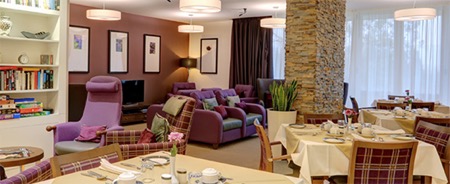 Excellence in care
A big part of Hannah's approach to care is getting involved and not just sitting behind a desk all day. She enjoys meeting healthcare professionals and building relationships in the local community. "This way I can understand what is part of their agenda and how Moore Place can fit in."
One of Hannah's current projects is to focus on the dining experience at Moore Place. "It's such an important part of our residents' lives," stresses Hannah. "Our chefs spend time and effort producing fantastic food and part of the experience is the service of the food which involves appealing presentation and ensuring it is visually colourful." The environment during meal times is also a huge part of the dining experience. "The dining room needs to be relaxed and enjoyable. We have to remember that we wouldn't enjoy a meal in a restaurant where waiters were chatting with each other, so in that respect our residents deserve to have a wonderful meal time too," she explains.
Enjoying events and activities
A recent event at Moore Place that the residents, relatives and staff have taken part in is a screening of 'The Sound of Music.' This was following new research from Anchor which revealed the classic film is the favourite family film of today's over 55s. "The screening was a great opportunity to bring different generations together for something everyone can enjoy," enthused Hannah.
The summer will see several events at Moore Place, including resident and family barbecues, a staff and resident fun day and a cocktail party just to name a few.
Advice on choosing a care home
Hannah understands that one of the biggest challenges facing relatives today is the anguish and guilt associated with having to place a loved one in a care home. "That's why it is so important for us to build relationships with the relatives so that we can support them as well as the resident through this transition," says Hannah.
Hannah's advice to anyone looking for care is to ask as many people in the home as possible about their experiences: "Everyone will have a different experience of care and you need to hear a range of opinions." Speaking to the staff is also very important as they will help make an informed decision.
"While a typical day at Moore Place is certainly busy… we are constantly thinking of new ways to enhance our residents' lives and engage them in the day to day running of Moore Place. Their opinions matter to us – after all this is their home and we look forward to making it as comfortable as possible for them."
essence infoWebsite:
www.moore-place.org.uk
Telephone:
0808 102 5084