Emanuela Alladio of Alladio Sims Garden Design explains the importance of colour and its reaction to light in the design of any garden.
I love colour. I find accents of strong bold colours uplifting and invigorating, and blocks of cool shades very restful and calming. Colours can set the tone of a story and unify a space, setting the mood of the entire garden – the hot spicy tones of reds and yellows grabbing our attention and lifting our spirits and the cool hues of blues and purples relaxing our minds. Yet nothing is as complex as colour, because colour is made out of light, and its variety of hues and tones changes in relation to the quality of the sunlight that hits it.
Choosing the right colour scheme for a garden is one of the key elements to consider when designing it. But if ultimately colour is the plants' response to light, then a successful garden design must understand how plants respond to light by 'lighting them up' and using them to their best effect.
Growing up in Italy, I was blessed by month after month of relentlessly powerful sunlight and bottomless blue skies and I soon learnt to appreciate the colour enhancing properties of the sun, especially on warmer hues and vibrant combinations. Yet in the harsh light of a hot summer afternoon, these tones would sometimes become overbearing. This extreme light context contrasts with the soft colour combinations of a classic English border illuminated by the gentle diffused light of a misty or cloudy sky; here the subtlety of each hue is allowed to show itself – soft pinks and pastel tones glow, coppery hues are warm under grey skies, while whites gather what light there is and sparkle against the green foliage foil.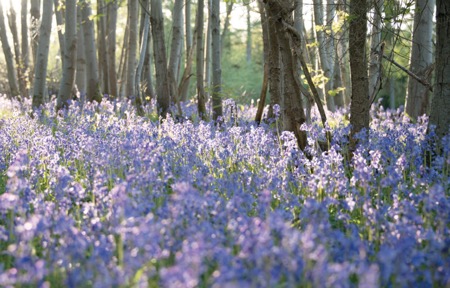 Blue flowers work well in lower light conditions because they are able to absorb more light and appear more vigorous

Image courtesy of Alladio Sims Garden and Landscape Design Ltd, London garden

This dynamic reaction to light shows just how the process of designing a successful garden must start by observing local colours and the way in which they behave in local natural light conditions in an attempt to recreate some of this magic within the garden. Colours look different in different climates and not all climates support the same tones, so better to be restrained in choosing and using them, like in so many classic Italian gardens or in the famous English 'White Garden' of Sissinghurst, where a limited mix of grey, green and white interacts creating sheer light magic based on the principle set out by its designer, Vita Sackville-West: "Any colour, as long as it's white".
Attempting to design a garden closely obeying the criteria set out by a colour wheel has often proved disappointing. Of course, adding colourful accents can be fun and can help introduce brief moments of delight, but when this is not connected to the bigger picture, or it's not bold enough to make a statement, it can appear too harsh and fail to work overall. Instead, I always start by observing how colours behave locally and how they help to form a certain mood or create drama in a specific setting. Once I have gathered this information, I try to replicate some of these aspects within the garden.
By striving to understand the continuously evolving light properties of a specific garden, I can play with light and dark and the full spectrum of hues available within different times of the day, different seasons and throughout the evolution of a plant life cycle. The vivid light shining through a daffodil in the pale rosy morning glow takes on red tones in the evening, while the golden rich tones of the autumn sun make purple asters and the yellow of maturing grasses glow. With the passing of time light changes, and these changes allow plants to illuminate dark corners, bounce light from under tree canopies, shimmer against the evening sunset and look vibrant and alive when backlit.
A silver leaf plant like Salvia argentea, whose woolly leaves shine even on the dullest of days, is capable of radiating light as soon as the sun hits it and therefore is best placed where the sun shines directly on it. A dark leaf such as that of an Asarum will absorb light to make the best of its shady growing condition, but in early morning light its glossy surface will be reflective.
A golden or yellow leaved plant will work in much the same way as a white flower would, radiating light back from its leaves but adding a golden glow. Hackonechloa macra aureola is one such plant, forming a divine mat of luminous golden blades in the under storey of trees or other dry and inhospitable shady spots, which appears magic when the early morning or evening light goes through it. Ferns behave in a similar way too. When such simple and beautiful golden luminescence is available, the plant palette can be kept relatively simple.
Difficult as it may be, designing a garden with these fleeting but wonderful colour and light effects in mind is to try and recreate beauty, and whilst it's true that plants' behaviour will somehow always be partially beyond our control, there is a sense of real accomplishment and satisfaction when such moments of joy are achieved.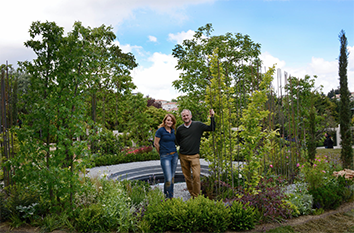 Jon and Emanuela in the show garden they created for the Istanbul Flower Festival in 2016


Profile: Alladio Sims
Alladio Sims Garden Landscape Design Ltd was established in 2015 after Jon Sims and Emanuela Alladio collaborated on a Silver Gilt winning show garden at RHS Hampton Court Palace Flower Show. The two directors continue their collaborative approach throughout their practice with Jon's background in interior architecture giving distinctive spaces and Emanuela's passion for plants and photographic eye adding great texture and contrast.
essence info
Alladio Sims Garden Landscape Design Limited
Unit C Willow House, Dragonfly Place, London SE4 2FJ
Website:
www.alladiosims.co.uk
Email:
hello@alladiosims.co.uk