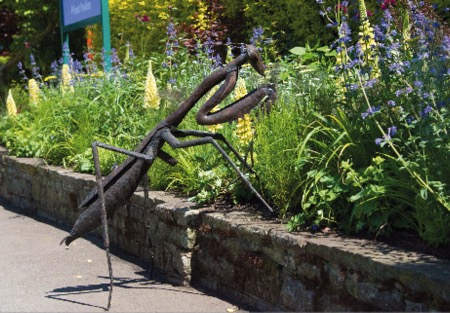 Emanuela Alladio of Alladio Sims Garden Landscape Design Limited describes her experience of creating four show feature installations at this year's prestigious Chelsea Flower Show with her fellow director Jon Sims.
Every year the Chelsea Flower Show is an unparalleled experience for everyone who loves gardens – an explosion of flowers and ideas assaulting the senses the minute you walk through the gate, bursting with colours, shapes and scents, some very brash and bold and boisterous and others more quiet, restrained and soft. The Chelsea Flower Show has something to offer for every taste.
This year Alladio Sims was asked by the RHS to create four separate show feature installations around the show ground. There had been a reduced number of show gardens this year, possibly a consequence of the Brexit vote, as each garden at Chelsea usually requires a high level of sponsorship to bring it to life. Despite this, the reduced numbers made for an undoubtedly more relaxed and leisurely show. Instead of rushing to see the next show garden, this year visitors seemed to slow down, taking their time to enjoy and digest what they saw and making the most of the opportunities to meet and engage with the designers.
The rare opportunity to share the joys and tribulations of the process of creating a show feature at this prestigious event was one Jon and I grabbed with both hands. It's a treat to display your ideas to so many enthusiastic visitors and to listen to their views on the gardens they see and is one that we as designers relish the most. It is a great chance for us to obtain a good indication of what people like or dislike, and it is so heart warming when our work is able to bring joy to so many people. In creating evocative and atmospheric garden spaces we hope to stimulate reactions, feelings and memories that make a thoroughly engaging spectacle for the viewer. Indeed, we believe the level of visitor engagement is the true measure of a successful show garden.
Venturing inside the Great Pavilion the passion for plants really transpires on the growers' faces. If you engaged them in conversation they are always very willing to share growing tips and secrets, because they too are in tune with those who share their passion for plants.
What was the real star of the show this year? We think there were two opposing camps: one really bold and almost garish (with bright pink rhododendrons, showy lupins and explosive oranges) and one much more restrained, naturalist and soft, closer to what a natural habitat would look like without any artificial intervention. Needless to say these two camps divided visitors, sparking criticism towards the more unkempt look and equally leaving others unimpressed by the very showy and contrived nature of the more manicured gardens.
Who is correct? Should a show garden only contain perfect specimen plants and highly manicured borders, or should it portray a landscape close to the one where the plants would survive naturally?
We think there is space for showcasing both options: the trick is to give visitors enough information that they can engage with it – if you share the passion, the personal experience that inspired it, and the long journey taken to create it people will, without fail, fall in love with even the commonest plants and the landscape they illustrate.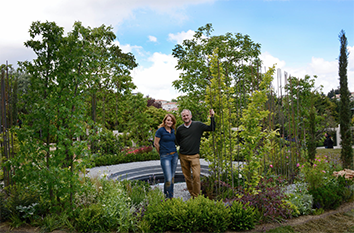 Profile: Alladio Sims
Alladio Sims Garden Landscape Design Ltd was established in 2015 after Jon Sims and Emanuela Alladio collaborated on a Silver Gilt winning show garden at RHS Hampton Court Palace Flower Show. The two directors continue their collaborative approach throughout their practice with Jon's background in interior architecture giving distinctive spaces and Emanuela's passion for plants and photographic eye adding great texture and contrast.
essence info
Alladio Sims Garden Landscape Design Limited
Unit C Willow House, Dragonfly Place, London SE4 2FJ
Website:
www.alladiosims.co.uk
Email:
hello@alladiosims.co.uk