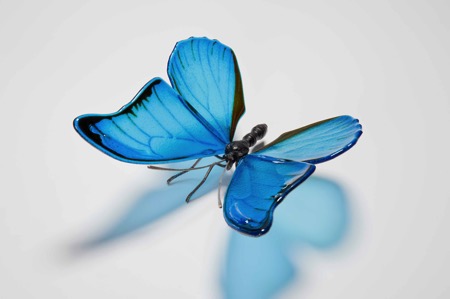 Suffolk artist and designer Laura Hart specialises in the creation of sculptural glass art, and has a particular penchant for exotic orchids and butterflies. Recently an American collector bought her unique butterflies just 24 hours after appearing in London's Vessel Gallery, Rebecca Peters found out why.
With a background in 3D design and animation, Laura Hart has designed large-scale public sculpture for concept artists, stage sets for pop stars and vast props for sporting events, but her true passion lies with hands on creation. Laura first encountered glass art in 2009 whilst designing a sculpture requiring glass components. To better understand the fabrication processes she observed glass artists at work and was immediately captivated.
"The versatility of glass is legion; so many disciplines have evolved to craft this delicious material into infinite forms, I wish I'd discovered it years ago," she says.
A dedicated arts and crafts revivalist, Laura's work combines fine art and functionality in true Nouveau and Deco styles, particularly favouring the use of ambient lighting. Her 1,200mm diameter orchid mirror is dressed with three delicate moth orchid flowers set on a gently curving stem, each flower glowing with subtle backlighting hidden behind the mirror. She offers her clients a complete design service, providing virtual images of the commission in situ within their home prior to creation.
Laura continues: "Creating special commissions for someone's home is a huge responsibility and an exacting challenge, but knowing they will cherish the work all the more because it was made especially for them is superbly gratifying."
Laura has so far added six orchid species and several lily and poppy varieties to her flower anthologies.
Emulating the delicacy and ethereal translucency of real blooms, she layers the flower structure as it forms in nature, employing several traditional glass making techniques to meticulously create fine detail. Backlighting reveals every gossamer facet through the petal layers in a diffused spectral glow.
She explains: "The flowers take a while to make, up to fourteen days depending on the level of detail and number of firings required. Much of the process is cold working; grinding the layers in a succession of noisy machines. I spend much of my time in waterproofs and wellies; I look better suited to a fishing trawler!"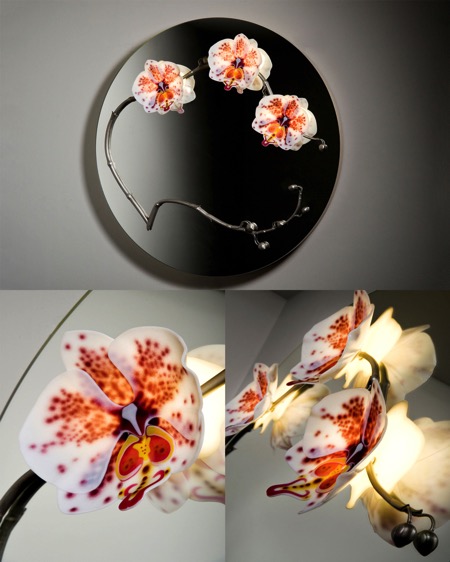 In a natural progression from exotic flora, for 2015 Laura has shifted focus onto colourful fauna with her Lepidoptera series; painstakingly detailed butterfly specimens from around the globe. Scaled up to an eighteen-centimetre wingspan, the glass insects are created from multiple fused wing-sets, pate de verre cast bodies and sterling silver legs, antennae and proboscis. Mounted in bespoke wall hanging cases, her first five specimens were exhibited in the window of London's Vessel Gallery during early May this year. Twenty-four hours later the entire collection was purchased by an American collector and within a week fluttering their way Stateside.
Laura confirms: "I was delighted the butterflies were received so well; it took months of development to get the techniques absolutely right. I wanted them to appear as living creatures as opposed to pinned museum specimens. There were a few steep learning curves for me: pate de verre casting on a miniature scale and silver-smithing, but the only way to progress is by stepping outside of normal comfort zones. I am making only one of each species, some of which are the most endangered in the world. A stark reminder that if we're not careful, artistic reproductions may be the only evidence they ever existed."
Laura is busy creating several more unique butterflies in readiness for the prestigious Decorex interior design exhibition in Syon Park, London, from 20 to 23 September. Vessel Gallery is preparing a stunning display of the new pieces for its stand, number B23 for those planning a visit.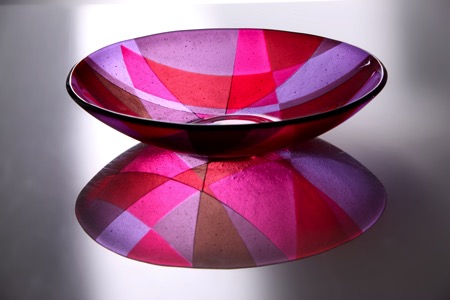 In stark contrast to her nouveau style flora and fauna, the Deco-esque flip side of Laura's creative flair is precise optical geometry, attributing her 'Picasso' collection of vibrant bowls and vessels to her love of the great artist's painting, 'Ma Jolie'.
"Picasso's early cubist works were inspirational; suggestive, secretive and playful. My intention was to create functional pieces that reveal their secret when light passes through the layers of colour: casting a 'painted' image onto the surface upon which they are displayed," she says.
Laura's work is undoubtedly unique, meticulous and strikingly diverse, yet cohesive in its arts and crafts ethos. As she rightly says: "Computer aided design and 3D sculpting are fabulous tools, but soulless. Art only takes on life when it passes through human hands."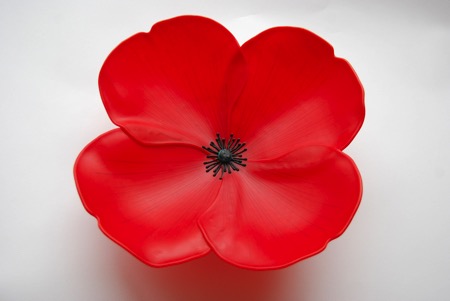 The Vessel Gallery
The authority on contemporary glass

Founded in Notting Hill, London in 1999, Vessel Gallery is a major destination for the appreciation of contemporary art-glass sculpture and decorative lighting. From the stunning simplicity of Scandinavian crystal, via flamboyant Italian art glass, to the best of British and international creative talents, all pieces are unique or limited edition and have been carefully edited to show an unparalleled selection of contemporary design and craft.
The Gallery also edits its own editions, and has an ongoing programme working with emerging and established studio artists and designers, producing unique collections of exclusive limited edition art works in glass and other materials. The majority of the collections are handcrafted by the artists and designers in their studios, but also involve collaboration with skilled craftsmen worldwide.
The Gallery also consults for interior and corporate projects, providing the opportunity to have a truly bespoke commissioning service with unique works created in dialogue with a client. In addition the Gallery is a valuable resource for artists, museums and collectors. Numerous artworks have entered prestigious public collections as a direct result of the Gallery's exhibitions and advocacy.
Hart Glass
Telephone:
01787 282623
Websites:
www.hartglass.com
and
www.vesselgallery.com
Email:
info@hartglass.com