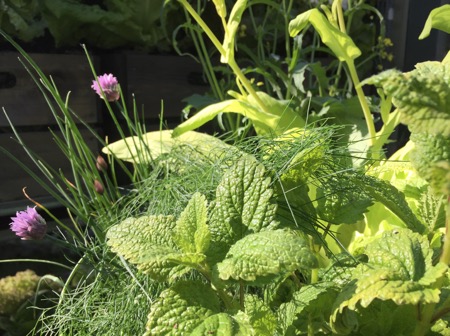 A raised bed is easy to fill with herbs, vegetables and fruits, and a perfect excuse to get the kids involved in the garden. Image courtesy of Alladio Sims Garden and Landscape Design Ltd, RHS Chelsea Flower Show edible displays 2018
Emanuela Alladio of Alladio Sims Garden Landscape Design Limited asks are children and gardens incompatible?
Does a family garden mean a desolate lawn, an ugly trampoline and the paraphernalia of plastic climbing frames? After all, beautiful and perfect flower borders and hordes of frenetic kids cannot peacefully coexist in the same sentence. Maybe they can. Let's see how.
When we meet a new 'family' as a client for the first time we are confronted with a similar list of wishes. Our task is to go back to the office and devise a solution that accommodates most, if not all, of them. It is always a very interesting challenge, and one that we relish, despite the practical restraints that each garden and site provides.
Time and time again families wish to have somewhere for the kids to kick a ball (and maybe, why not, a lovely striped lawn to tend at the weekend?); somewhere for the dreaded, but oh so useful, trampoline to sit (this must at all times be screened from view from the house of course); somewhere for vegetables to thrive happily and abundantly (after all, kids love vegetables – or don't they? – and a vegetable patch must surely spark a new passion for them…); somewhere for pretty flowers to grow (particularly the kind that one would use to create beautiful flower arrangements); and, of course, somewhere for the kids to hide, play and discover.
Solving these challenges can seem almost impossible at times, but to come up with ideas that will undoubtedly make even the most indifferent child want to explore the garden and go outside is so fulfilling and exciting that we inevitably end up developing a certain fondness towards these gardens.
To help solve any similar dilemmas confronting readers, we wish to share some of the solutions that underpin the majority of the decisions we make whenever we are asked to create a family wonder in a new garden.
Starting with the lawn, as this is a must item in most family gardens, when the garden is really shady or if it will be used to play ball games for the majority of the time, then one might want to consider the option of using artificial grass as there are so many different choices available nowadays and most of them are very 'realistic' and long lasting.
Moving down the list to the love/hate item that is a trampoline, if one cannot be avoided, why not consider sinking it below the ground? Be careful to leave enough space for landing around it though, approximately a two metre radius will do. Or just hide a standard trampoline behind a low hedge, a useful solution that will create a sense of wonder in the garden and make the kids happy to be hidden from parents' view – for a short while at least.
Any good family garden should feature carefully chosen plants, including those that thrive in neglect and withstand impacts – ornamental grasses first and foremost because they are built to allow movement and therefore are much more flexible and understanding, even when hit by a football or two. We couldn't live without the evergreen soft and fluffy Nassella tenuissima or its very tough and understanding cousin Anemanthele lessoniana, a grass that tolerates practically every condition and lots of abuse.
Another important group of plants to include in a family garden are those loved by insects, bees and butterflies in particular, because they will keep kids amused for hours in the summer and will help them understand how magical gardens can really be. Plants like Verbena bonariensis or Knautia Macedonica spring to mind for being unfussy and for keeping on flowering for months, continuously attracting insects and even birds with their bright and pretty little flowers, enough to keep most kids entertained…
One must also not forget to include plants that actively involve kids – vegetables and fruits, but also a variety of bulbs – these are all very important in a family garden which should be the perfect place to build lasting memories and positive experiences with children. What better way to start than by planting some bulbs together, or picking some fruit to make a jelly or an apple crumble after a generous September harvest? Of course, a small vegetable garden would be the perfect easy first step, especially if kept to a manageable size, such as a small raised bed, and maybe a few fruit trees and colourful pots with spring bulbs could be enough to start with.
Whatever the challenge gardens pose, there are so many different solutions and ways to respond to them, just think creatively.
Thus, the next time someone says that kids and gardens don't mix, you might just wish to disagree…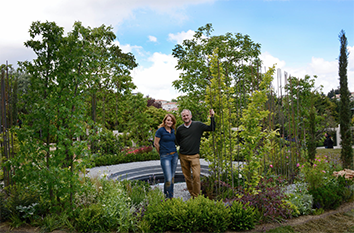 Jon and Emanuela in the show garden they created for the Istanbul Flower Festival in 2016


Profile: Alladio Sims
Alladio Sims Garden Landscape Design Ltd was established in 2015 after Jon Sims and Emanuela Alladio collaborated on a Silver Gilt winning show garden at RHS Hampton Court Palace Flower Show. The two directors continue their collaborative approach throughout their practice with Jon's background in interior architecture giving distinctive spaces and Emanuela's passion for plants and photographic eye adding great texture and contrast.
essence info
Alladio Sims Garden Landscape Design Limited
Unit C Willow House, Dragonfly Place, London SE4 2FJ
Website:
www.alladiosims.co.uk
Email:
hello@alladiosims.co.uk