Shrubs and small trees are perfect to create the middle 'body' in a garden, introducing interest at eye level. Image courtesy of Alladio Sims Garden and Landscape Design Ltd, residential North London garden, 2018.

Emanuela of Alladio Sims Garden Landscape Design looks at the importance of planning a structure for a garden and not to slavishly follow the latest trends.
In recent years the naturalistic planting movement has moved the focus from trees and shrubs to perennials, leaving them to bask in the glory instead, with most of us seeking the fleeting and ephemeral pleasures of their short-lived flowers whilst following the latest garden trends. Yet it is precisely at this time of year that a garden deprived of its backbone of shrubs and trees will invariably disappoint by not being able to hold its own and provide the essential structure and colour changing boost needed during the drabbest of autumn and winter days.


That's exactly why when designing a garden one really has to focus on the all-important structural layer provided by the larger plants, so that come autumn and winter the garden will still have the all important backbone much needed to continue being attractive, even in the winter months.
A few images from a garden we recently created in north London really illustrate this idea. To start with there was only a stepping stone path, winding its way in the middle of a pretty empty space. Then came some large boulders to guide through the path. Next arrived some very large yew cushions, greening the path and softening the look. All of a sudden the garden started to have its own identity, and a strong backbone made of a happy mix of hard materials and evergreens providing softer but permanent shapes.
As the project went on, more and more layers were added, some looser evergreen shrubs, some small deciduous trees, to create that much needed 'middle layer' even in the winter months when their branches are bare, so that when you walk through you feel the garden has a presence vertically and it's not just made of dead or naked shapes on the ground.
At this time of year, the golden heads of grasses and autumn flowering shrubs add a bit of movement and a hit of colour, and catch the soft light beautifully. Their relaxed presence that mixes soft buttery tones and slender stems adds movement and transparency to the overall scheme, catching the first drops of dew and securing a surprisingly long lived appearance in the winter garden. Pennisetums and Miscanthus are invaluable specimen to introduce autumn drama, dotted around the garden and repeated at regular intervals to guide the eye around the space, lacing together the whole composition in a pleasing way.
And finally to the most ephemeral of all layers – a good measure of cheerful bulbs for much needed spring interest and an abundance of flowering perennials that will delight the senses from spring till late summer.
Overall autumn, being so subdued, can be a very demanding time of the year for a garden, one that can only truly be mastered if the balance of shapes, foliage textures and colours is right. Shrubs and trees are invaluable elements in this composition and they can really transform a garden in autumn, and make this season sing with drama.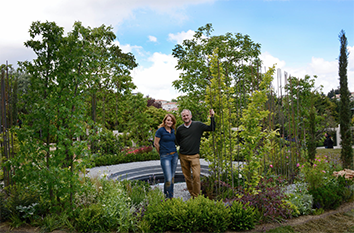 Jon and Emanuela in the show garden they created for the Istanbul Flower Festival in 2016


Profile: Alladio Sims
Alladio Sims Garden Landscape Design Ltd was established in 2015 after Jon Sims and Emanuela Alladio collaborated on a Silver Gilt winning show garden at RHS Hampton Court Palace Flower Show. The two directors continue their collaborative approach throughout their practice with Jon's background in interior architecture giving distinctive spaces and Emanuela's passion for plants and photographic eye adding great texture and contrast.
essence info
Alladio Sims Garden Landscape Design Limited
Unit C Willow House, Dragonfly Place, London SE4 2FJ
Website:
www.alladiosims.co.uk
Email:
hello@alladiosims.co.uk