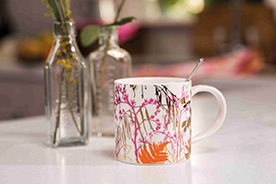 Clarissa Hulse is one of the leading lights of the British textile world, uncompromising in her passion to deliver the ultimate combination of colour, print and fabrics. Catching up with Jane Pople, she talked about the secret to a work/life balance and what 2017 has in store for her brand.
Clarissa Hulse today produces beautiful and luxurious home accessories, wallpapers and fabrics, selling in both top-notch department stores such as Heals, House of Fraser, John Lewis, Liberty and Selfridges and across the world in exclusive boutiques. The beginning was a popular scarf business, from which she has evolved her brand to be one of the most respected in the UK textile industry.
Taking inspiration from her childhood holidays travelling across Europe, where she studied the local flora and fauna, many of her designs have a botanical theme running through them. Clarissa was born in Prague and lived in many countries growing up including Spain, Italy, Greece and even Thailand.
She cites this as a driving force behind her love of vivid colour and natural design which is evident through her collections.
Q Clarissa, what is your favourite part of your job and what would you change if you could?
A
I absolutely love it when our designs become reality – when we start receiving the first samples of a new product – it feels like Christmas and is one of the most exciting parts of the job. There are so many aspects to running a business from designing, updating the website, photoshoots, sending out orders, it's one big juggling act and I wish I had more time to spend on each area.
Q You were brought up in many different countries; how would you say this influences your work as a designer today?
A
We moved a lot when I was little and each time we did my mother would like to make each house homely with beautiful textiles and accessories. We would visit markets and find items to decorate the home together. She would also fill the house with plants and that has really influenced the way I work and design.
Q Do you have a favourite ever design or product you have created?
A
I am really loving our newest collection – Filix – a tessellating, geometric fern print. It was a design that came so naturally and is very versatile. It has been adapted in a range of colourways and products, including wallpaper, bed linen and cushions.
Q How would you describe your own home style? What is your favourite room in your house and why?
A
My style is definitely maximalist! I love old pieces that are full of character – I have collected many over the years and enjoy the eclectic look they create in my home. We have recently just moved and wallpapered our kitchen/diner with our Filix green ombre wallpaper and it looks brilliant! This room leads on to the garden, so it feels like you've been transported into the Palm House at Kew Gardens.
Q Can you tell us what a typical day looks like for you?
A
Every day is different. I get my two children up and ready in the morning, take them to school and head straight into the office. Then it can be anything from shooting a new collection, discussing updates to the website, printing and sampling or organising events in the studio – or I can be out meeting suppliers or retailers. My job is so diverse, which is why I enjoy it so much.
Q What is the secret to a work/life balance, especially as a mother?
A
Running your own business with a busy family life can be difficult at times, but it really helps that I am so passionate about what I do. I have a great team around me and owning the business gives me the flexibility to collect my children from school if I need to, or they can come into the studio and sit up at the printing table doing their homework. Balancing it all is not always easy, but we make it work.
Q Who or what inspires you most?
A
I am infinitely inspired by nature – the evolution of plants, the different seasons and the wonderful colours they bring. Artists from the past also inspire. I find Instagram an amazing tool for ideas and instant feedback. It's great to have a community you can engage with, and who give such a positive response to new ideas and concepts.
Q If you didn't work as a designer, what would you be and why?
A
Photography is a real passion of mine – so either a nature or food photographer. When I have the time, I am always out and about taking pictures for our Instagram account: www.instagram.com/clarissahulse/.
Q You've just discovered a time machine that can take you to either the past or the future, what year do you go to and why?
A
From a visual perspective, I love the 1930s – all the incredible clothes and art deco. From a historical view, the 60s really interest me because of the massive social changes that took place.
Q What does 2017 hold for Clarissa Hulse?
A
There is so much going on for 2017. We've just launched an exciting collection of kitchen textiles and mugs. It is so luxurious and features a striking metallic print running through the range. We have another collaboration with Harlequin launching in July – last year's Callista collection was so popular, we think this will be another success. Two new bed linen collections were also launched in February, so we have lots of exciting things to watch out for.
essence infoWebsites:
www.amara.com
and
www.clarissahulse.com
This article first appeared in The Lux Pad,
www.amara.com/luxpad