Emanuela Alladio of Alladio Sims Garden Design reminds readers not to ignore the garden in winter, but to take the opportunity to fill in gaps and enjoy the subtle beauty of winter plants.
Good gardens evolve with time and through the seasons, and they become much more open and transparent in winter, once leaves have fallen and been replaced by bare stems and empty gaps. At this time of year a garden really needs its backbone of shrubs and trees – from coloured stems and bark to the reassuring presence of evergreen 'cushions'. But now is also a good time to take stock of what is there, to savour those often hidden sparkling treasures, and also to establish whether the gaps that have emerged are not too big, leaving the garden too bare and exposed in winter months.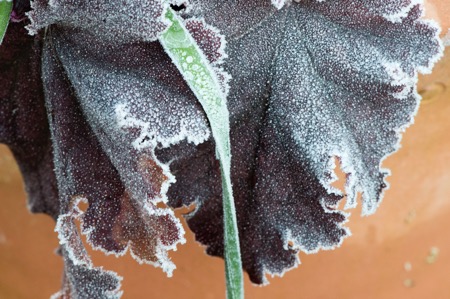 Subtle leaf forms and textures are key in winter, when most flowers are long gone. Image courtesy of Alladio Sims Garden and Landscape Design Ltd, Surrey private garden, 2016

Amongst the surprises that the garden brings at this time of year are the minute frosty crystals sparkling on leaves and stems that shine gloriously on early frosty December mornings.
Dissected and whole leaves catch the frost better than anything else, trapping sparkling crystals in the multitude of tiny nooks and crannies on their surface. Plants such as Alchemilla Mollis, Salvia Argentea or Melianthus Major will undoubtedly steal the show for a few magic days before finally dying down or becoming less prominent for the rest of winter.
Winter gardens bring unexpected surprises for the other senses too, scent in particular being key among winter flowering plants and so well worth a place in any good garden design plan.
One of the joys of visiting RHS Garden Wisley on an early winter morning has always been the walk up Battleston Hill and the sensation of suddenly being hit by the heady sweet perfume of a distant Daphne, tucked away in a sheltered and shady spot sometimes a good few metres away.
Sarcococcas (Sweet Box) is another great shrub for this time of the year, with aromatic honeyed cream flowers creating a cloud of perfume each time someone passes. One would not want to be without them and so we always encourage clients to find a sheltered and shady space for at least one specimen, or better still, we position them by an entrance or a gate, perfect for that welcome back home.
Another fond memory from RHS Garden Wisley is the Paper Bush – Edgeworthia Chrysantha – a truly spectacular sight in the midst of winter, this is a shrub covered in clusters of wholly white and yellow flowers, much like a string of Christmas lights, that light up even the darkest of days. An added bonus is its leaves too, very exotic and architectural once the flowers have disappeared.
Adding to the list of sparkling beauties in the winter garden are Mahonias, despite the love-hate relationship they have always seemed to spark. But how could one resist their yellow plume of early December flowers followed by a cascade of long lasting damson-coloured berries? And if the spiky large specimen is simply too much, then why not settle for its new, smaller cousins, such as Mahonia 'Soft Caress', with pretty dissected leaves surprisingly thorn free. This is a wonderfully architectural plant with a strong presence that should be worthy of any garden.
In the open gaps under the bare canopies of deciduous summer shrubs and among dormant leafy perennials now is the time to discover the little unsung heroes of the winter garden – candid Cyclamen Hederifolium flowers and the clear, pale blue flowers of Iris Unguicularis, reminiscent of a winter's sky, the recumbent and discreet flowers of hellebores, the frothy leaves of evergreen ferns and heucheras, the heart shaped leaves of epimediums... so many small treasures!
Without these winter garden beauties a garden would risk becoming too static, and not such an interesting space after all, incapable of evolving and changing its character throughout the seasons. The true mark of a successful garden should therefore also be its ability to stand out in winter, and to create an architecturally interesting space in the dormant season too.
This is the perfect time to take stock of the garden, so go out and take a good look, make a note of any gaps that seem too big, but above all don't forget to enjoy the subtle beauty of winter plants.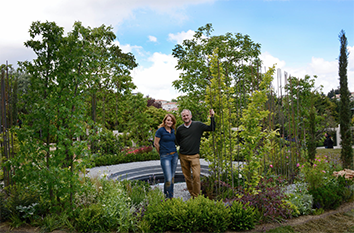 Jon and Emanuela in the show garden they created for the Istanbul Flower Festival in 2016


Profile: Alladio Sims
Alladio Sims Garden Landscape Design Ltd was established in 2015 after Jon Sims and Emanuela Alladio collaborated on a Silver Gilt winning show garden at RHS Hampton Court Palace Flower Show. The two directors continue their collaborative approach throughout their practice with Jon's background in interior architecture giving distinctive spaces and Emanuela's passion for plants and photographic eye adding great texture and contrast.
essence info
Alladio Sims Garden Landscape Design Limited
Unit C Willow House, Dragonfly Place, London SE4 2FJ
Website:
www.alladiosims.co.uk
Email:
hello@alladiosims.co.uk