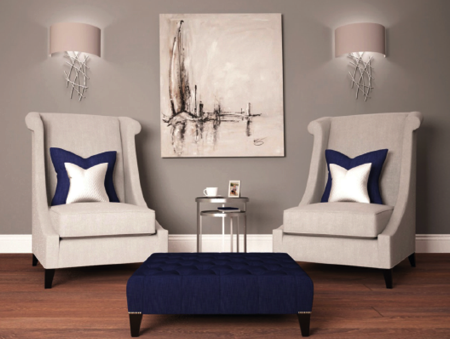 Jenny Allan from JCA Interiors offers advice on how to keep home interiors on trend this autumn.
The current go-to theme for interior wall colours is grey: think winter morning grey with a hint of taupe. Its understated and sophisticated shades make it a very versatile colour that works as the optimal back drop for most rooms. Greys can be warmed or cooled depending on the combination of colours chosen and their tone will also vary according to the amount of light in a room.
As an on trend accent colour which can be combined with grey, midnight blue is the ideal companion. Relaxing, calming and sophisticated, midnight blue is the perfect way to add a touch of colour to an interior. Use it for velvet cushions, decorative accessories or for a bolder look on walls or as a curtain fabric. Other autumnal hues that combine beautifully with grey are rusty orange tones. Think burnt orange, russet or chestnut to add warmth to a space and give a room a cosy, inviting glow.
Warm tones even continue into metallics with copper and brass being the go-to metals this season. They can be implemented in varying degrees from decorative accessories to a nest of side tables or a coffee table depending on the type of interior.
This autumn's throws, rugs and cushions are plush, sumptuous textures such as faux fur and velvet which combine well with the beautiful blues and stylish greys. Choosing a mixture of soft, warm textures to layer throughout a scheme will add depth to a room. Drape fur throws over the end of a bed or sofa as the finishing touch to a room's design.
There's an air of nature about this season's interior design: think country home with an urban twist. With dove grey, mocha and taupe tones, materials of the moment are rustic and natural such as worn woods, chunky knits and herringbone tweeds, ideal for a cosy, comfortable autumn interior.
Warm wools and traditional tartan are also very fashionable, ideal for upholstery and will combine well with other on trend pieces. Mulberry Home has some beautiful tartan accessories that will blend with every autumn colour scheme.
Inspired by The Great Gatsby and Downton Abbey, art deco furniture pieces with opulent metallic tones are currently in vogue and add a certain glamour to any interior. The bold geometric shapes, often arranged in symmetrical patterns, work well in modern and traditional homes giving an atmospheric hint of the roaring twenties.
Another autumn theme is the statement chair, the perfect place to curl up by the fire and read a good book as days grow colder and nights draw in. From high wing backed chairs to a simple occasional chair, a pair of statement chairs will create maximum impact and make a fashionable but also timeless addition to any home. Upholster in tartan, herringbone tweed or fine wool to create the ultimate autumnal design piece.
This autumn's interior trends will suit all types of homes making September the ideal time to redesign and transform an interior.

JCA Interiors

Jenny Allan is founder of interior design company JCA Interiors
Telephone:
020 3714 9325
Email:
info@jcainteriors.co.uk
Website:
www.jcainteriors.co.uk