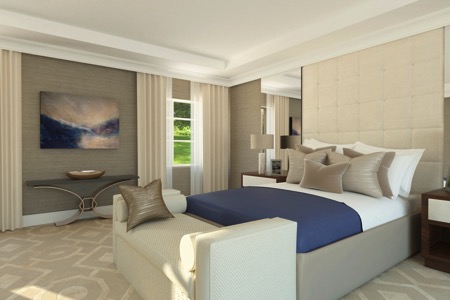 A beautiful bedroom, custom designed to meet exact personal requirements, is high on many wish lists. Jenny Allan from JCA Interiors explains why bespoke is best.
When using the services of an interior designer, it offers the opportunity to have a space designed which is bespoke and completely unique. Elegant, classic, contemporary rooms can be created without sacrificing comfort and functionality.
Bedrooms are prime examples where comfort and style need to blend seamlessly together. These spaces have a real impact on wellbeing and the importance of an effective, peaceful and beautiful design should not be underestimated.
Look for inspiration in the world around, in items that evoke a sense of happiness and luxury. Take reference from nature, travel or even a favourite designer handbag. A room can be designed from referencing a style of a preferred fashion designer, encompassing the essence of his or her collections, as well as the feel of their boutiques to create a real luxurious atmosphere that can be experienced at home, not just in Bond Street!
Once a theme and overall look is decided upon it is then time to focus on layout and individual elements. A comfortable luxurious bed is the central pivotal point within the design and should be made the star of the show. The key to making the bed a focal point is to include an impressive headboard. A full wall, statement piece will give a really striking look and become an item of interest in its own right. Headboards can be created out of fabric wall paneling as well as a combination of mirrored panels and even LED lights.
The headboard will form a dominant part of the colour scheme and its tones should be used in the fabrics of cushions, bedlinen and other upholstery in the room. It is advisable to employ a predominantly relaxing neutral palate, perhaps with accents of calming blues or purples. These colours can then be incorporated into artwork and other decorative accessories to create a really cohesive design.
When choosing furniture be selective and don't overcrowd the space. Include a few luxurious key pieces which have merit functionally and aesthetically. Bespoke bedside tables, perhaps with fabric or metal inlay, will look stunning and increase the beauty of the design. Depending on the size of the room, it may be suitable to include a relaxing seating area.
If there is space for a separate dressing room, this is ideal for recreating the boutique feel. Storage space can be specifically designed to organise handbag and shoe collections so their beauty can be appreciated even when they are not being worn. Space should be allowed for additional purchases so the room is futureproof as well as suitable for current pieces.
A stunning, bespoke bedroom can become a relaxing sanctuary, a form of escapism from the outside world. When the space is well designed with adequate storage and perfect balance of colour tones and custom made elements, it really becomes something rather special.

JCA Interiors

Jenny Allan is founder of interior design company JCA Interiors
Telephone:
020 3714 9325
Email:
info@jcainteriors.co.uk
Website:
www.jcainteriors.co.uk