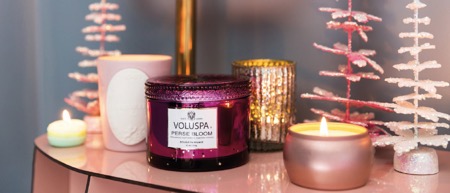 The aromas of winter are one of the best parts of this time of year and there is an ever-growing market for home fragrance options in the scents we love to be surrounded with over the Christmas season. Traditional cinnamon and pine are now blended with more tantalising notes to create new and inviting scents as Emily Bird offers her Christmas fragrance guide.
Christmas spice
Perhaps the most classic of festive fragrances. Traditionally cinnamon and clove have ruled the roost, however, as the industry has grown, fragrances have evolved for more discerning tastes. Cinnamon and clove are still keynotes, with more spices such as ginger, cardamom and the ancient Christmas elements of frankincense and myrrh now seen more frequently. These notes are frequently paired with woods or musk to create a rich, refined fragrance full of winter warmth.
Festive forest
Woody notes of pine or spruce have long been firm Christmas favourites thanks to their link to the smell of fresh Christmas trees, either crisp and light or hearty and rich depending on the wood. Pine, spruce and fir tend to offer that classic Christmas tree scent with its crisp undertones, however, log fire inspired scents which are gaining in popularity tend to have rich base notes of cedar, sandalwood and rosewood. Woody notes are excellent as standalone scents or are often used as warm bases to ground other notes. They can be perfectly paired with fruity, spicy or sweet notes to add a sumptuous, sophisticated air to any fragrance.
Sparkling fruits
Fruit and Christmas go hand in hand, from the orange in stockings on Christmas morning, to the candied fruits in Christmas puddings and mince pies. The key fruit is orange as it has long been a symbol of the season and gives any scent a seductive tang. Often found alongside festive spices, fruits add a fresh, juicy hint to traditional seasonal scents, which can be overbearing. Other popular fruits such as berries and citrus fruits such as lemons and mandarins all offer tartness, which is again refreshing rather than overly sweet. A perfect choice for those that love invigorating scents year round, but still want a festive touch for a home fragrance as winter sets in.

Fresh and frosty
In response to a need for fresh festive scents for those that dislike the classic spicy, woody aromas, there has been an influx of fragrances best described as frosty. Reminiscent of freshly fallen snow that glitters in pale winter sunlight, these frost-filled fragrances are often infused with notes of Scandinavian wood, fresh citrus and cool mint. Also becoming increasingly popular are notes of white wine and prosecco which add a sparkling edge to these Christmas scents making them ideal for parties and gatherings. Delicate florals can also be utilised to achieve the desired frosty effect and are perfect for floral fragrance lovers to transition into the winter months.
Sugary sweet
For every person that loathes sugary sweet home fragrances, there is another who simply can't get enough of them. To cater for those of us with a sweet tooth, there are numerous sweet fragrances to fill the home with scents reminiscent of our favourite puddings and pastries. From classic vanilla notes to warm caramel, these scents are delightfully buttery at the base and many notes are combined with spices to form fragrant representations of favourite sweet treats. Fabulous for kitchens or dining rooms as the dessert course is served, they will infuse the home with sumptuous sweetness this Christmas.
essence infoWebsites:
www.amara.com
This article first appeared in The Lux Pad,
www.amara.com/luxpad