Bella Alladio of Alladio Sims Garden Landscape Design explains why the seasonal colour shift of shrubs and trees is invaluable to gardens at this time of year.
In recent years, shrubs and trees seem to have gone more and more out of fashion, leaving perennials to bask in the glory instead, with most of us seeking the fleeting and ephemeral pleasures of their short-lived flowers whilst following the latest garden trends.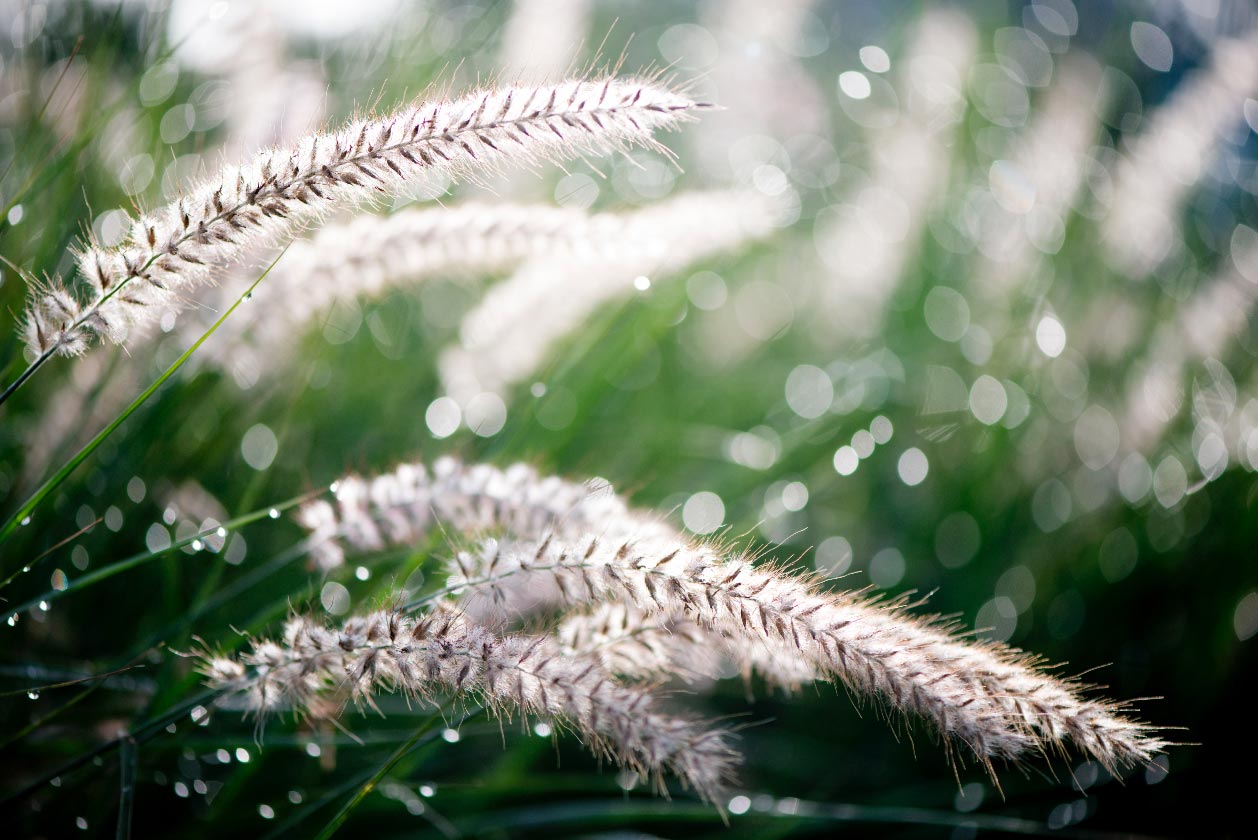 The fluffly flowers of Pennisetum catch the soft rays of the autumnal sun glowing beautifully. Image courtesy of Alladio Sims Garden and Landscape Design Ltd, Surrey private garden, 2017
Yet it is precisely at this time of year that a garden, deprived of its backbone of shrubs and trees, will invariably disappoint by not being able to hold its own and provide the essential structure and colour changing boost needed during the drabbest of autumn and winter days.
Some trees really excel at colour changing, establishing themselves as colour chameleon heroes, so it's little wonder why we love this seasonal colour shift so much – we should think of the leaves as if they were flowers, morphing into different hues at different stages of their maturity.
One of my favourite trees at this time of the year is the stag's horn sumach, Rhus Typhina, with its multi-coloured fronds that look like a traffic light, from green to amber to red. Once the leaves are gone it has a good winter skeleton too. It does, of course, like to self-seed itself a bit, but it can easily be kept under control by pulling out any suckers as soon as they emerge.
Acer Palmatums have, perhaps, the most attractive autumn colours of any genus. Often one species can display the whole range of autumn colours on the same tree, and one such wonder is undoubtedly Acer 'Koto no ito', whose leaves emerge green with a flush of crimson and then turn from buttery yellow to rich gold and end up in a warm amber tone before falling.
The first time I came across a Cercidiphyllum japonicum was whilst walking in Winkworth Arboretum, near Godalming in Surrey. I was hit with the sweet and delicious scent of caramelised apple cake that pervaded the air in the lower woodland near the lake – the tree stopped me in my tracks and wowed with its golden coloured, heart-shaped leaves, tinged with copper and rosy tips: a real multisensory delight.
Another great specimen providing a dazzling display at this time of year is the Persian ironwood, Parrotia Persica, whose scallop-shaped leaves take on a multitude of individual shades – from glowing oranges to intense reds and rich yellows.
Even the humble silver birch cannot be forgotten for its striking contribution at this time of the year; the wonderful silhouette of its peeling tactile trunk – available in a multitude of hues, from the more widespread brilliant whites such as Betula utilis var. Jacquemontii 'Grayswood Ghost', to the soft gingery tones of Betula albosinensis 'China Rose' and the reddish brown tones of Betula albosinensis 'Bhutan Sienna' – adds year-round interest to the vivid rich yellow of its falling foliage.
Euonymus, amongst the most invaluable shrubs to have in autumn for their fiery red hues, are one of my favourites for a country garden as they offer the added benefit of being wildlife-friendly – robins in particular especially love their brightly coloured berries.
Of course, grasses are key at this time of year too, bringing soft buttery tones and slender stems that add movement and transparency to an overall scheme, catching the first drops of dew and adding a surprising long permanence to the winter garden. Pennisetums and Miscanthus are invaluable specimens to introduce autumn drama, dotted around the garden and repeated at regular intervals to guide the eye around the space, lacing together the whole composition in a pleasing way.
If I could only make one concession for an invaluable perennial to have at this time of year it would have to be Amsonia hubrichtii, with its golden needle-like leaves that take on rich butter yellow tones. It is one such perennial that doesn't get noticed at all until it's ready to steal the show in autumn, providing early season good lower coverage to hide bare stems of roses or other shrubs with an unsightly base. It may take a while to find it, but it's certainly worth the effort.
Overall, autumn, being so subdued, can be a very demanding time of year for a garden, and it can only truly be mastered if the balance of shapes, foliage textures and colours is right. Shrubs and trees are invaluable elements in this composition and they can really transform a garden in autumn, and make this season sing with drama.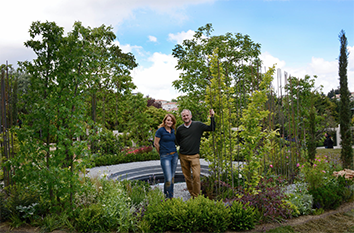 Jon and Emanuela in the show garden they created for the Istanbul Flower Festival in 2016


Profile: Alladio Sims
Alladio Sims Garden Landscape Design Ltd was established in 2015 after Jon Sims and Emanuela Alladio collaborated on a Silver Gilt winning show garden at RHS Hampton Court Palace Flower Show. The two directors continue their collaborative approach throughout their practice with Jon's background in interior architecture giving distinctive spaces and Emanuela's passion for plants and photographic eye adding great texture and contrast.
essence info
Alladio Sims Garden Landscape Design Limited
Unit C Willow House, Dragonfly Place, London SE4 2FJ
Website:
www.alladiosims.co.uk
Email:
hello@alladiosims.co.uk