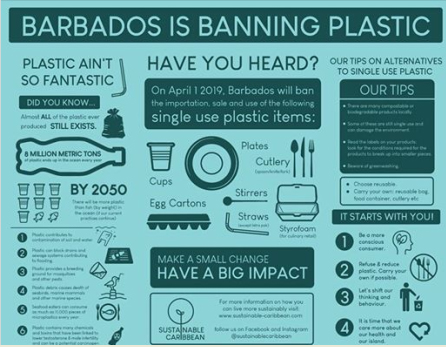 From Monday, April 1, the importation, retail, sale and use of petro-based single-use plastic (plastic made from petroleum) will no longer be allowed in Barbados.

The popular tourist destination attracted 623,293 visitors in 2018 and is committed to the fight against pollution and joins the growing list of countries attempting to halt the use of plastic.
Cheryl Carter, UK Director, Barbados Tourism Marketing Inc, commented:
"Plastic contributes to the contamination of our marine species, and the water surrounding our beautiful island. Banning single-use plastics goes some way to ensuring the protection of our pristine beaches and crystal clear waters that we are famous for. Continuing to attract guests is our priority as we seek to enhance our sustainable credentials and continue to be an environmentally friendly destination."
In a recent press conference in Barbados, the Minister of Maritime Affairs and the Blue Economy, Kirk Humphrey, and Minister of the Environment and National Beautification, Trevor Prescod, announced the ban, and its parameters.
Mr. Humphrey explained that with effect from January 1, 2020, there will be a ban on all petro-based plastic bags, with the exemption of those used for the packaging of pharmaceuticals/medicines, hygiene and the preservation of food.
"Barbados has to be a value-driven country. We have large expectations for ourselves. We have said that we want to be fossil fuel free by 2030; we want to have a renewable platform; we want to be a country that when we speak to the world we speak as an environmentally friendly country and destination.

"[Therefore] these are the things that we must do if our words and our actions are to be aligned. And so, we have made ourselves clear as to where we stand on single-use plastic,"
Mr. Humphrey said.
Wildlife conservation is another priority for the island;
The Barbados Sea Turtle Project
has been involved in the conservation of the endangered marine turtle species for more than 25 years. Their long term vision is to restore the local marine turtle population through research, education and public outreach. Barbados is currently home to the second-largest hawksbill turtle nesting population in the Caribbean, with up to 500 nesting females per year.

Carlisle Bay in the south west of Barbados has recently become a designated marine-protected area, popular with divers, swimmers and snorkelers. Preserving Barbados' coastline, the marine environment, the health of its reefs and habitats of the marine plants and animals is a continuous focus. It will ensure sustainable use and development of the fisheries, marine assets, resources, minerals and species for sustainable recreation and the livelihoods of those that make a living from the sea.
For further information related to the sustainability in the Caribbean, please visit:
www.sustainable-caribbean.com
For further information regarding Barbados please visit
www.visitbarbados.org