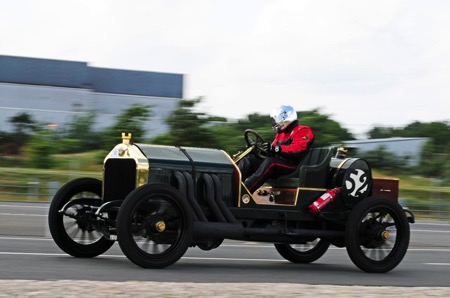 Record Line-Up as Final Entries for Festival Weekend Announced
Historic racing cars with Brooklands History vie with modern Classics in a thrilling weekend of motorsport competition, stunning car displays and a site packed with music and entertainment for all at Brooklands Museum.
This two-day extravaganza is held on 13-14 June and will feature Speed Trials and a Concours on Saturday; Driving Tests on Sunday; and action on Test Hill on both days.
Each year there is something different at the Double Twelve and for 2015, the Ford Escort Mexico Mk 1 will be getting some attention on this, its 45th birthday. The organisers are pleased to reveal that both the winner and the 8th placed cars of the 1970 London to Mexico World Cup Rally will be appearing at the event. These are the only two surviving works-prepared cars from that event and they have not been seen together for over 20 years.
The Campbell Car Park area will be occupied by 2CV Adventures who are inviting the public to take part in their Tin Snail Challenge: driving a 2CV seems quite simple until you learn that they have reverse steering for added hilarity. Times around a course will be recorded and a prize will be awarded for the fastest.
Music comes from vintage chanteuse Noelle Vaughn who will be selecting hits from the 1940s to the '60s to match some of the entries on show and extra food and drink outlets will give plenty of choice no matter where you're watching the action. Special activities will be laid on for children, including 'Peg Car Making', races up Test Hill and pedal planes and cars for the under 5s.
Places are now full with over 100 entrants in the Double Twelve Speed Trials which take place on the Mercedes-Benz World circuit on Saturday, including cars with genuine Brooklands pre-war history such as James Cheyne's Halford Special and Aston Martin "Razorblade" (driven by Colin Shaw), Terry Crabb's ERA R12C and Ian Baxter's Alta single-seater. Pre-1918 racers include a pair of American vehicles, John Dennis' Packard Twin Six and Hugh Mackintosh's Hudson Super Six.
With over 50 entries for the Driving Tests, which make full use of the Museum site on the Sunday, there is a truly eclectic mix of competitors, ranging in engine size from Guy Lachlan's odd little 692cc Berkeley B95 Sports up to Neil Thorp's 4.2 litre supercharged Hudson Spikins Special, and with apparently non-sporting saloons like Andrew Atherton's Austin 1800S and Gus Manley-Clarke's Rover 110 mixing it with agile pre-war sports cars. The historic landmarks of Test Hill, the Members' Banking and Finishing Straight provide the ideal terrain for these tests which have their spirit in that most celebrated era of British Motorsport of the 1920s and '30s.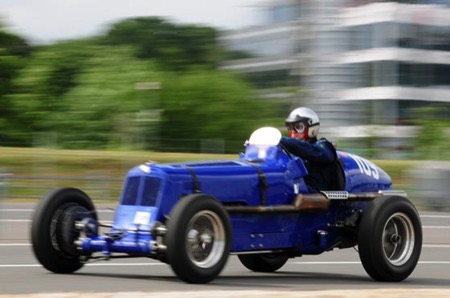 Entries in the Double Twelve Concours d'?légance include a pair of rare Alpine 110 sports car and two more of the Cars with genuine Brooklands racing history which will have competed in the Saturday Sprint – Paul Baker's Richard Bolster Special and Julian Grimwade's Fazer Nash Single-Seater. The weekend culminates with the prize-giving ceremony in the main Paddock on the Sunday with the largest final score achieving the coveted 'Double Twelve Champion 2015'.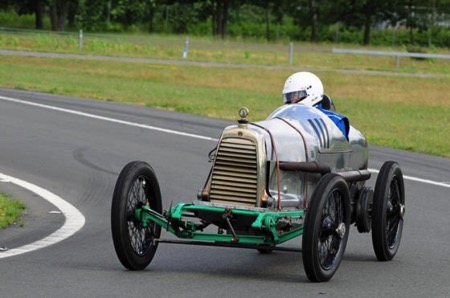 In addition to the activity of the festival itself, Brooklands Museum will be operating its other attractions including the Napier- Railton Race Experience in the 4D Theatre and the Concorde Experience, opening up its aircraft and Motoring Village for visitors to explore their world-class collections of cars, motorcycles, bicycles and the period charm of the Clubhouse, all from the bygone era which made Brooklands a destination of choice which continues to this day.
A full list of Classes and up-to-date Festival information can be found on the Museum's website:
www.brooklandsmuseum.com