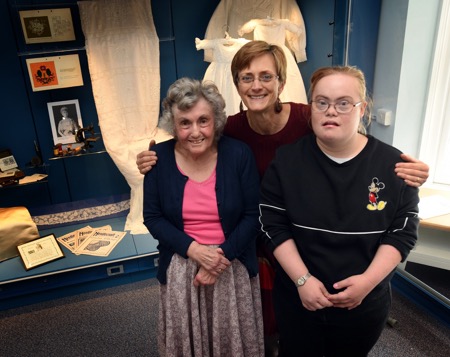 NEW HERITAGE ROOM SHOWING SURREY CHARITY'S HISTORIC ROYAL CONNECTIONS OPENS TO THE PUBLIC
A new state of the art heritage room, designed to showcase The Grange charity's historic collection of needlework and its fascinating connection with the royal family has been opened to the public for the first time today.
The new facility, located in The Grange's Victorian main house in Bookham, has been funded by a £97,500 grant from the Heritage Lottery Fund (HLF) and tells the story of the charity's beginnings as The School of Stitchery and Lace, which was first founded in 1938, to its current role as a charity supporting people with learning disabilities to lead independent lives.
The project has involved carefully preserving the charity's historic collection of needlework, which includes embroidered items made for the Royal family, photographs, letters and books. There are numerous letters between The School and royal households which give a rare insight into palace life at the time. One of the letters is from Queen Elizabeth's nurse ordering a copy of a dress and there are also hand-drawn designs for Queen Mary's nightgowns.
Eloise Appleby, CEO of The Grange charity said:
'This is a fantastic addition to Surrey's historical past and a definite high point of our 80th anniversary year. We are delighted that we have been able to use Heritage Lottery funding to create an interactive learning and heritage space open to all visitors. We will use this to build stronger links between the charity and the local community and it will become part of the Bookham Heritage Trail. People we support at The Grange will be involved in running the Heritage Room and we hope that local schools and community groups will make full use of it going forward.'

The Heritage Room will include:

• Exhibits of needlework made for Queen Mary
• Oral histories of former School pupils and staff
• Letters from ladies in waiting commissioning embroidered items
• Vintage photos for the School if Stitchery and Lace
• History of The Grange building
• A collection of books and vintage magazines on needlework
It will receive an official opening from royal patron, HRH The Duke of Gloucester, on 25 September 2018.
For more information visit >>>
www.grangecentre.org.uk