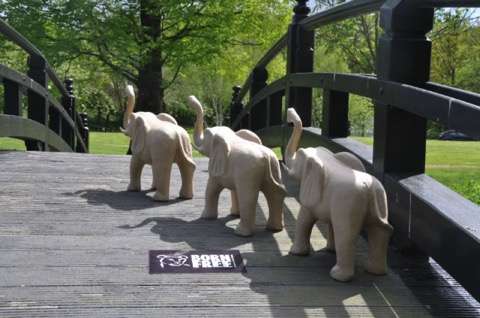 Elephantastic loving life
Creativity will soon be flowing for primary school children in the Horsham area who will be putting forward ideas to win one of only three giant elephants to decorate for the town's Elephantastic project.
The school that submits the most eye-catching and innovative design will receive the huge naked cardboard elephant which they will 'dress to impress' in readiness for its public appearances and ultimate auction to raise funds for the elephantastic charities. The Elephantastic spectacular is set to take Horsham by storm from 26 July through to 31 August where 150 unique and colourful elephants will brighten up the streets of the town centre and its surrounding rural areas.
Following the success of the giraffe trails in 2013, Elephantastic, organised by Horsham Rotary Club in partnership with Horsham District Council, local traders' organisation, Horsham Unlimited and Billingshurst-based marketing agency PMW Communications, is set to be the biggest event of its kind at almost triple the size.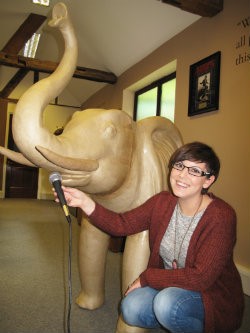 Earlier this week another of the giant models was delivered to its new owners at PMW Communications, where PR Director Gemma Hook had the pleasure of interviewing the elephant upon his arrival and got the inside scoop on the company's latest recruit. The full interview can be found here >>>
www.pmwcom.co.uk
John Le Rossignol at the Horsham Rotary Club commented:
"There is so much room for creativity when it comes to Elephantastic, people are having a lot of fun with it. It's been a crazy few weeks and we've certainly been kept on our toes with the influx of orders and shipping of the elephants. With fewer than 50 now left in stock businesses who want to be involved need to make themselves 'herd'!"
"We are calling on companies located in the rural surroundings of the town in particular, to host the elephants as part of the countryside trails, it's a fantastic opportunity to draw people to the area and be part of something really powerful and visually appealing."
Almost 30 locally based charities are so far set to benefit from money raised including Elephantastic partner; the Born Free Foundation, Chestnut Tree House, CoCo's Foundation, the Dame Vera Lynn Trust and also smaller charities such as Woods for Learning, the Phoenix Stroke Club, and local community groups.
For people who want to see elephants being decorated first-hand, artists from the Horsham Artists Open Studios Group are painting an elephant family during their Pop-Up exhibition in Swan Walk from Thursday 21 May through to Sunday 24 May.
ABOUT ROTARY INTERNATIONAL IN GREAT BRITAIN & IRELAND - Rotary International in Great Britain & Ireland
www.rotarygbi.org
is a volunteer organisation where members use their skills and their time to improve the lives of others while having great fun in the process. There are nearly 1,800 Rotary clubs across Great Britain and Ireland and 51,000 members. Rotary is open to anyone aged 18 and upwards. All that is required is a positive attitude and a sense of adventure. Rotary International was founded in 1905 in Chicago and is now the world's largest international service organisation with 1.2 million professional men and women as members. There are 33,000 clubs in 200 countries and geographical areas.
ABOUT BORN FREE - The Born Free Foundation is a dynamic international wildlife charity, devoted to compassionate conservation and animal welfare. Born Free takes action worldwide to protect threatened species and stop individual animal suffering. Born Free believes wildlife belongs in the wild and works to phase out zoos. We rescue animals from lives of misery in tiny cages and give them lifetime care. Born Free protects lions, elephants, tigers, gorillas, wolves, polar bears, dolphins, marine turtles and many more species in their natural habitat, working with local communities to help people and wildlife live together without conflict. Our high-profile campaigns change public attitudes, persuade decision-makers and get results. Every year, Born Free helps hundreds of thousands of animals worldwide. For more information about Born Free please visit:
www.bornfree.org.uk